New History Grove honors Durham mayor and business leader
Posted on December 13, 2016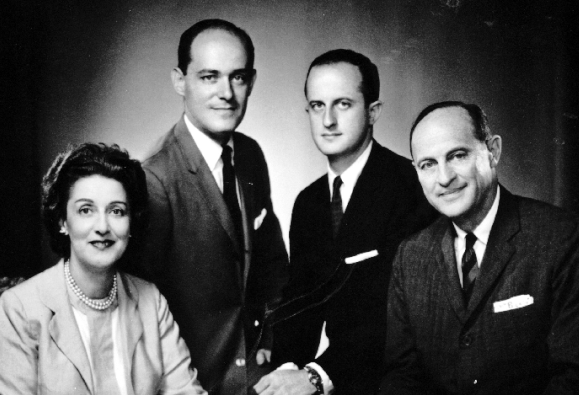 The MoDH partners with local organizations to establish "History Groves": small groves of native plants, bench and plaque to honor those who played significant roles in creating our unique community. Here visitors can pause and reflect, and every site has a durable marker naming the honoree. The following piece was written by Cliff Bellamy piece and originally published in the Herald-Sun.
Emanuel J. "Mutt" Evans, Durham's first Jewish mayor, was called "a beacon of light during segregation," and was honored this week with the first public memorial of his and his family's legacy.
The Museum of Durham History dedicated the Emanuel and Sara Evans History Grove at 308 W. Main St. The grove sits near the site where the Evanses ran their store, Evans United Dollar Stores, and is the eighth grove the museum has created to bring history outside of the museum walls.
A plaque commemorates Evans' tenure as Durham's mayor from 1951 to 1963, his wife Sara Evans' work for Hadassah, the Jewish women's organization, and their sons Robert and Eli. It contains a brief biography, a photo of the Evans family, and a photo of the department store from 1940.
 Emanuel J. Evans was an early advocate for civil rights and integration. The Evans store had an integrated lunch counter. When a county judge told Evans he had to segregate the seating to abide by state law, Evans told the judge he would not segregate his customers.
Evans' lawyer found a way around the law, which prohibited integrated seating, not standing. Evans took the seats out of the store's lunch counter area, and his customers could continue to eat together while standing.
Speakers at Friday's ceremony said that act of quiet resistance exemplified how the Evanses helped shape Durham.
"Mutt and Sara were a beacon of light during segregation," said Eric Meyers, a retired professor in Duke University's Jewish Studies Program. (The Evanses in the 1970s encouraged Duke and UNC-Chapel Hill to create Jewish Studies Programs and actively supported them.) "Durham passed through those turbulent years peacefully" in part because of the leadership of the Evans family, Meyers said.
"Mom and dad were extraordinary people," said Eli Evans, who attended the ceremony with his son Josh. "My parents shaped this city and its welcoming history," he said. "As mayor, dad created a coalition of black and white leaders who would meet when crises arose," Eli Evans said.
The example he set in his store led African-American leaders and leaders at Duke University to encourage Emanuel Evans to run for mayor, Eli Evans said. "Durham shaped my parents and they shaped Durham."
During his mayoral tenure, Evans also oversaw integration of public schools and city offices.
Emanuel Evans died in 1997, Sara Nachamson Evans, in 1986. Eli Evans remembered his mother's tireless work for Hadassah. He helped stuff envelopes, and his mother, who never took a typing course, managed 60 words a minute using the two-finger method.
Eli Evans was a speech writer for President Lyndon B. Johnson, and served as president of the Charles H. Revson Foundation. He wrote about his family's history and their impact on Durham in his book "The Provincials: A Personal History of Jews in the South."
Bill Ferris, a professor in UNC's Center for Study of the American South, was at Friday's ceremony. He has been friends with Eli, and has worked with him on the history of Jews in the South. The Evanses were "a very progressive family who have done great things for North Carolina," Ferris said.
Sam Magill knew Eli when he attended UNC in the 1950s, when Magill was the assistant dean of students. Magill called Emanuel and Sara "a terrific couple and a great family."
Steve Channing, a founding board member of the Museum of Durham History, read from a letter Mayor Bill Bell wrote for the dedication. "As I serve my final term as mayor, I can appreciate the legacy Mutt left behind" to make the city more inclusive, Bell stated.
 photo courtesy of Evans family, l-r: Sara, Robert, Eli, and E.J. "Mutt" Evans