Visit
- Current Exhibits
*Explore our previous exhibits here.
Building Bridges through Good Faith
Dates: April 20, 2018- Mid August 2018
Ar-Razzaq Islamic Center (formerly Muhammad's Mosque #34) was founded in Durham in the 1950s under the local leadership of Imam Kenneth Muhammad, and has been an anchor of the West End neighborhood since the 1970s. Members of Ar-Razzaq established or strengthened other Muslim communities across the state, including those in Raleigh, Fayetteville, Wilmington, and the Kinston/Greenville area. The exhibition focuses on the contributions of Ar-Razzaq Islamic Center to the West End neighborhood and to all of Durham through first person accounts, photos and artifacts. In telling the stories of people in the Ar-Razzaq community, the exhibit will illuminate its economic, political and cultural impact on Durham.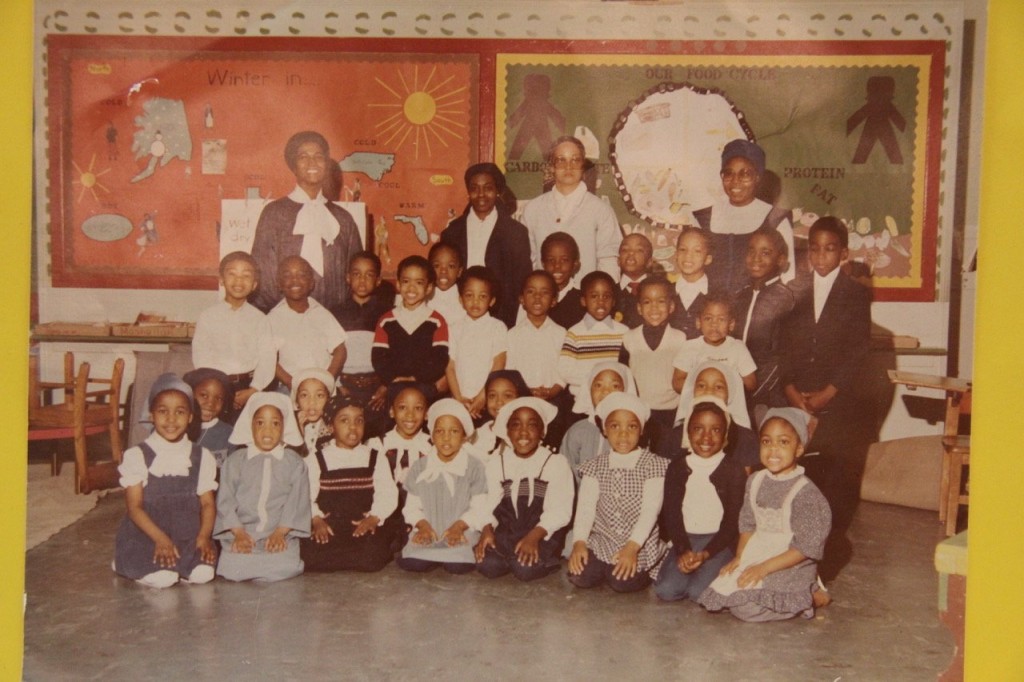 Exhibition Sponsors:
The exhibition and programming are supported by the Building Bridges 2016-17 Grants Program of the Doris Duke Foundation for Islamic Art (DDFIA), an extension of the Doris Duke Charitable Foundation.
This project was supported by the North Carolina Arts Council, a division of the Department of Natural and Cultural Resources.
Durham Beginnings | 1865-1885 
Dates: Ongoing
An exhibit featuring five dramatic but little-known personal stories evoking the spirit of Durham's formative years. Learn the "coming to Durham" stories of Eliza Bennet Duke, Richard Fitzgerald, Abner Jordan, John Green, and Margaret Faucette.
Kids Area: Step onto the Porch
Dates: Ongoing
Kids are invited to "Step Onto the Porch" and learn about people from Durham's past. A trunk of dress-up clothes will allow them to dress like their Durham hero, a train set echoes Durham's railroad history, and coloring sheets show people and places from Durham's past.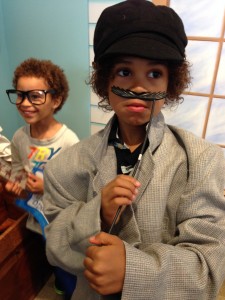 Explore Durham Through Time 
Dates: Ongoing
Visitors can use a touchscreen to explore key moments in Durham's past. A post-it note wall allows viewers to tell us what moments from Durham's past are most important to them. They may see their feedback incorporated later with a photo and caption.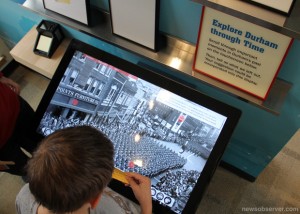 Look Beyond the Windows
Dates: Ongoing
Take in the museum's almost-360-degree view of downtown and consider the changes over time. To begin, we'll focus on the Hill Building, Arts Council (formerly City Hall and Central High School), Liggett and Myers buildings, and NC Mutual tower.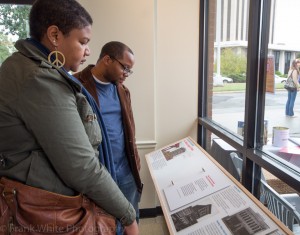 Story Room 
Dates: Ongoing
Visitors can step into the Story Room to record a personal memory about Durham's past. They can also explore memories others have shared or browse through old, local yearbooks. Stories recorded in the Story Room will be archived by the Durham County Library.