Visit
- Current Exhibits
*Explore our online and previous exhibits HERE.
---
The Life and Legacy of Floyd B. McKissick Sr.

Dates: November 2022-April 2023
In what would have been the year of his 100th birthday, the Museum of Durham History is exploring the lasting impact of one of Durham's most influential figures, Floyd B. McKissick Sr. The exhibit will examine McKissick Sr.'s work in desegregating local schools, universities (particularly UNC Law School), organizations, and businesses, an initiative that was carried forward by his children Floyd Jr., Jocelyn, Andree, and Charmaine. Other highlights will include his leadership in the national Civil Rights Movement and the Congress of Racial Equality (CORE), and his role as the Founder and Developer of Soul City. McKissick was a pivotal figure in the fight for equality for African Americans in Durham and across the country, and his impact continues to shape history and inspire change today.
Learn all about this new exhibit HERE.
---
Kids Area featuring Durham A-Z
Dates: Ongoing
Durham A-Z is returning to MoDH as a kid-focused series! This display is updated every 6 months with our main gallery exhibit, with the primary focus of educational programming and relatable historic information for school-aged children.
With The Life and Legacy of Floyd B. McKissick Sr., the A-Z display will feature L is for Legacy. This panel is full of interviews and stories from McKissick Sr.'s children and grandchildren, who discuss what it was like to grow up with an icon for a father. We encourage children to visit the Kids' Corner and share with us what their family tree looks like, and the legacy they hope to leave!
---
Faces of Durham 
Dates: Ongoing
In this outdoor, social-distance friendly exhibit, Faces of Durham features a selection of familiar and lesser-known faces from the Bull City's past and present. The exhibit highlights a broad range of contributions including industry and commerce, medicine, and human relations while mapping Durham's development from a railway stop to a booming tobacco town, and to today's revitalized hub of arts and innovation.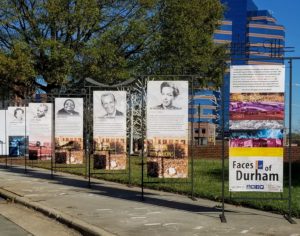 ---
Durham Beginnings | 1865-1885 
Dates: Ongoing
An exhibit featuring five dramatic but little-known personal stories evoking the spirit of Durham's formative years. Learn the "coming to Durham" stories of Eliza Bennet Duke, Richard Fitzgerald, Abner Jordan, John Green, and Margaret Faucette.
---
Explore Durham Through Time 
Dates: Ongoing
Visitors can use a touchscreen to explore key moments in Durham's past. A post-it note wall allows viewers to tell us what moments from Durham's past are most important to them. They may see their feedback incorporated later with a photo and caption.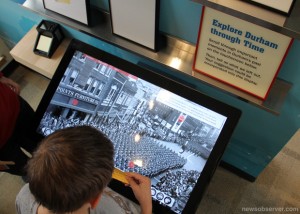 ---
Look Beyond the Windows
Dates: Ongoing
Take in the museum's almost-360-degree view of downtown and consider the changes over time. To begin, we'll focus on the Hill Building, Arts Council (formerly City Hall and Central High School), Liggett and Myers buildings, and NC Mutual tower.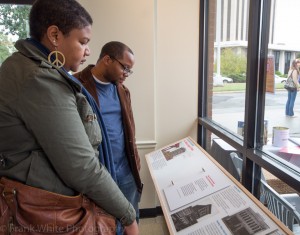 ---
Story Room 
Dates: Ongoing
Visitors can step into the Story Room to record a personal memory about Durham's past in. They can also explore memories others have shared or browse through old, local yearbooks. Stories recorded in the Story Room will be archived on the Museum's SoundCloud or YouTube channel.