Museum Without Walls exhibits continue to touch community
Posted on December 1, 2016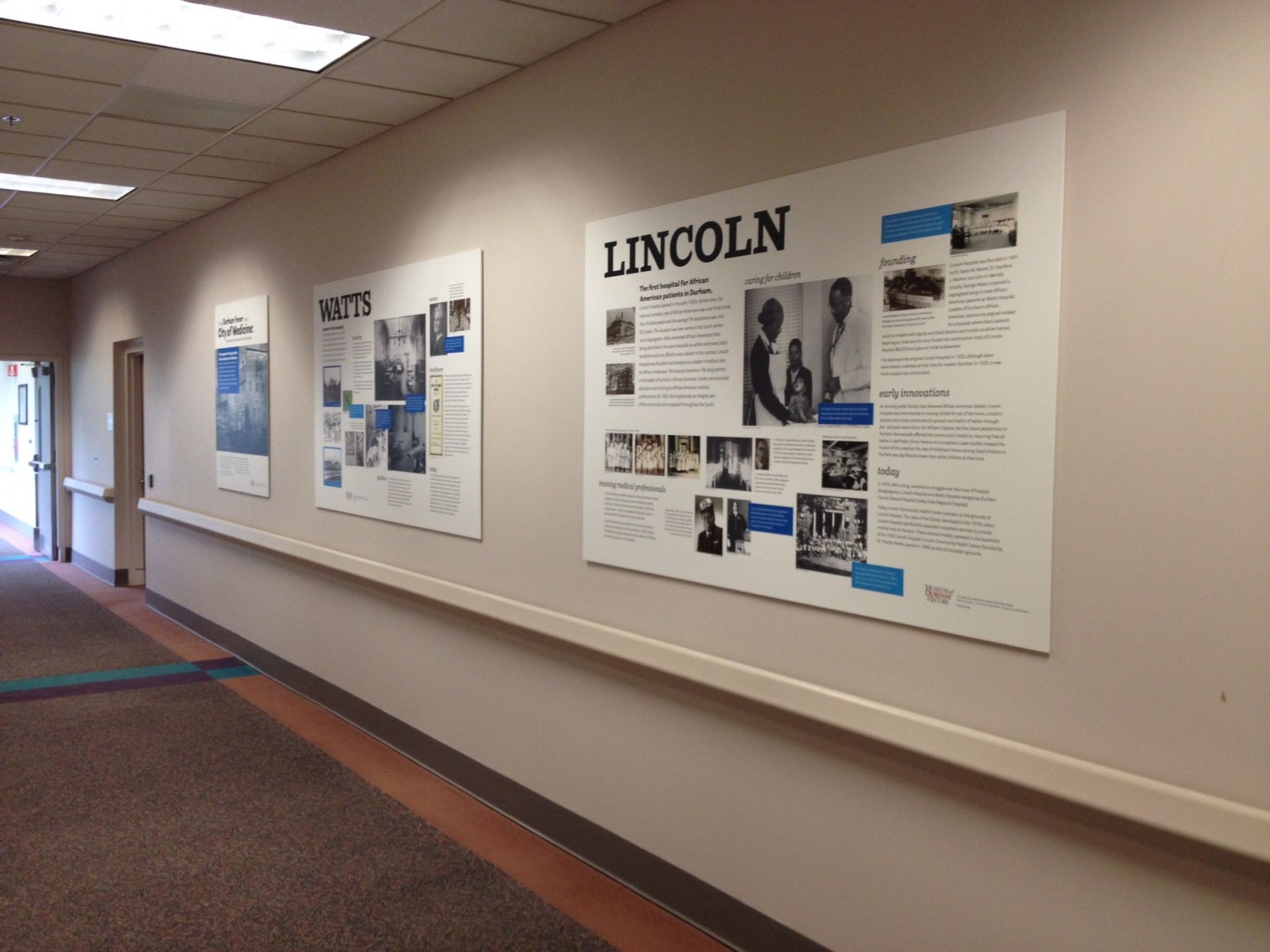 Our exhibits may start at 500 W. Main St. but they soon find locations throughout the community. One such example, From Durham Fever to City of Medicine currently lives on at Duke Regional Hospital, and tells the story of three of Durham's earliest hospitals: Duke, Lincoln, and Watts. We recently received a note from a relative of a patient at Duke Regional who found the exhibit and was able to focus on something else besides the tense time for their family. We appreciate the opportunity to help, and feel that exhibits in spaces outside the confines of the museum enrich the community and is the root of our "Museum Without Walls."
"Recently, my father went into Duke/Durham Regional Hospital for spine surgery. I accompanied him and my 88-year-old mother for the long and risky event. Waiting in a hospital, helpless to influence outcomes, is stressful at the best of times. The uncertainty around spinal surgery and the advanced age of both my parents made the wait even harder.
After a few hours of stewing, I encouraged my Mom to go for a (slow) walk around the hospital. After a while, we "discovered" your exhibit on the history of our local hospitals and were enthralled. At the highest level, your exhibit gave my mother and I something to take our minds off of our anxiety around my Dad's surgery.
The wall panels are wonderfully large and easy to read (important for our aging population). Moreover, they are graphically appealing and they easily engaged both of our curiosity. Wonderfully, their excellent, simple "user interface" belied the depth of their content, which is layered to allow both easy absorption and also to spark conversations about the content.
Thank you for seeding such "gems" around Durham. I hope to encounter, and deeply experience, more soon!"