ST

Stranger Times, will be on display at the Museum of Durham History through late Spring 2024.
"Mom. It's like home, but it's so dark. It's so dark and empty. And it's cold."
Will Byers was trapped in the Upside Down—an alternative dimension in Stranger Things. Alone and afraid, he remained in that surreal world, distant from his family and friends…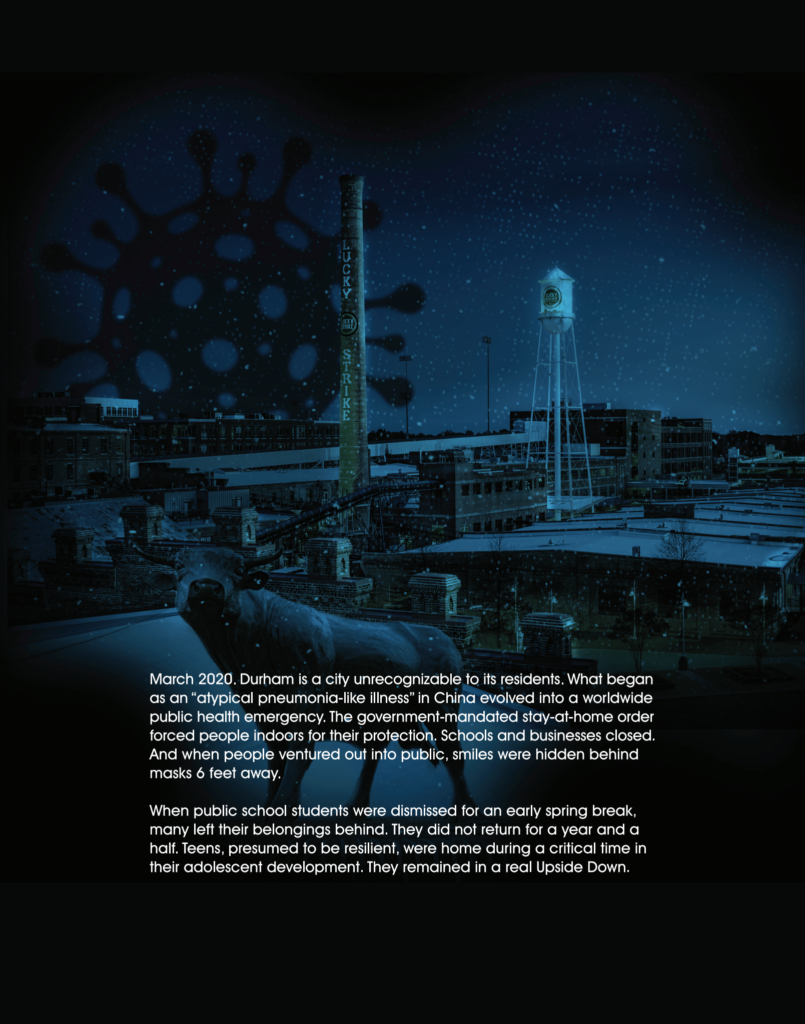 ***
Stranger Times is an exploration of both the contemporary and the nostalgic through popular culture. This exhibit uses the idea of the "Upside-Down" alternate reality from the Emmy-nominated Netflix series Stranger Things as an analogy for the experience of life and coming of age during the COVID-19 pandemic shutdown. As the show centers on teens dealing with unusual happenings in their town, this exhibit features the stories of Durham teens' experiences during the pandemic, and how their lives and community were turned "upside down".

---
This exhibit also explores the childhood of the show's creators, the Duffer Brothers (shown below left during their time at Jordan High School), and how their upbringing in the Bull City influenced their creative choices in developing Stranger Things (below right).
---
The Museum partnered with area students, including Durham Public Schools, to develop this innovative exhibit. It gives students a chance to share their stories through podcasts, videos, and the written word, and it gives visitors a chance to experience this time in history through our kids' eyes and voices.
---
Stranger Times and its associated public programs emphasize the importance of community engagement and participation at the core of the Museum of Durham History's mission and values. Programming during the run of this exhibit includes:
Retro movie nights (in partnership with the Carolina Theatre)

Connecting wellness initiatives in collaboration with The Museum of Life and Science, Handmade Dreams, Alliance Health, Durham Public Schools Foundation (WHOLE Schools), and more.

Sound Healing with

Nourished By Sound
---
The collection of stories concerning the struggles of the COVID-19 pandemic is essential to our personal histories. If you would like to share these memories with us, we would be honored to document them.
---
Thanks to Our Sponsors for Exhibit and Programming Support:
BIN Charitable                   Ruth and Dr. Victor Dzau