Help MoDH Digitize Exhibits
Posted on May 11, 2020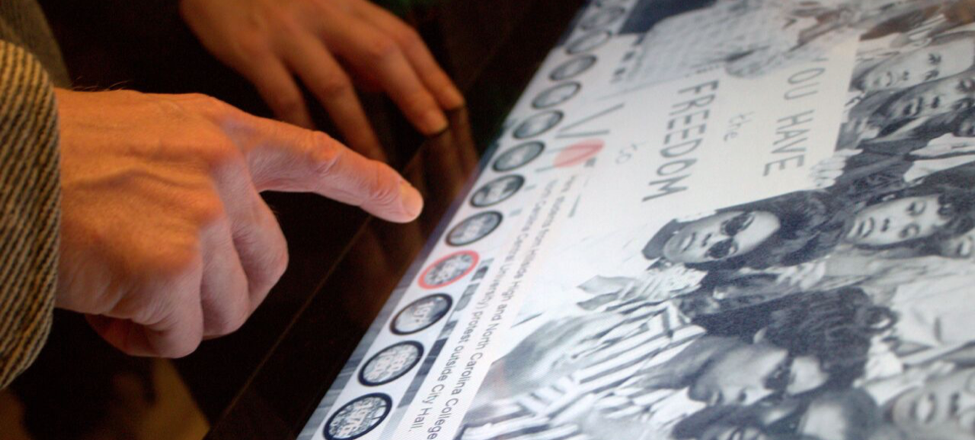 The current COVID-19 pandemic has forced schools and cultural institutions like the Museum of Durham History to temporarily close their doors and has created a spike in demand for alternative learning resources.
We want to bring interactive, multimedia, digital exhibits online, creating for users an engaging look at Durham history with a focus on populations not often part of the traditional historic record. This easily accessible new resource will be a much-needed tool for teachers and students, where local history can provide relevance and ignite interest in topics of broad significance. With your help, we can bring these exhibits into homes everywhere.
Teachers, parents, and homeschool instructors as well as social studies students countywide —from elementary through high school– will benefit from the opportunity to take a structured, living room field trip to some of the Museum's most popular and pertinent exhibits:
A Creative Protest: MLK Comes to Durham (learning about the role of America's 

foremost civil rights activist in Durham)

Nuevo Espiritu de Durham (exploring Durham's diverse Latino community)
100 Years of Women in Durham Politics (commemorating the centennial of the 

19th Amendment, assuring women's voting rights)

Building Bridges through Good Faith (meeting Durham's oldest African American 

Muslim Community)

Combination of exhibits H is for Hayti, G is for Geography, and Lost to the Loop 

(delving into the current issues of gentrification & revitalization)

From Durham Fever to City of Medicine (building on Durham's healthcare history 

with a new chapter on past and present epidemics)

Explore Durham Through Time touchscreen timeline
We need your support now to keep this community resource going, since we may be "learning virtually" for a while. Please GIVE TODAY.
Thank you,
Patrick Mucklow
Executive Director