"Memories of Durham Story Quilt" makes its home in MoDH
Posted on June 16, 2017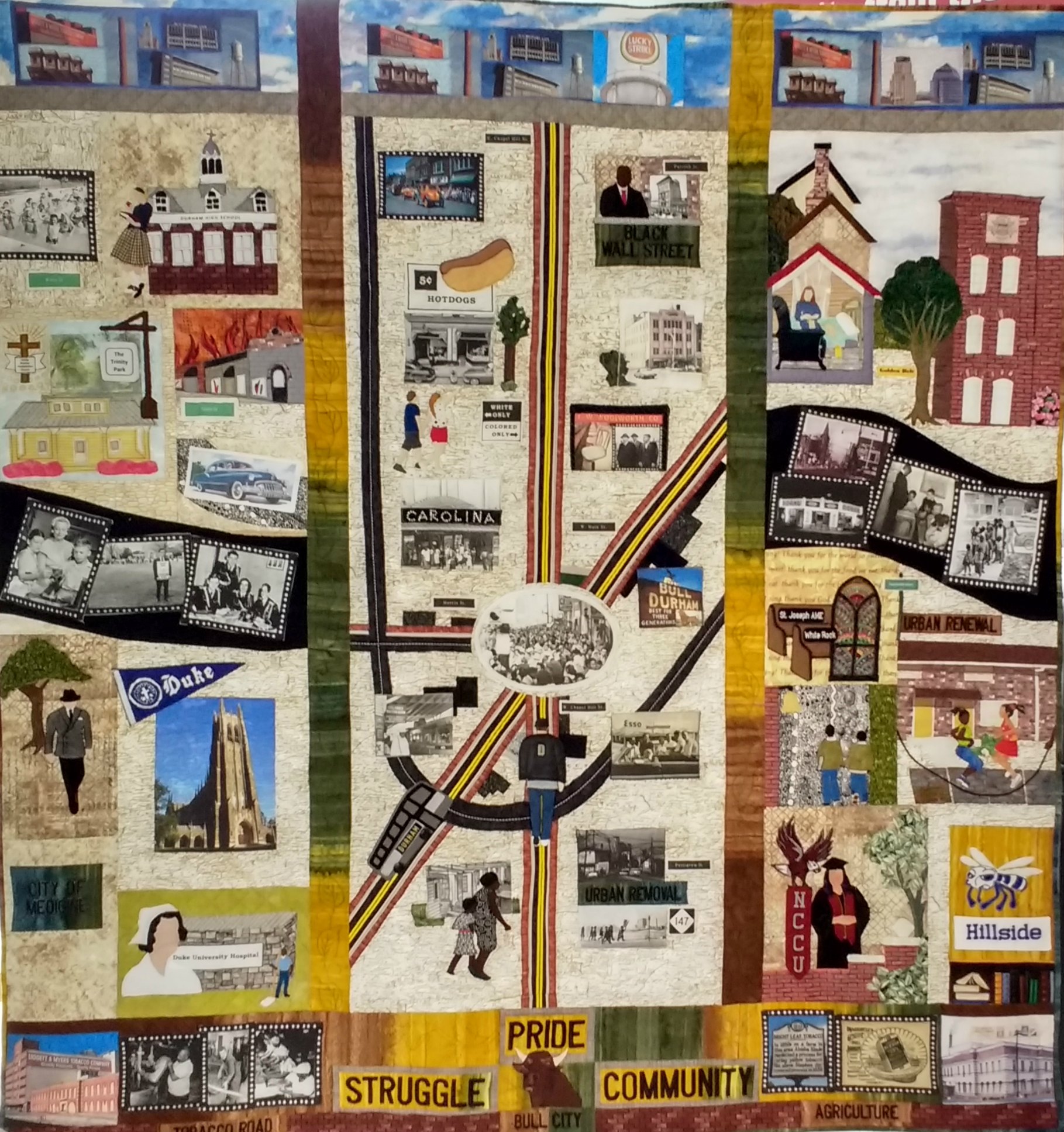 On June 16, we were honored to unveil our Memories of Durham Story Quilt as part of Third Friday Durham festivities. The quilt is a permanent part of the MoDH collection and is on display in our Story Room, made possible with generous support from the Mary Duke Biddle Foundation. See photos from the event HERE. Memories of Durham Story Quilt celebrates Durham's shared heritage depicted in cloth. The quilt is based on oral histories recorded in the MoDH Story Room as part of an ongoing oral history gathering project. People from diverse demographics recalled their memories of Durham during the 1940s to 1980s, and a selection of these stories formed the basis for the quilt's design.
The quilters expressed their artistic interpretation of these memories by using pictures, texts and fabric to stitch together places, objects and vignettes that captures the collective memories of Durham that are deeply rooted in struggle, pride and community.
The quilters hope the Memories of Durham Story Quilt will inspire visitors to the Museum to reflect on, remember, and share their own stories, and convey the message that, "Your memories matter."
A special thank you to contributors to the concept development, design and creation of the Memories of Durham Story Quilt: Katie Spencer, Executive Director, Museum of Durham History; Sauda A. Zahra, Story Quilt Project Lead; Jereann King Johnson, Quilter; Veronica Carlisle, Quilter; and Nancy Cash, Quilter.