Thank you, #15forDurham150 Donors!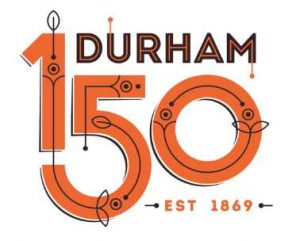 Thank you to those who donated to the #15forDurham150 campaign (March 27-April 10).  We hope to see you at the Durham 150 Opening Celebration Presented by Aetna on April 13.
Want to know more about Durham 150?
Danielle Kaspar: In honor of the late Richard J. Kaspar, former president & publisher of The Herald-Sun, who always made time for his family, church and being active in the Durham community.
Leola Jenkins: Happy 150th Birthday, Durham NC
Sharon Brinson
Keith Spring
Constance Walker: Many, many thanks for your selection of Dr. Lucinda McCauley Harris, Founder of Durham College, as one of the short list of 29 out of 150 persons that will be celebrated by the City of Durham.
Treat Harvey: Love to celebrate my beloved adoptive hometown!
Thelma Jones: Happy Anniversary Durham! I lived there while matriculating and graduating from Durham College in 1970-1972. The college was founded by Dr. Lucinda McCauley Harris who was selected to be recognized during your 150th Anniversary events. She was also shortlisted to be one of the late people to be recognized as well. By honoring her, I feel honored as well.
Kritsen Brown
Elise and Graham Sharpe
Margaret Pentrack
Deborah and James Dobbins
Jeana Routh
Shelly Green
Lena Dunston
Carolyn Carney: Happy birthday, Durham. x
Sarah Fish
Eliza Mathew
Patrice Nelson: In honor of Urban Ministries of Durham
Jacob Dolan
Jennifer Fox: We love Durham! Here's to the next 150!
Wendy Jacobs: Happy Birthday, Durham!!! Let's make the next 150 even better!
Andrew Janiak
Sue Mathias: Happy Birthday, Durham!
Kimberly Williams: Happy Birthday, Durham!
Debra Davis
Barbara Mckinley
Susan Ross: In memory of H.C. Cranford Jr.
Susan Morrison
Bobby Sorrell
Nancy Jo Chatham: I love Durham and I miss it so much!
Wib Gulley
Jayme Shoop
David Stein
Regina Martinaitis: I am so pleased to be a part of the celebration.
Rita MacMillan
Jeff Edgar
Matthew Clayton
Ben Reese
Terry Herrmann
Rebecca Newton
Edward Fulbright
Elisabeth Wiener
Kathleen Wright
Sandra Benton
Paolo Mangiafico
Elizabeth Ray-Schroeder
Laura Liggett
John Schelp
Kathy and David Bartlett
Thomas Huzij
LisaCaitlin Perri: In honor of the League of Upper Extremity Wrestling Women of Durham (LUEWWD)
Barbara Baker
Kathy Silbiger
Gretchen Cooley
Teme Levbarg: 150 years!
Meg and Joe Solera
If you would like to correct something about your listing, please contact durham150@mossandross.com with the requested edit and we will make the update as soon as possible.