Wrapping up our Community Curated exhibit series
Posted on September 9, 2019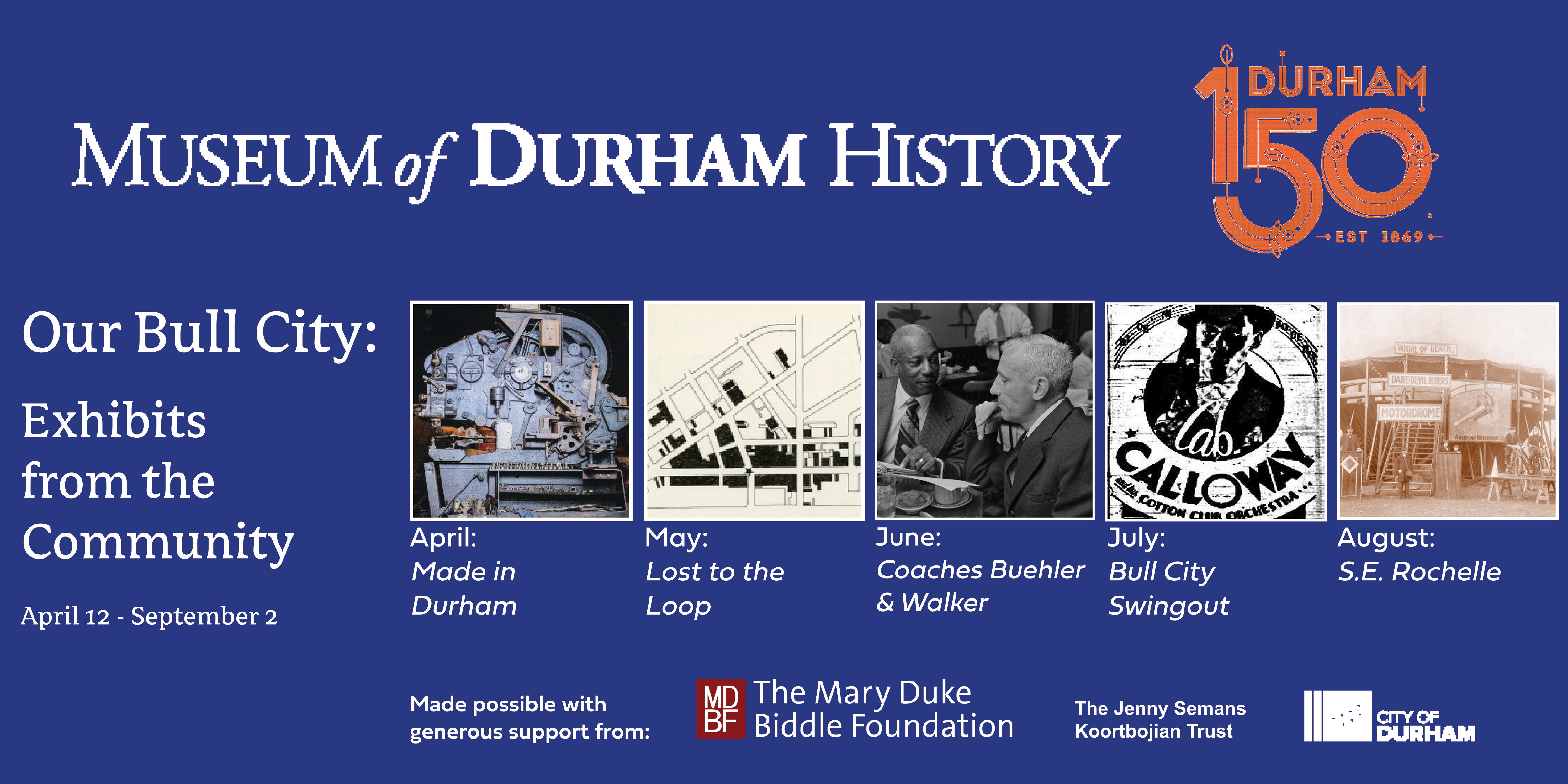 As part of our programming in honor of Durham 150, the Museum hosted a series of five rotating exhibits that were curated by members of the community. The exhibit series was made possible with the generous support of the Mary Duke Biddle Foundation and the Jenny Semans Koortbojian Trust. In February, the Museum put out a call for exhibit proposals from the community, which were reviewed and selected by the Museum's exhibits committee. The community curators researched their topics and were assisted by Museum staff in design and installation. This exhibit series was a great opportunity for the Museum to partner with a diverse group of community members who provide a different perspective on Durham's history.
In April, we kicked the series off with Made in Durham which examined the unique machinery behind some of the work of the family-owned Durham Brazing and Welding Works, which the Murray family had operated for 95 years. Made in Durham will be on display at the Ederville Machinery Museum in Carthage, NC this fall.
The second exhibit Lost to the Loop: Reshaping Downtown Durham opened in May. This exhibit told the story of Durham's Downtown Loop – from the historical street grid to the Julian Tarrant plan and the implementation of major changes to the streetscape. Curator Erin Rutherford offered a Saturday morning walking tour which highlighted some spots where some of these major changes can be seen.
When the USA Track and Field National Championship was held in Durham in June, the Museum partnered with the Durham Sports Commission to curate Meeting at the Finish Line: Coaches Walker and Buehler which highlighted the international achievements of NCCU's Leroy Walker and Duke's Al Buehler and their partnership that broke down barriers at the height of segregation.
In July, we featured Durham's Early Swing and Jazz which explored the pre-WWII entertainment scene in Durham. Curator Laura Windley, was also involved in organizing a workshop series at the Durham Armory during the exhibit's run.
The final exhibit in the series, S.E. Rochelle, examined the life of Sidney Edgar "S.E." Rochelle (1878-1960)– a veteran, an entrepreneur and motorcycle enthusiast born and raised in Durham, NC. Local motorcycle organization, Ton Up NC, curated the exhibit and hosted its annual showcase event right outside of the Museum over Labor Day weekend.
Thanks to C.T. Wilson Construction, we also added a mobile Story Kiosk to our toolkit for the Durham 150 commemoration so that we can collect video testimonials out and about in the community!