Equal Rights Amendment Documentary Screening and Q&A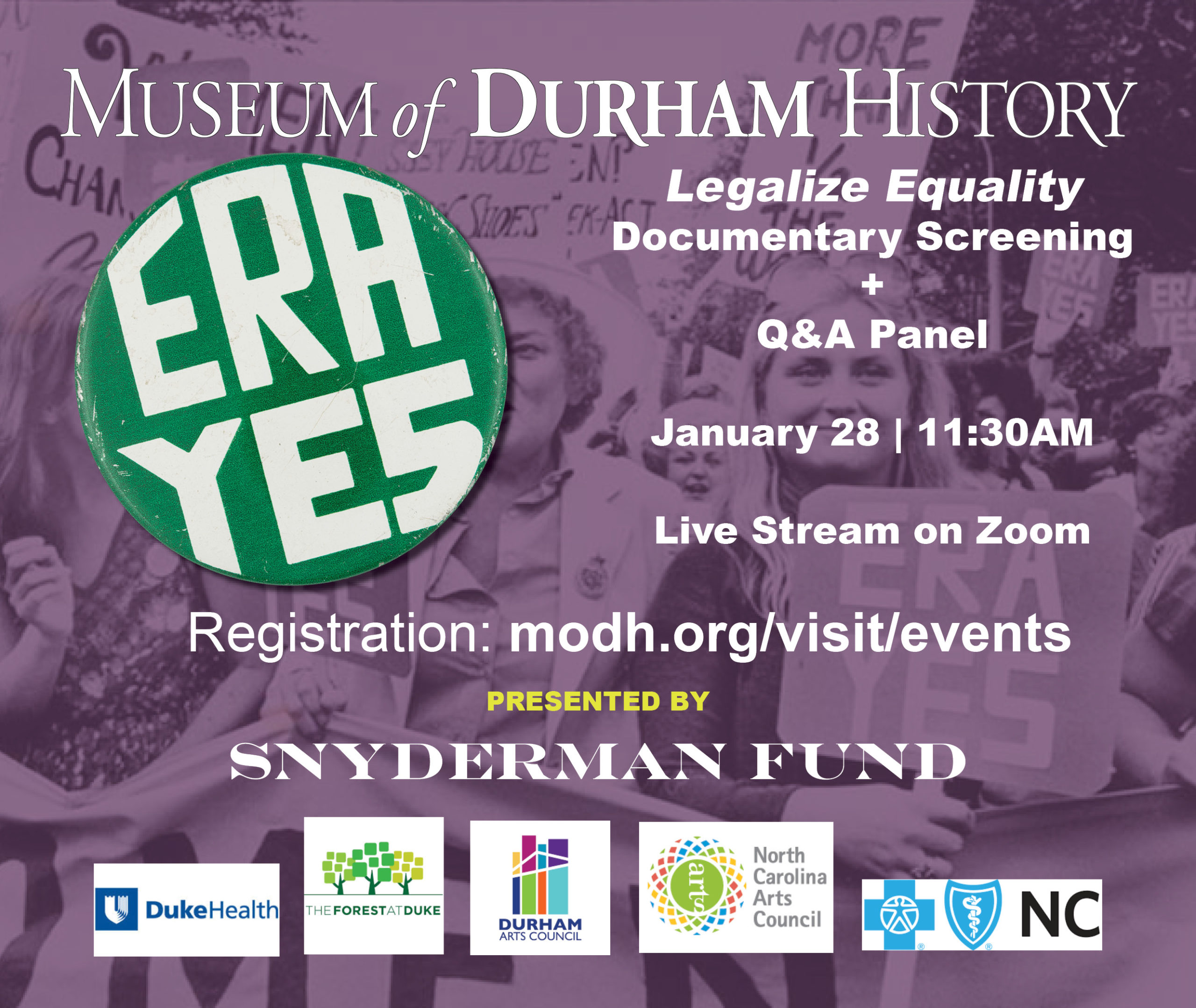 The Equal Rights Amendment, ensuring the legal equality of women, was never ratified at the state level in North Carolina. The current ERA- NC Alliance has been an active force in pushing for policy change since 2016, but there is still a long way to go toward ensuring equal rights for marginalized genders within North Carolina's legislation. On January 28th, the Museum of Durham History will be partnering with the ERA – NC Alliance to host a virtual screening of the 30-minute long Legalize Equality documentary, highlighting the history of this struggle for gender equality. The screening will be followed by a Q&A with panel members including the activists, lawyers, scholars, and volunteers. Our panel members will be prepared to answer questions about the history of the movement, the ongoing legal cases related to the ratification of the ERA, and how to get involved at the individual level.
Tune in for this live-streamed event on Zoom, with the film screening starting at 11:30am, followed by the panel discussion at noon. Register here.
Special thanks to the Snyderman Fund, the Durham Arts Council, the North Carolina Arts Council, the Forest at Duke, Duke Health, and Blue Cross Blue Shield of North Carolina for supporting digital programming associated with our exhibit, Votes for Suffrage: 100 Years of Women in Durham Politics.
The Museum of Durham History is an unaffiliated/non-partisan organization which does not advocate for or against ERA legislation. In keeping with our mission to foster curiosity, encourage further inquiry, and promote an understanding of diverse perspectives, we provide a platform for the Durham community to come together and discuss issues, welcoming civil discourse/divergent perspectives. The relevance of this topic in today's society, as well as its relevance to our current exhibit align with the Museum's organizational values.