Recognizing of one of Durham's most beloved bakeries and its community connection
Posted on December 21, 2021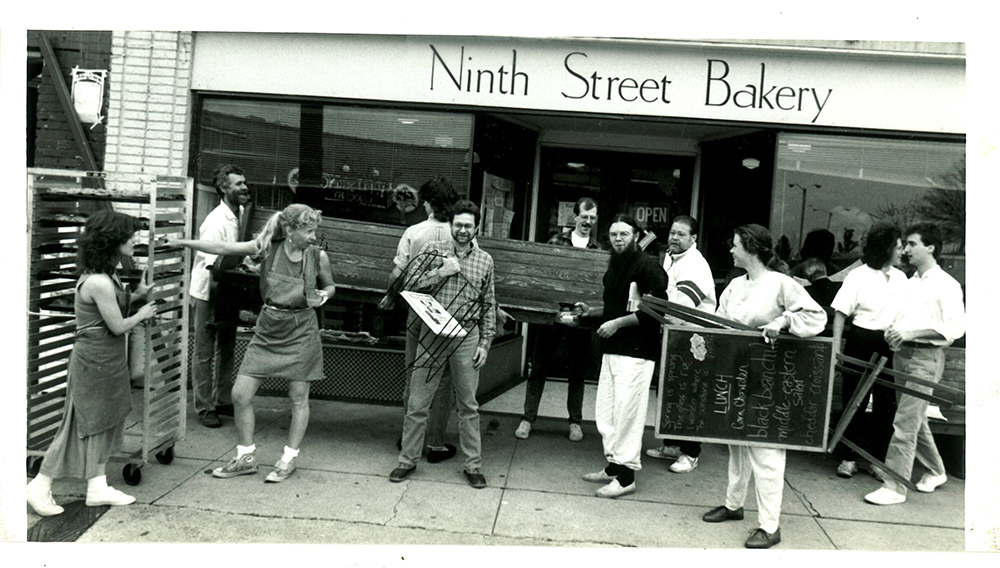 In the spirit of giving, we would like to thank the local small business community for their encouragement and collaboration with us over the years- we have come a long way thanks to their support! As we turn the page to 2022, we know you will be as excited as we are to experience our new exhibit currently in development on the History of Durham Restaurants.
Recognized nationally as "Tastiest Town in the South" and "America's Foodiest Small Town," Durham's culinary culture is an eclectic mix of both traditional and classic southern food as well as international cuisine. This exhibit will highlight just some of the pioneering restaurants of Durham throughout the 20th century who brought the community together at the table. Stay tuned for more details- this is sure to be one for the history books!
---
To share the culinary love, we would like to put the spotlight on one of our favorite Downtown haunts- and neighbors- Ninth Street Bakery. As many of you have seen (and sampled!), we have partnered with the bakery to offer delectable treats to you as part of our holiday giving campaign. And because we can't resist a good story, we would like to share the tale of how this small business became a local favorite– and as well known for its Starry Night Rye as it is for being a dedicated community partner.
In 2013, two seemingly unrelated events occurred in Durham: the MoDH officially opened its doors and Ari Berenbaum (pictured below) became the new owner of Ninth Street Bakery. Over the next eight years, the museum would cross paths with the bakery from time to time and they would share many mutual connections. Fate eventually intervened and in the Fall of 2021, MoDH Executive Director Patrick Mucklow reached out to Ari to further collaborate.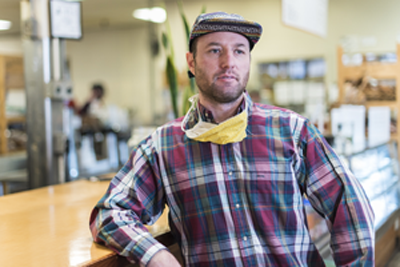 Ninth Street Bakery began in 1981 (on 9th Street!) as a small bakery and cafe focused on organic, healthy products and grew a loyal following and a strong reputation in the community. The bakery eventually moved to downtown Durham in 1992 and found its home in the former Herald-Sun building, opening a large production facility with an adjacent cafe serving a menu of freshly baked bread, pastries, sandwiches, soups and salads.
Fast forward to the present and the bakery has become hugely successful with wholesale clients including Harris Teeter and Whole Foods as well as many local businesses, restaurants and cafes. And it has also helped to shape the role of small businesses in supporting the community and its residents.
As many organizations were looking for ways to provide for those in need during the pandemic, Ari sought to bring everyone together around the common cause:
"We were donating lunches to all in need throughout 2020 and I thought, what if we could do a little more? So we created a Basic Income project called Durham Neighbors, where any who are in need can get a monthly Cash App contribution of fifty dollars, enough for a load of groceries or maybe a small bill, which is huge if you're earning less than you really need to pay rent and raise a family. We love partnering with the MoDH and all of our community businesses and nonprofits and look forward to a new and improved 2022!"
---
We are thankful to our community partners such as Ninth Street Bakery and to our family of visitors and supporters who have helped us grow since 2013 and provided inspiration and encouragement every step of the way.
We need your help to reach our $30,000 goal by the end of the year! Thanks to the generous matching contributions of Aaron Spaulding, Ruth and Victor Dzau and our Board of Directors as well as the incredible support from our community, we are very close to reaching our goal and inspired by the positive feedback and enthusiasm you have shared with us.
There are several ways to make a gift in support of the MoDH, we welcome you to visit our giving page to learn more!
As a special holiday gift for a friend or family member, we invite you to make a donation in honor of an individual, family or organization- please provide the details in the "Comments" section when making your gift and we will send them a personalized card as well as a MoDH t-shirt. For gifts of $50 or more, you may also choose to have your donor gift sent to the honoree.
Please consider making a recurring monthly gift to help us as we innovate new content at our physical location, present special community events and expand the virtual programming available on our website! Details are available on our giving page and gifts can be set up in any amount you choose.
We also offer the opportunity to make a pledge in support of our operations, virtual programming, exhibits or community partnerships and events. Please make a note in the "Comments" section to make a commitment and tell us more about your interests. We'll get right back to you!
As our gift to you, any donation of $50 or more will receive a bag of delicious, locally made Ginger Snaps from our friends at Ninth Street Bakery as well as one of our very own MoDH t-shirts.
Wishing you and your loved ones very Happy Holidays!