GivingTuesday 2022
Posted on November 29, 2022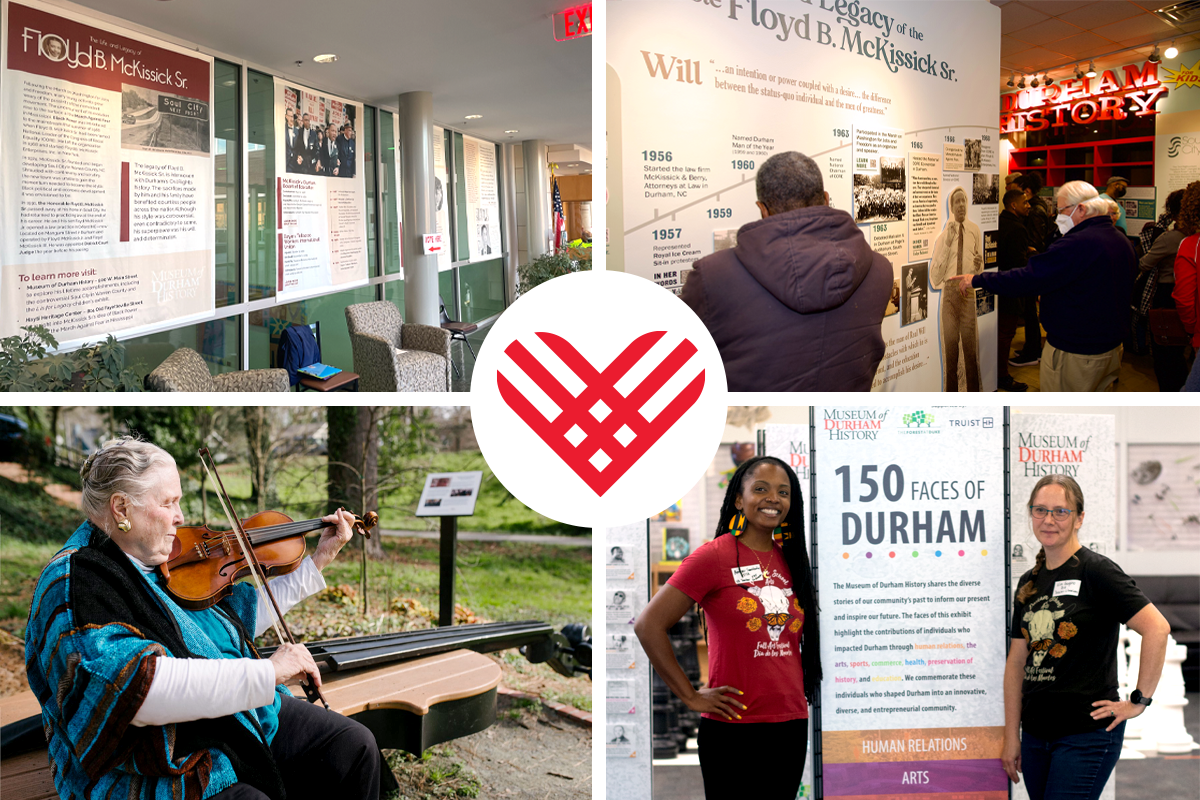 Top Left: The Life and Legacy of Floyd B. McKissick Sr. satellite display at NCCU Turner Law Building
Top Right: Opening Reception of The Life and Legacy of Floyd B. McKissick Sr. at MoDH (courtesy of Brand Fortner)
Bottom Left: Dorothy Kitchen at her History Grove (courtesy of Beth Mann, Durham Magazine)
Bottom Right: Traveling 150 Faces of Durham at Durham School of the Arts
---
The power of GivingTuesday is in the ability to unify the world through generosity, and as we celebrate the 10th anniversary of the first annual event, we ask for your support to help the MoDH as we also enter our 10th year.  We first opened our doors in October of 2013 and thanks to your generosity and faith, we have created, curated, and shared Durham's history every year since then.
The stories of Durham's past are what made us who we are as a community, and what inspire us to learn in the present and reimagine who we want to be in the future.  With your support, we can tell these stories and help shape a future that encompasses the voices and perspectives of all members of our community.
Please consider a gift to the MoDH to help students learn history through our 150 Faces of Durham Traveling School Exhibit, tell the story of one of Durham's most impactful leaders through The Life and Legacy of Floyd B. McKissick Sr., and bring history to life in the community through our 16 History Groves located throughout Durham.
As our gift to you, all donations of $50 or more will receive a tin of chocolate chip shortbread cookies courtesy of our friends at Ninth Street Bakery, and recurring donations of any amount will receive a gift set from Bright Black Candles.
For those who want a one-of-a-kind MoDH gift, all donations of $150 or more will receive (in early 2023) a special weather resistant tote bag made from our very own exhibit banners.
GivingTuesday first began in 2012 as a day when people from around the world could do good together.  Since then, it has grown into a movement built around the idea of radical generosity: the concept that if we all give what we can, the combined impact of that giving will create systemic change for the betterment of all.
Wishing you a joyful GivingTuesday full of inspiration and hope!