ERA Program Additional Resources
Posted on February 1, 2021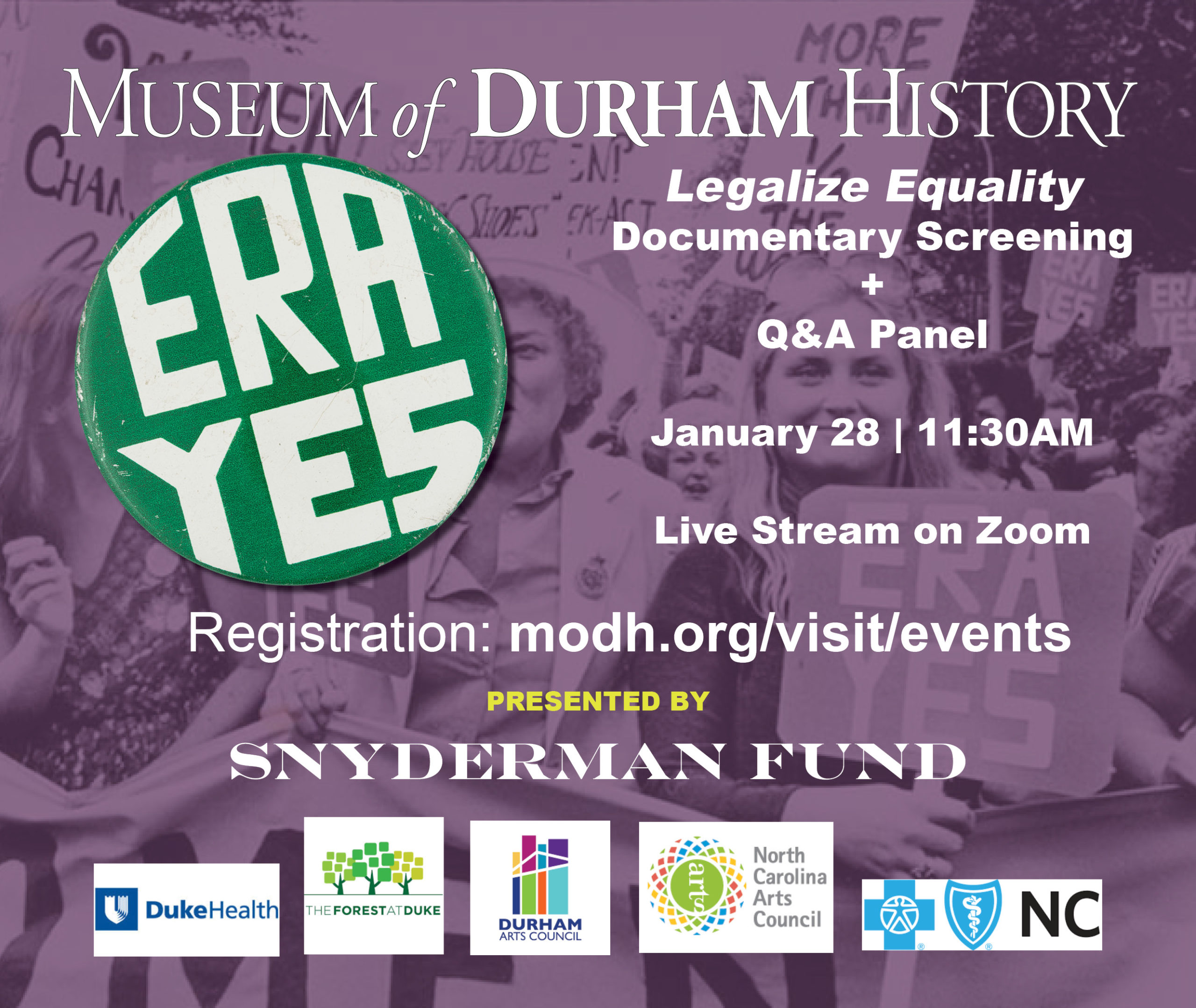 Thanks to the over 200 folks who joined the Museum's screening of Legalize Equality and the subsequent panel discussion! We had virtual attendees as far away as the UK, Berlin, and India!
We appreciate your interest in our program and wanted to share additional resources related to the Equal Rights Amendment, the Museum of Durham History, and our panelists.
We would greatly appreciate your feedback, please fill out the following survey to help the Museum continue providing meaningful educational programming for our audiences:
https://forms.gle/yJGwrm6xJzDxtBK57
Links to Resources
Resources from the Program Chat, submitted by users
Tips on getting involved from the ERA-NC Alliance
Senate letter template from ERA-NC Alliance
NCGA lawmakers' email addresses
North Carolina Congressional Contacts
Senator Richard Burr
217 Russell Senate Office Building
Washington, DC 20510
202 224 3154
www.burr.senate.gov/contact/email
Judiciary Contact:  
Brittan Harrell, Brittan_harrell@burr.senate.gov
Women's Issues Contact:
Ann Woods Hawks, ann_hawks@burr.senate.gov
Senator Thom Tillis
113 Dirksen Senate Office Building
Washington, DC 20510
202 224 6342
www.tillis.senate.gov/public/index.cfm/email-me
Judiciary Contact:  Brad Watts   brad_watts@tillis.senate.gov
Women's Issues Contact:
Allen Edwards  allen_edwards@armed-services.senate.gov
The Museum of Durham History is an unaffiliated/non-partisan organization which does not advocate for or against ERA legislation. In keeping with our mission to foster curiosity, encourage further inquiry, and promote an understanding of diverse perspectives, we provide a platform for the Durham community to come together and discuss issues, welcoming civil discourse/divergent perspectives. The relevance of this topic in today's society, as well as its relevance to our current exhibit align with the Museum's organizational values.