Events
Sister Cities Pop-Up Exhibit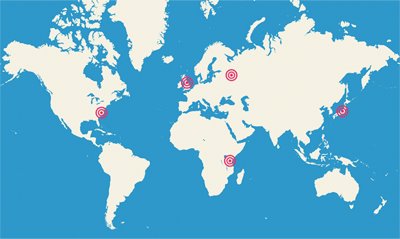 Join us on
Thursday, October 24th from 6-8PM
as we welcome a pop-up exhibit from our friends at
Sister Cities of Durham.
The temporary exhibit (on display Oct. 22-27) features Sister Cities projects over the years, and a world map showing all the international cities that are connected to NC cities. Light refreshments will be served.
Sister Cities of Durham, Inc. is celebrating its 30th Anniversary, founded in 1989 with Sister Cities partners Durham in England, Kostroma in Russia, and Toyama in Japan. The Durham City Council will proclaim Sister Cities of Durham Week for Oct. 19 – 27.
Sister Cities International's mission is to encourage mutual understanding and cooperation between Durham and cities around the world to promote world peace, with all partnerships signed by the respective mayors. The organization has expanded Durham's international family by adding Arusha, Tanzania in 1991, Zhuzhou, China in 2012, Kunshan, China and Xianning, China as Friendship Cities in 2013 and 2017, Kavala, Greece in 2017, and Tilaran in Costa Rica, Celaya in Mexico,  and Sibiu in Romania in 2019, Sister Cities has a variety of exchange programs with international partners in the areas of education, business, medicine, art, music, local government, and environment, which have provided many opportunities for  citizens and organizations in Durham to enhance their international understanding and to develop friendships around the world.