Education
Facebook Live web series: "Vintage Postcards from Durham"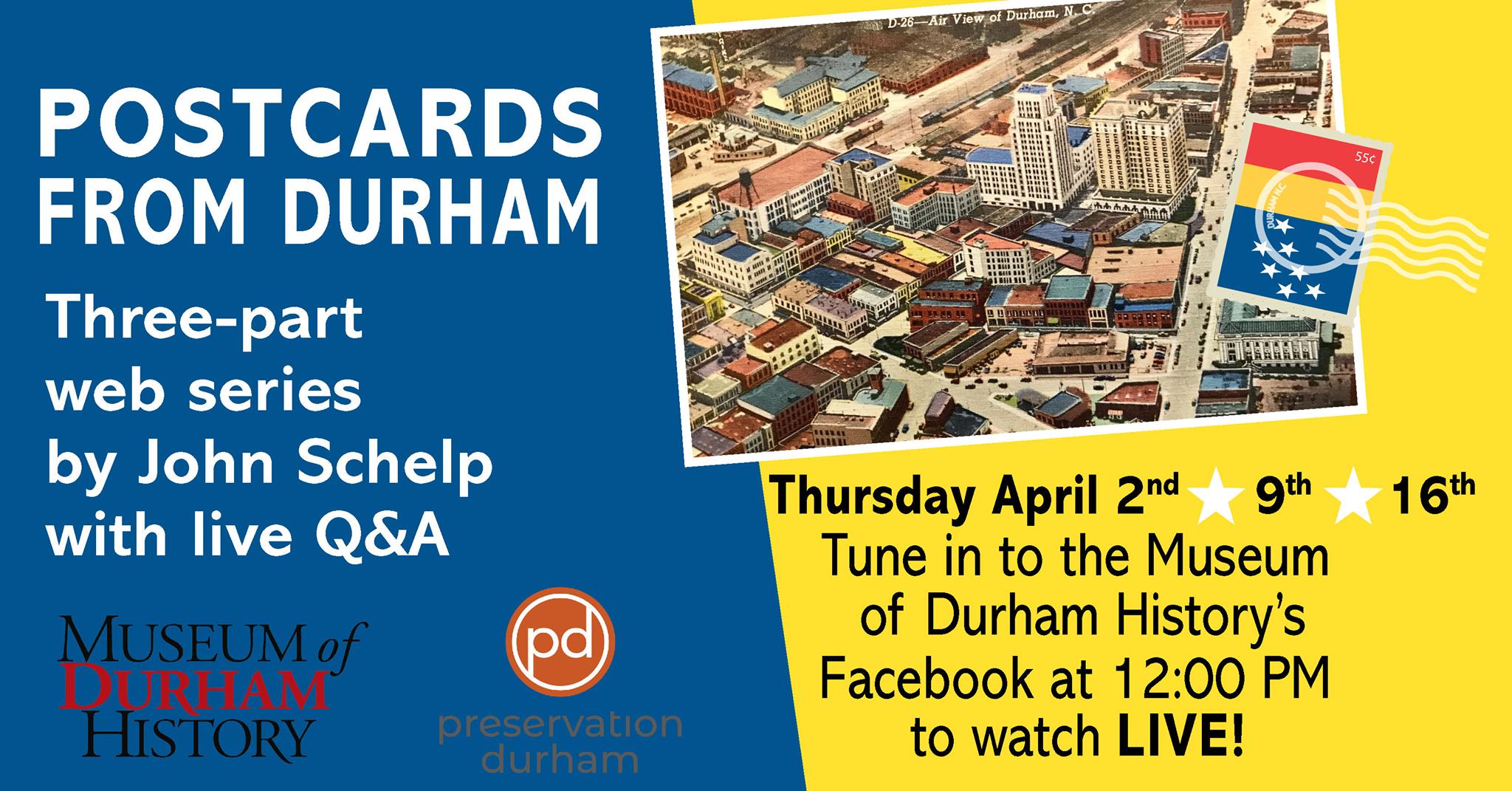 Preservation Durham and The Museum of Durham History are partnering to continue storytelling events during social distancing due to the spread of the coronavirus. On April 2, 9, and 16, at Noon, "street historian" John Schelp will be the guest presenter for a series of Facebook Live virtual presentations.
Schelp regularly hosts events that inform residents about Durham's story. To resume Schelp's popular lectures and neighborhood walk schedule which were postponed by the pandemic, two local non-profit, history organizations will offer virtual talks via Facebook Live, featuring live Q&A from the online audience.
The virtual event, which will be streaming on both the MoDH's and Preservation Durham's Facebook pages, is an opportunity for folks to learn interesting Durham facts at home and create a fun, family story time activity. Audience members will also have the opportunity to donate to both organizations during the events via Facebook.
Schelp uses his personal collection of vintage postcards of Durham to connect historic buildings, institutions, and people to Durham's evolving story in industry, social justice, education, economics and cultural heritage.
"This is going to be a relaxing opportunity to take a break and take a trip across Durham," Schelp said. "We're going to start in West Durham and follow the ridge through downtown and beyond, visiting landmarks along the way. I love how these two non-profits are joining forces to help share some cool old postcards with folks stuck at home."
When safe and admissible, visit the museum at 500 West Main Street, to learn more about Durham. Admission is FREE. Visit Postcards from Durham anytime on Instagram to view historic postcards of Durham's past. Visit Preservation Durham or opendurham.org, a digital, mapped, and interlinked community archive featuring an ever-expanding collection of stories about Durham. Replay the virtual talk on Preservation Durham's or The Museum of Durham History's websites, Facebook, or YouTube channels.