"Durham During the Great War" Opening Reception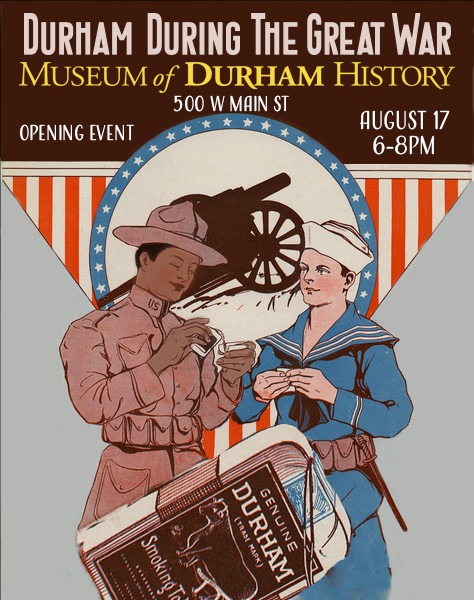 Please join us on Friday August 17th from 6-8PM at the Museum of Durham History for the opening reception of our newest exhibit "Durham During the Great War," as we commemorate the centennial of the Armistice of World War I.
This event is FREE and open to the public, featuring complimentary refreshments in the spirit of rationing during the war effort to remain "wheatless and meatless," courtesy of Ninth Street Bakery, the Fresh Market, and Museum volunteers. Musician Robinson Lee Earle will be on hand to play ragtime and blues on his resophonic guitar.
The exhibit examines how social, economic, and political changes in Durham during the war left a lasting legacy of future movements toward equality. It shows how black and white soldiers of Durham joined the fight in Europe, many paying the ultimate sacrifice. Yet under the segregated military, their experiences were drastically different. Durham's tobacco industry also reached new heights as an important resource for soldiers abroad, while playing a key role in strengthening those who had otherwise felt socially excluded. African Americans and white women utilized war-time economic needs to gain leadership roles in local and state government, attain independence, and to organize in favor of equality.