Events
Partner event: Durham Arts & Culture Candidates Forum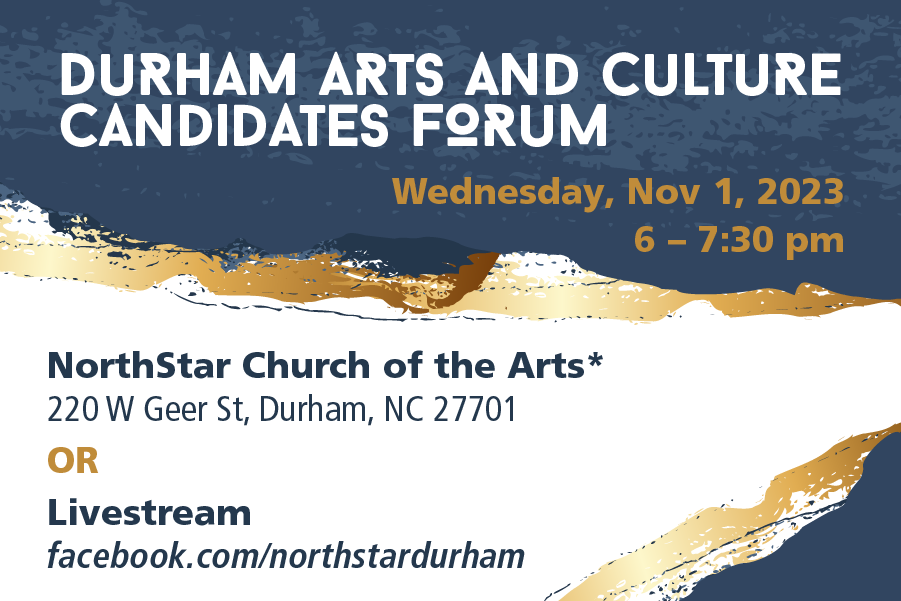 Partner event alert! The Durham Arts & Culture Candidates Forum is an informative event in the lead-up to the local elections, and it will be held on November 1, 2023, from 6:00 to 7:30 pm at NorthStar Church of the Arts (220 West Geer Street). Doors will open at 5:30 pm. This interactive forum will bring together mayoral and city council candidates and the public to discuss the role of arts and culture in Durham's vibrant community. It will be facilitated by Monica Barnes, Community Engagement Director of WTVD ABC11, with a special welcome from Durham's Poet Laureate DJ Rogers.
Arts and culture are an essential part of Durham's identity and also a powerful tool for building a more inclusive, engaging and economically strong community. This event aims to facilitate a constructive dialogue between candidates and constituents, helping voters make informed decisions at the ballot box.
The forum will include moderated questions and open discussions on topics related to arts funding, cultural equity, public art, and more. It will provide an opportunity for candidates to showcase their commitment to Durham's arts and culture scene and offer strategies for supporting its growth and ensuring that it remains at the forefront of Durham's priorities.
This non-partisan forum is open to the public, including artists, cultural organizations, and anyone who cares about the role of arts and culture in shaping Durham's future. A deaf interpreter and translator will be present. The event can be livestreamed at facebook.com/northstardurham.
Date: November 1, 2023
Time: 6:00 – 7:30 pm
Location: NorthStar Church of the Arts/220 West Geer Street/Durham, NC 27701*
Livestream: facebook.com/northstardurham
Presented by Durham Arts & Culture Advocates, a coalition of artists, historians, arts and culture leaders and institutions.

*Seats will be filled on a first-come basis. A deaf interpreter and translator will be present.