Black History Month
Dr. Nishani Frazier: "Black Economic Power"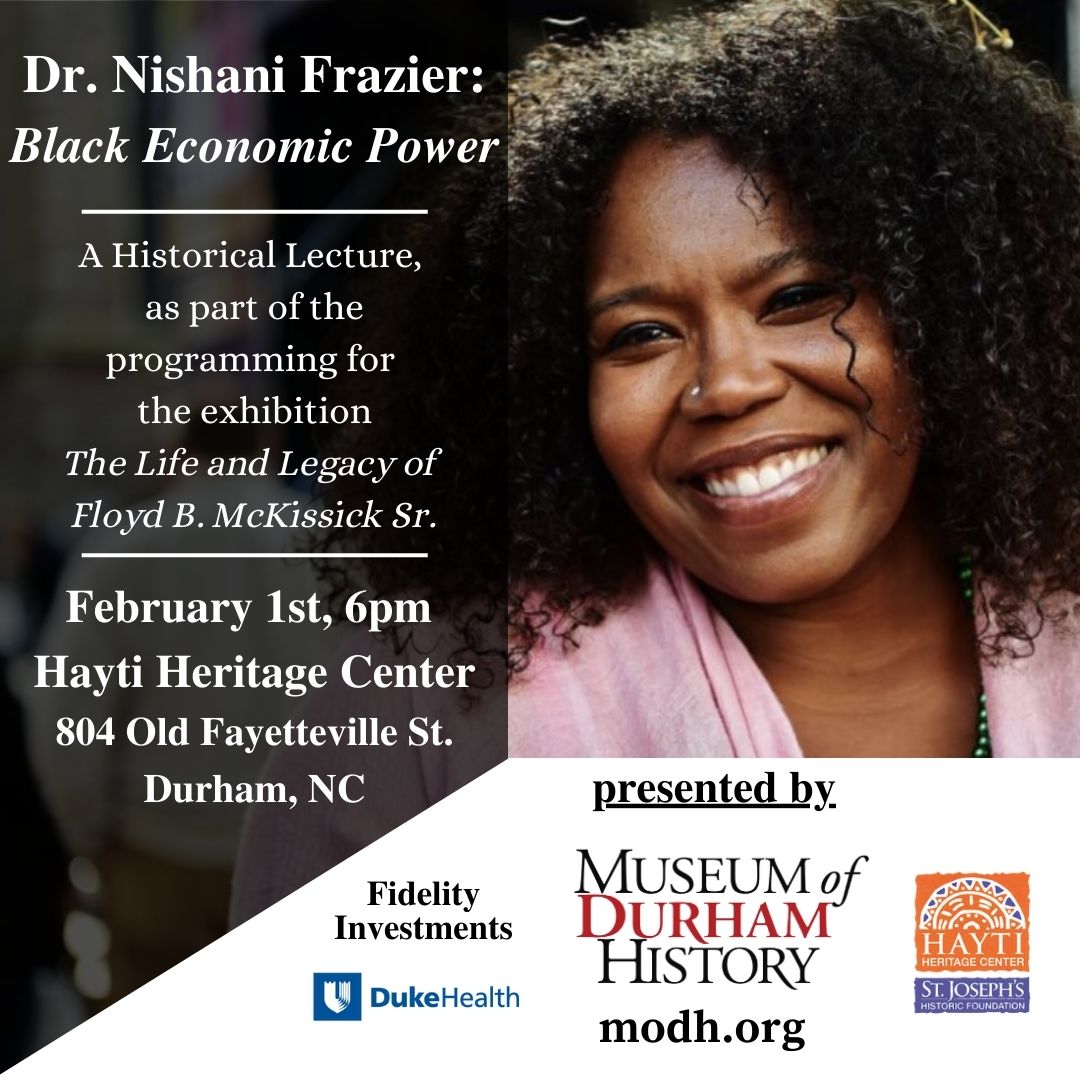 The Museum of Durham History is partnering with the Hayti Heritage Center to present Black Economic Power on February 1 at 6:00 PM, a program in support of the Museum's The Life and Legacy of Floyd B. McKissick Sr. exhibit. This FREE event is open to the public and will be held at the Hayti Heritage Center, 804 Old Fayetteville St., in the historic Hayti neighborhood. Complimentary refreshments will be provided. In commemoration of Black History Month, special guest speaker Dr. Nishani Frazier will discuss the economic impact of McKissick Sr.
The lecture will examine the foundation of Black economic development in the Congress of Racial Equality, and explain how it gave rise to the work of McKissick Sr. and Soul City, his vision for a planned community. Particular attention will be given to understanding the revolutionary elements of urban planning and cooperative economics, which inspired Soul City's dream and design.
As part of our "Museum Beyond Walls" vision of bringing history to the community, the Museum is presenting The Life and Legacy of Floyd B. McKissick Sr. at three meaningful Durham locations, each with a distinct theme and design. Dr. Frazier will use the Museum's recently installed extension of the McKissick exhibit at the Hayti Heritage Center as the backdrop for her presentation.
---
Nishani Frazier is Associate Professor of History and American Studies at the University of Kansas. Prior to Kansas, she held positions as Associate Curator of African American History and Archives at Western Reserve Historical Society (WRHS), Assistant to the Director of the Martin Luther King, Jr. Archives at the Martin Luther King Center for Nonviolent Social Change, and personal assistant for Dr. John Hope Franklin, before and during his tenure as chair of President Bill Clinton's advisory board on "One America".
Her research interests include 1960s freedom movements, oral history, Black nationalist philosophy, digital humanities, and Black economic development. Nishani's recent book publication, Harambee City: The Congress of Racial Equality in Cleveland and the Rise of Black Power Populism (University Arkansas Press, 2017), was released with an accompanying website also titled Harambee City. Harambee City is a digital project that creates a second layer of book "reading" via online access to maps, archival documents, teacher lesson plans, and oral history interviews.
Dr. Frazier is currently working on a digital project and text on gentrification in Durham titled Voices of the Displaced.
For more information on Harambee City or Cleveland's Black Freedom Movement, see harambeecity.lib.miamioh.edu. Additional information about Professor Frazier can be found on her Twitter at @SpelmanDiva