Unveiling the Hayti Heritage Center Satellite Exhibit
Posted on January 26, 2023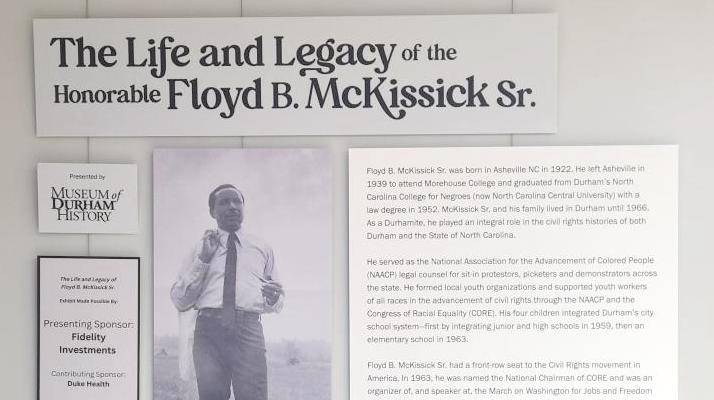 The Museum recently installed the third segment of The Life and Legacy of Floyd B. McKissick Sr. exhibition. The local history museum has created its own history, as this is our first exhibit ever to feature not just one or two, but three independent displays simultaneously. This latest version featuring unique content is located in the Hayti Heritage Center's community room.
Hayti Heritage Center is located at 804 Old Fayetteville Street, Durham 27701. Refer to their website above for hours of operation. The building has plenty of parking and is ADA-accessible.
---
Speaking of Hayti, we have the perfect way for you to engage with this new exhibit! On Wednesday, February 1st at 6pm, the Museum is partnering with Hayti to host a special historical lecture, entitled Black Economic Power, with guest speaker Dr. Nishani Frazier. This FREE event will take place in the same room as the new McKissick exhibit. This program is open to the public and complimentary refreshments will be provided. In commemoration of Black History Month, Dr. Frazier will discuss the economic impact of McKissick Sr. and examine the foundation of Black economic development in the Congress of Racial Equality.