MoDH & Bike Durham to lead "Biking Durham's hiSTORIES" ride May13th- RESCHEDULED
Posted on May 4, 2017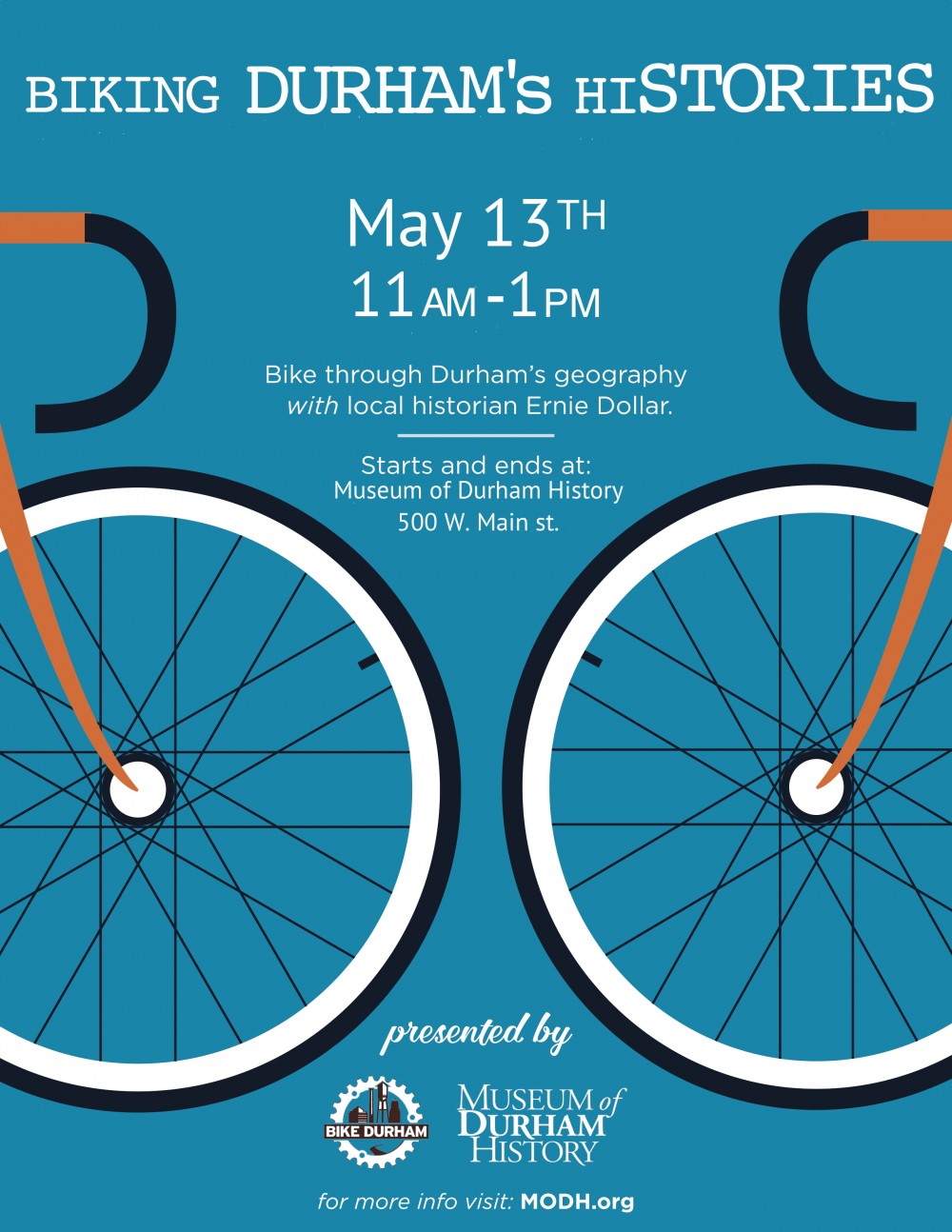 Update Saturday May 13, 8:25 AM: Due to rain & slick road conditions, we have decided to reschedule today's bike ride w/ Bike Durham to a later date. We apologize for any inconvenience and will let you know the makeup date. We'll be looking forward to it!
Update: Please be sure to arrive a little early to sign the waiver we're obligated to have you sign before you ride. We're pretty sure the weather will be in our favor, but keep your eye on our social media on Sat. AM for the final update!
On Saturday, May 13 from 11AM-1PM the Museum of Durham History and Bike Durham are celebrating National Bike Month by teaming up to lead Biking Durham's hiSTORIES, a leisurely five-mile tour through downtown Durham and the American Tobacco Campus.
The no-cost, family-friendly ride will be led by local historian and Durham native Ernest Dollar, who will stop at various locations around town to tell the city's more famous and lesser known stories. The ride begins and ends (with parking available) at Museum of Durham History, 500 West Main Street. Representatives from Bike Durham and the Museum will be on hand to marshal the ride and help the peloton share the road with vehicles and navigate intersections.
This is the third year of the ride, with previous tours drawing over 100 cyclists riding through downtown streets! Email info@modh.org or call 919-246-9993 for more details.
To prepare for Biking Durham's hiSTORIES, people are encouraged to participate in Preservation Durham & the Nasher Museum's Mural Rides on May 6. These rides lead cyclists from the Durham Farmer's Market through downtown Durham to tour up to 13 historic murals. The rides last approximately 90 minutes and are open to anyone with a bicycle. For a full list of Bike Month events, visit BikeDurham.org/bikemonth.