Hop in the Durham DeLorean: Eagles Soar to the Championship
Posted on June 28, 2023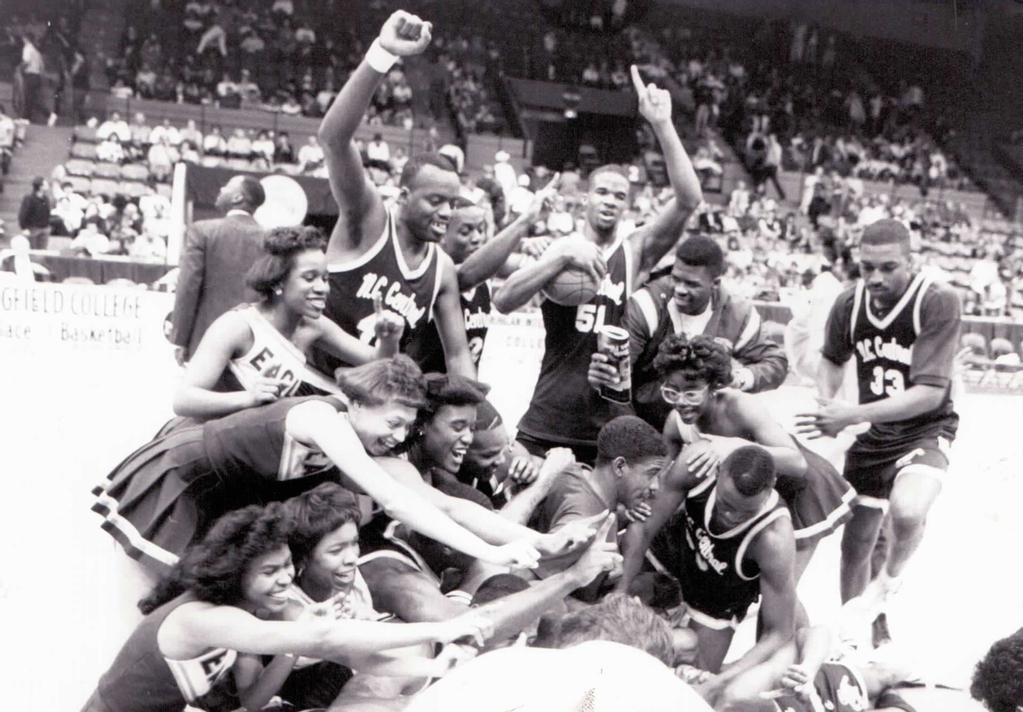 Eagles celebrating the 1989 Championship win. Photo Courtesy of NCCU Athletic Department.
---
In preparation for the upcoming, nostalgia-inducing exhibit, Stranger Times, we are bringing you several stories throughout June of some of Durham's greatest 1980s events. For some, these stories might be interesting Bull City trivia from way back, while for others these events might feel like they happened yesterday.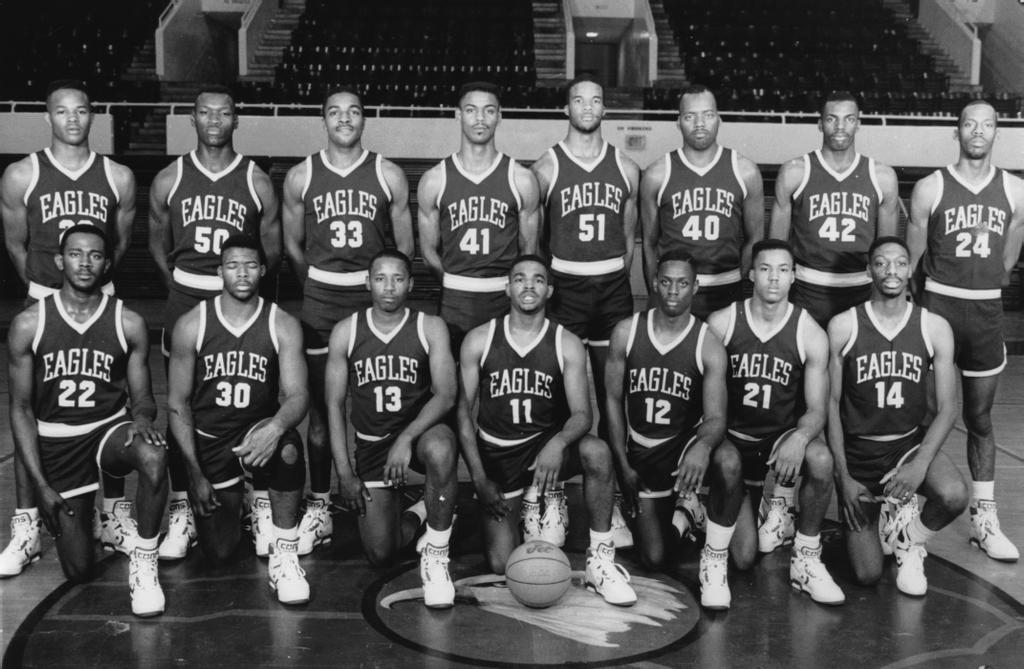 The 1989 North Carolina Central University Men's Basketball Team. Courtesy of NCCU Athletic Department. 
On March 25th , 1989, North Carolina Central University's Men's Basketball team won the NCAA Division II National Championship. In a huge blowout, the Eagles triumphed over Southeast Missouri State with a 73-46 final score.
The Eagles finished the season with a 28-4 record, and the team was inducted into the NCCU Athletics Hall of Fame in 1997.
On the topic of NCCU Basketball, make sure to check out the digital exhibit, Coach Mac: Integrator and Innovator. It looks at the life of Coach John McLendon, the man who cemented NCCU's basketball reputation. A big shoutout to the community curators of this exhibit, Tamar Carroll, Umar Muhammad, and Dr. Chanda Powell, as well as Andre Vann and the NCCU Archives for his help with research & photographs, and Kavya Menke who designed the digital exhibit.
---
Did You Know…
The Eagles brought a NCAA Championship win home to Durham even before the Duke Blue Devils! Duke brought the win home two years later in 1991.
 Eagles head coach Michael Bernard was named Coach of the Year in 1989 by the National Basketball Coaches Association.
Three Eagles players, Miles Clarke, Antoine Sifford and Dominique Stephens, were selected to the NCAA Championship All-Tournament Team, while Clarke earned Tournament Most Outstanding Player honors.
Each member of the team went home with a piece of the old hardwood they played on at McDougald-McClendon Arena.
The 27-point margin of this 1989 Championship game became a new scoring record for NCAA Championships.
For this particular season, NCCU led the league in scoring defense, only allowing opponents an average of 56 points per game.