Faces of Durham: Blind Boy Fuller
Posted on May 7, 2021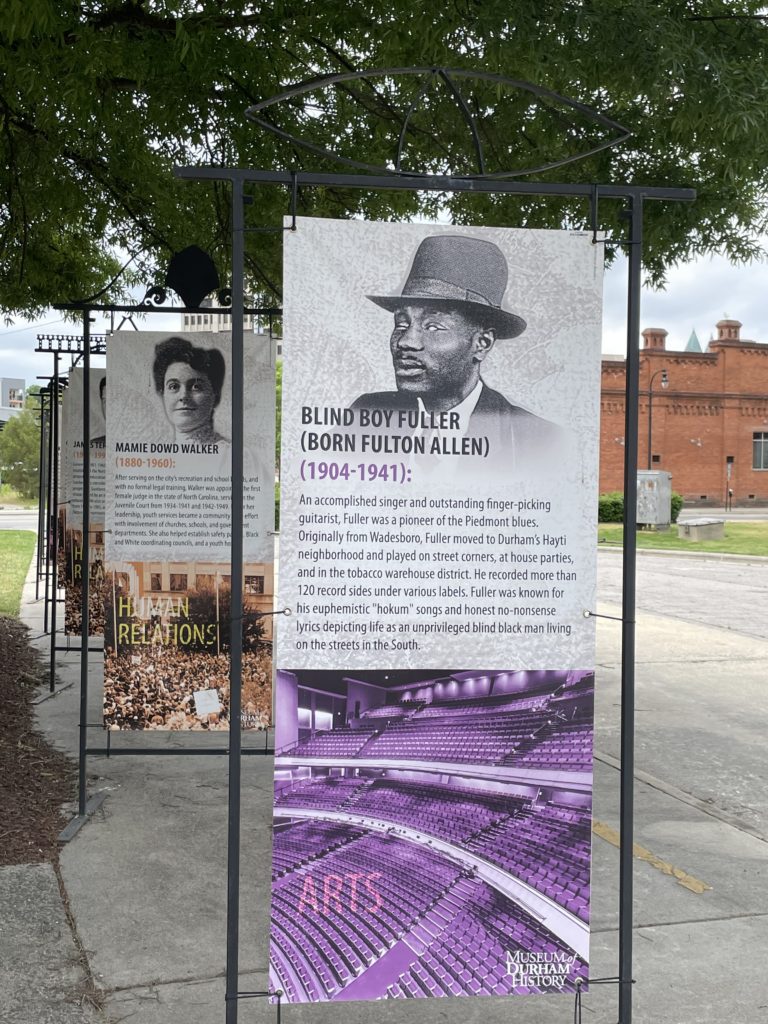 Faces of Durham features a selection of familiar and lesser-known faces from the Bull City's past and present. The exhibit highlights a broad range of contributions including industry and commerce, medicine, and human relations while mapping Durham's development from a railway stop to a booming tobacco town, and to today's revitalized hub of arts and innovation. Check out our blog as we introduce some of the faces from the exhibit
Blind Boy Fuller was born Fulton Allen in Wadesboro, North Carolina, in 1904 to a poor black family. Following the death of his mother, Fulton moved with his father to Rockingham, where he learned to play guitar and listened to the country rags, traditional songs and blues music tunes that were popular in poor rural communities. By 1927, he was married to Cora Mae Allen and living in Winston-Salem, where he began singing and playing guitar as a street musician due to a progressive loss of eyesight from neonatal conjunctivitis. Street musicians tended to do well when performing in the vicinity of tobacco factories and warehouses since these were places of steady employment for factory workers, who usually could spare some loose coins for street singers.  
By 1929, Fuller and his wife had settled in Durham, where he developed a local following of fellow musicians, including guitarists Floyd Council and Richard Trice, harmonica player Saunders Terrell, and washboard player and guitarist George Washington (known popularly as Bull City Red). While living in Durham, Fuller came to the attention of furniture dealer J.B. Long, who had become a talent scout promoting records by local blues musicians. He became Fuller's manager, securing a recording session with the American Recording Company in July 1935. This would become the first of over 130 recordings that Fuller would make for the ARC. Together with Sonny Terry and Bull City Red, Fuller became a highly successful blues musician, drawing upon the influences of a wide variety of musicians, especially Reverend Gary Davis, whose powerful bass line and fast fingerpicking runs Fuller incorporated into his playing.
While Fuller was often criticized for the uninhibited and explicit content of his euphemistic "hokum" songs, he drew upon every aspect of underprivileged life with which he was familiar as a blind black man living in the South: "from the pawnshop to the jailhouse; from the bed to the graveyard; from love to disenchantment; from entertainment to sickness and death."1 He articulated these themes in his music with astonishing honesty and frankness at a time when racial stereotypes about servile, simple-minded black people were widely accepted in popular entertainment.
Blind Boy Fuller died at his home in Durham on February 13, 1941. Following his death, Fuller's colleague Brownie McGhee used Fuller's own guitar and recorded "The Death of Blind Boy Fuller" as a tribute. His grave is located in Durham's Grove Hill Cemetery.  
This blog-post was written by our Spring 2021 intern, UNC-Greensboro student, Nils Skudra.
A great number of Fuller's songs are available on Youtube like, "I don't want no skinny woman," "Get Your Yas Yas Out," and "Walking My Troubles Away."

1 Paul Oliver, Blues off the record: thirty years blues commentary (New York: Da Capo Press), 96.