"Faces of Durham"- New Outdoor Exhibit
Posted on November 23, 2020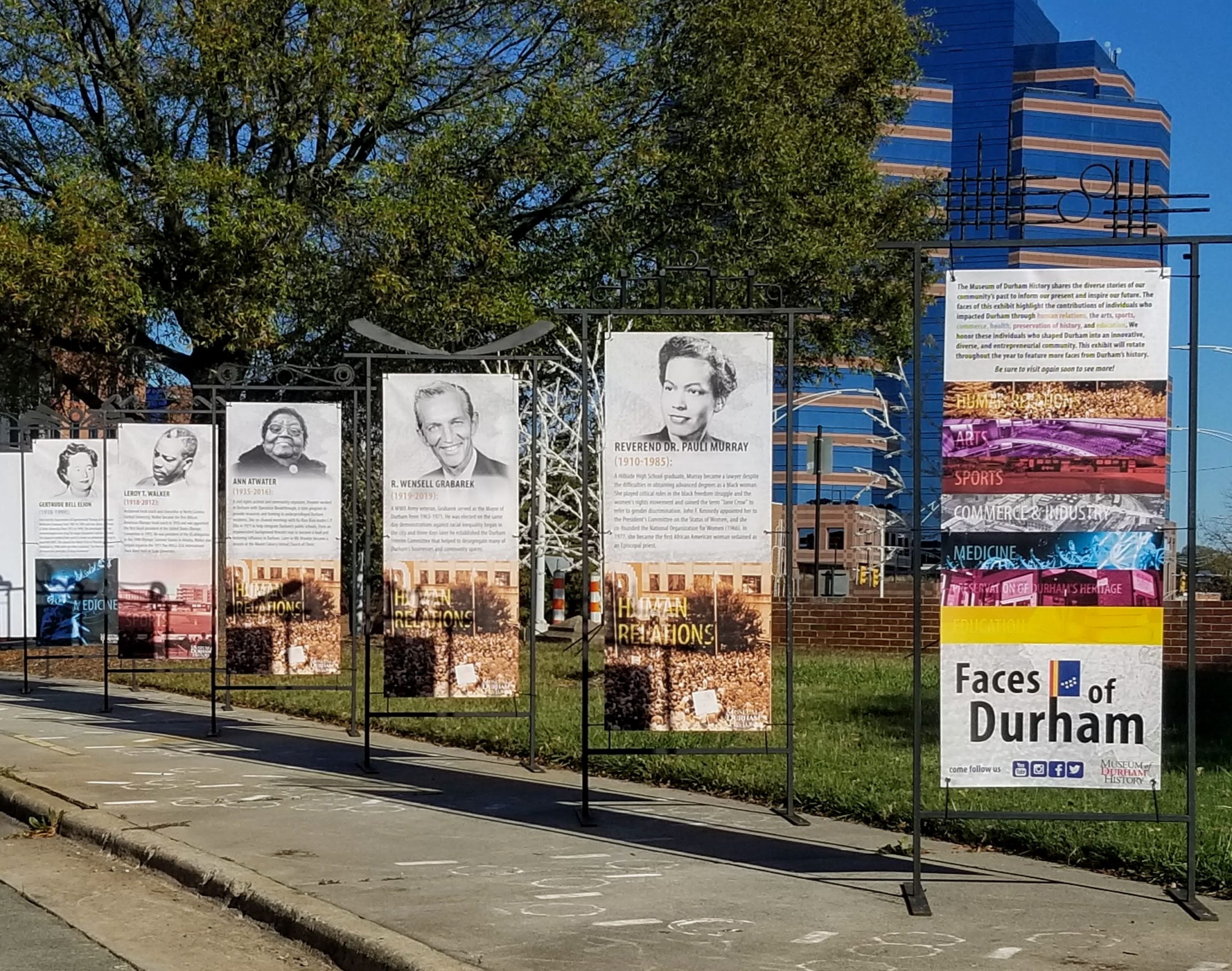 Just in time for the holiday season, we have launched a new social-distance friendly exhibit right outside our front door. With generous support from Durham Merchants Association Charitable Foundation, Faces of Durham features a selection of familiar and lesser known faces from the Bull City's past and present. The exhibit highlights a broad range of contributions including industry and commerce, medicine, and human relations while mapping Durham's development from a railway stop to a booming tobacco town, and to today's revitalized hub of arts and innovation.
Colorful, framed banners line the sidewalk of 500 West Main Street, featuring a photo and caption for each of the nineteen individuals represented, guiding visitors to the Museum's doorstep. The banners depict the stories of people who have helped shape Durham's legacy and reaffirm, in a very public way, that Durham values its residents' diversity of talent.
The collection of faces, which will be rotated on a semi-annual basis, include such notables as choreographer "Baba" Chuck Davis, school integration activists Ann Atwater and C. P. Ellis, Carolina Theatre champions Montrose and Connie Moses and Blues musician Blind Boy Fuller.
While the Museum's indoor facility remains temporarily closed due to the recent spike in covid-related cases, the community is encouraged to explore the weatherproof installation, which adds historic and civic significance to Durham's cultural landscape. The Museum is asking the public to submit their own photos and stories to become a living part of the exhibit on Instagram using #facesofdurham.
The heavy, vertical metal frames housing the exhibit were designed and built by local metal sculptor Al Frega to support the Museum's first exhibit more than a decade ago. This exhibit repurposes the existing frames, works of art in themselves.
Content for the exhibit is drawn from the popular 150 Faces of Durham exhibit, part of Durham's 150th Anniversary Celebration in 2019. Among the 150 faces are individuals selected by the Durham City Council's Sesquicentennial Honors Commission for special recognition.