"Building Bridges Through Good Faith" Exhibit Opening
Posted on April 4, 2018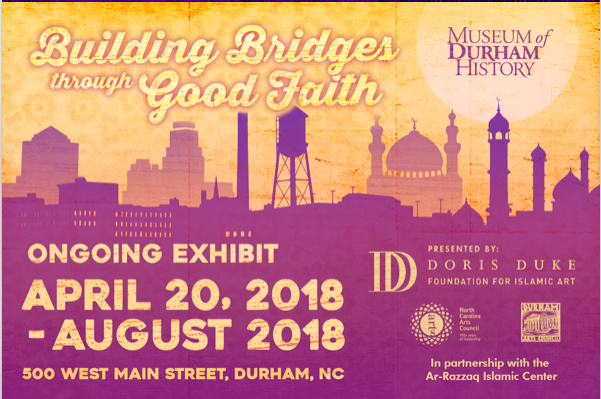 Please join us on Friday, April 20 from 6:00PM-8:00PM at the Museum of Durham History (500 W. Main St.) for the opening event for our newest exhibit, Building Bridges through Good Faith, highlighting the growth and development of one of the oldest Muslim communities in North Carolina. This event is FREE and open to the public, featuring complimentary homemade food samplings including fish sausage, bean pies, bean soup and carrot cake. Children's activities and live music courtesy of the NCCU Jazz Studies Program will round out the event, which coincides with Durham's Third Friday festivities.
The Ar-Razzaq Islamic Center (formerly Muhammad's Mosque #34) was founded in Durham in the 1950s under the local leadership of Imam Kenneth Muhammad, and has been an anchor of the West End neighborhood since the 1970s. The exhibition focuses on the contributions of the Ar-Razzaq Islamic Center to the West End neighborhood and to all of Durham through first person accounts, photos and artifacts. In telling the stories of people in the Ar-Razzaq community, the exhibit will illuminate its economic, political and cultural impact on Durham.
The exhibition, which runs through August 2018, will feature monthly programs that touch on the impact of Ar-Razzaq. A lecture series, ongoing programming and celebrations throughout the summer will be capped off by a closing event at the Museum in August.
Email info@modh.org or call 919-246-9993 for more details.