4 by 50: Turning Points in Durham History
Posted on July 14, 2020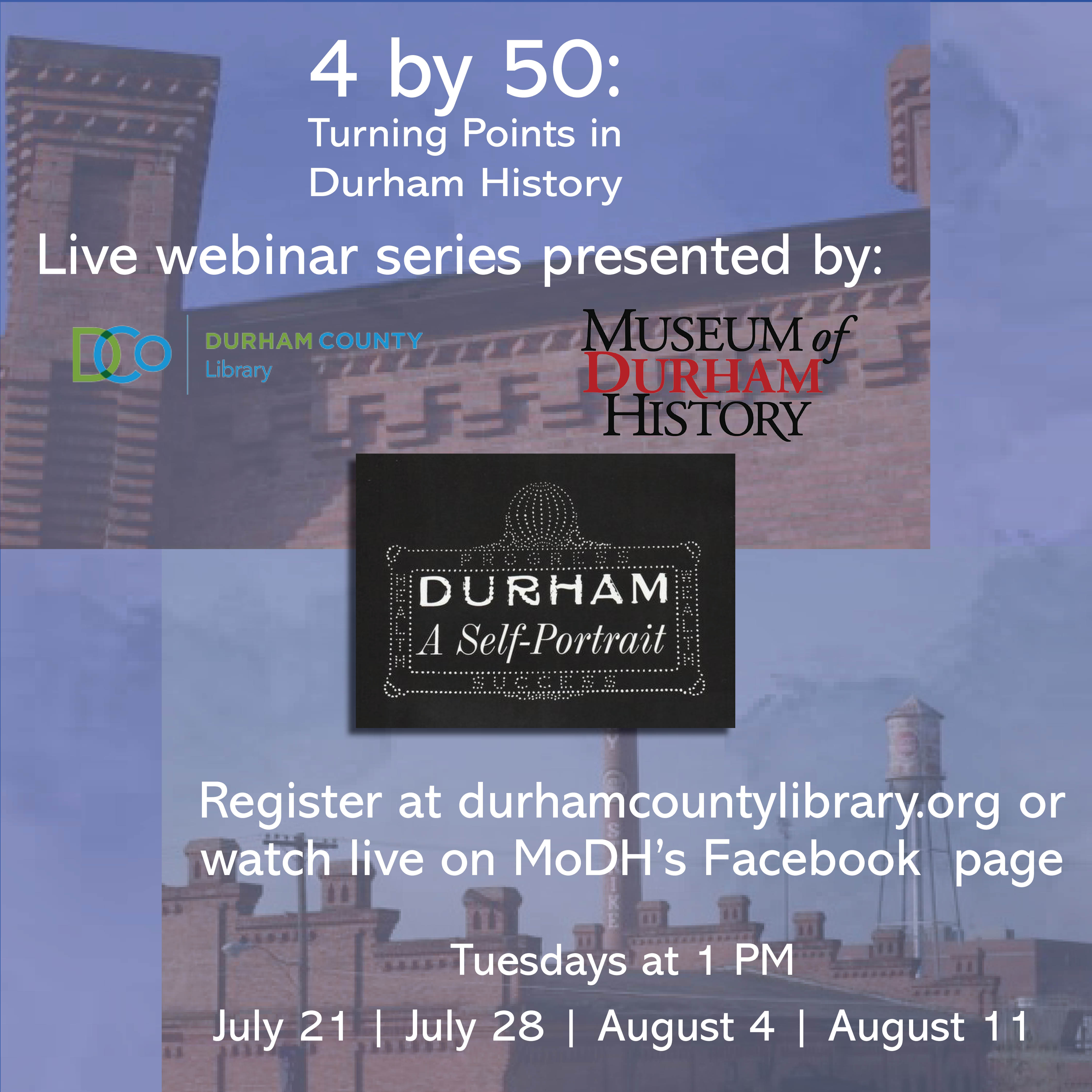 The Museum of Durham History and Durham County Library are partnering to host a four-part, live-streaming web series that captures today's issues, framed in the context of Durham's history. Tune in to the Library's Zoom webinar or the MoDH's Facebook Live page Tuesdays at 1PM on July 21 and 28, August 4 and 11. Viewers may register for part three HERE.
Looking into Durham's past reveals roughly 50-year cycles of major change, beginning with the city's founding just after the Civil War; then a second period beginning about 1918,  with the end of WWI, the Spanish Flu epidemic, and women's suffrage movement; then a third fifty years beginning in the late 1960s with the turmoil surrounding civil rights and Vietnam War.
Each segment will be a small group conversation, with visuals drawn from existing resources, such as the Durham: A Self-Portrait documentary and the Library's North Carolina Collection. Audience participation will be invited and moderated via Zoom chat and Facebook comments sections. All four programs will be posted on the Library's and Museum's YouTube channels.
Author and historian Jim Wise will moderate each week's panel of local experts. The first program, on Tuesday, July 21, at 1 pm, will feature NCCU Archivist Andre Vann; Eileen Watts Welch, president and CEO of the Durham Colored Library Inc.; and educator/historian Eddie Davis.
Part two on July 28 will feature Angela Lee, Executive Director of Hayti Heritage Center; Dr. Benjamin Speller, former Professor and Dean of NCCU School of Library and Information Sciences; and Dr. Robert Korstad, Professor Emeritus of Public Policy- Duke University Sanford School of Public Policy.
Part three on August 4 will feature Bill Bell, former county commissioner and eight-term mayor of Durham; Floyd McKissick, Jr., former NC state senator, current member of NC Utilities Commission; and April Johnson, Executive Director of Preservation Durham.
Part four features Ivan Parra, Executive Director- NC Latino Power, Co-Founder of Durham CAN; Nicole Thompson, President/CEO- Downtown Durham, Inc.; and Cornell P. Wright, MPA, Executive Director- NC Dept. of Health and Human Services Office of Minority Health and Health Disparities.