History Groves
- Louis E. Austin
Louis E. Austin was editor and publisher of The Carolina Times newspaper from 1927 to his death in 1971. He purchased the paper, founded a few years earlier by Charles Arrant as The Standard Advertiser, and transformed the publication into an important voice for black North Carolinians during the 1930s and afterwards.
The paper's motto was "The Truth Unbridled," and Austin used the paper to publicize racial inequities and to fight for racial equality in North Carolina and throughout the United States.
On January 14, 1979, the building that housed The Carolina Times was burned to the ground; little survived the blaze, and the entire stock of back issues was destroyed. Authorities suspected arson; the editor at the time, Mrs. Vivian A. Edmonds, Austin's daughter, had a new issue out the following Thursday. The paper continues to be published today by Austin's grandson, Kenneth Edmonds.
Louis E. Austin plaque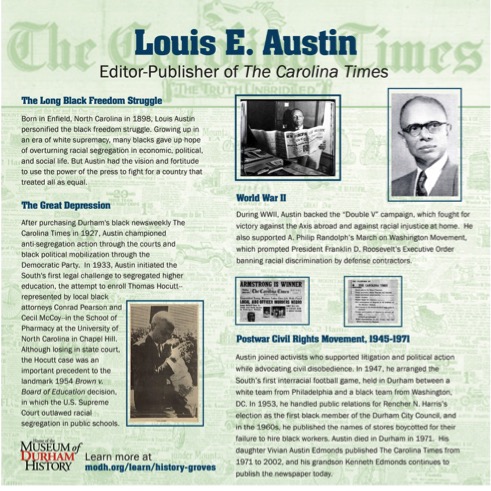 ---
Click map for directions to the History Grove