History Groves
- Dorothy Kitchen
Born on August 27, 1937, in Dayton, Ohio, Dorothy Kitchen moved to Durham in 1962 when her husband Joe took a position in Duke's mathematics department. Since then, Dorothy's mission to spread music instruction and appreciation to children from all socioeconomic backgrounds has become legendary.
Kitchen began her secondary violin and chamber studies at the Eastman School of Music, graduated Phi Beta Kappa from Case Western Reserve University, earned her Master's Degree from Brandeis University, and studied on a Holden Prize Fund Fellowship at the University of London. At the Longy School of Music in Cambridge, MA, she began her 40-years teaching career directing Children's Chamber Music and teaching violin. Her violin teachers included Jaroslav Holesovsky, Millard Taylor, Wolfe Wolfinsohn, Eugene Kilinski, Julia Kohl, and Georgio Ciompi; and her students include Patrick Desrosiers of Haiti and Francis Hsieh, who started violin at age five and now plays with the Charleston Symphony.
Once in Durham, Kitchen performed in piano trios and other ensembles with local musicians, and she began teaching music to children at the YWCA day camp. She initially taught 25 violin students, including her son Nick, in a building on Duke's campus. As a result of arts philanthropist and opera lover A.J. Fletcher's desire to support an opportunity for young people to study stringed instruments, the Fletcher Foundation issued a grant to the Duke Music Department, stipulating that they begin a program for children. Kitchen and colleague Arlene Di Cecco of the Ciompi Quartet founded the Duke University String School (DUSS) in 1967. With the Fletcher grant, Kitchen, who was a public school teacher for 2 years, also started the music program in Morehead Elementary School, initially supplying classes with repaired instruments from a supply in the Durham schools.
Over the years, DUSS has grown within the Duke music department. Several Duke music faculty, including members of the Ciompi Quartet (which formed shortly after DUSS), taught at the school. The DUSS program is open to musicians ages 5-18 from the very beginning levels through advanced playing. Now consisting of over 250 students, many on scholarship, DUSS offers violin and cello group classes, two levels of intermediate orchestra, an advanced youth orchestra, and a chamber music program. Kitchen served for nearly five decades as director of DUSS and conductor of the DUSS Youth Symphony Orchestra. One of the memorable moments was in 1991, when a chamber performed at the White House during the Clinton administration.
Once established in Durham, St. Stephen's Episcopal Church sponsored trips to Haiti, where Kitchen helped young musicians hone their talent, spending fifteen summers in the Camp Musicale de Leogane and teaching at the Ecole Ste.Trinite in Port-au-Prince. She also was the junior choir director at St. Stephen's for thirty years.
During her teaching career, she oversaw twenty-three years of intensive summer chamber music camps, taught for eleven years at UNC Greensboro summer music camps, and served as Associate Concertmaster of the Greensboro Symphony Orchestra for fifteen years. A member emeritus of the St. Stephen's Chamber Orchestra (SCOR; now the Chamber Orchestra of the Triangle), Kitchen has served as Co-Artistic Director of the St. Stephen's Concert Series, String Chair of the Durham Music Teachers Association's Performance Festival, Principal Second of the SCOR, and Principal Second of the Duke Symphony Orchestra for many years. During this time, she also conducted music workshops throughout North Carolina, served as string chairman for the North Carolina Music Teachers Association, was a judge for Allstate orchestra, and conducted master classes at Methodist College, Appalachian State University and Virginia State University.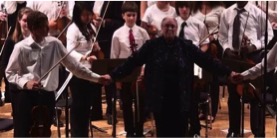 She has soloed with the Dayton Philharmonic, the Greensboro Symphony, SCOR and the Trinite Philharmonic (of Haiti) and was part of the Kitchen-Nicolson Baroque Duo for six years. She was also the Youth Chamber Music Professor for the Fourth International Festival of Music in Lima, Peru, and served on the Board of the Durham Symphony and Kidznotes, which provides orchestral training to underserved K-12 students in the Triangle.
The author of a small book for beginning violinists as well as music articles for the Durham Herald-Sun, the Dayton Daily News,and CVNC, Kitchen has been honored as "Teacher of the Year" by the NCSA, had a day named for her by the City of Durham, and received the Ella Fountain Pratt Lifetime Award for Service to Music from the Durham Arts Council. In addition, she received the Durham Symphony's Award for Lifetime Service to Music, and the North Carolina Symphony's Maxine Swalin Outstanding Music Educator Award.
Of all her accomplishments, Kitchen is proudest of the string school she co-founded even before it had a home at Duke. Kitchen retired as the Director of DUSS on April 26, 2014. She was seventy-six years old. As long as she is able, Kitchen will continue to give private lessons out of her home, currently (2017) to students ranging from five to seventy years old.
---
Click map for directions to the History Grove