Events
Neighborhoods Hike: West Durham, East Campus & Beyond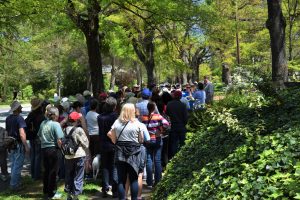 Neighborhoods Hike: West Durham, East Campus & Beyond
Saturday, March 30 at 10AM
Meet at Ninth & Green (free)
* Why do neighborhoods change so quickly in Durham?
* Was wasn't Duke Chapel built in Walltown Park?
* Who was born on a kitchen table behind Monuts, and wrote the song, Tobacco Road?
* Why is Walltown called Walltown?
* Where was the West Durham airport?
* Where did Madonna take early dance lessons?
* Who wrote "The Gambler" for Kenny Rogers and lived in a mill house on Ninth Street?
* Where did Elvis sleep incognito in a caboose?
* Why did the computers at Science & Math crash every time Erwin Mills had a shift change?
* Where was Kevin Costner spotted in his boxer shorts, near East Campus?
Come along and hear about 150 years of Durham history — and then some…
2.5-mile loop starts at Ninth & Green, across from White Star Laundry. We'll start in a mill village where we'll see an old liquor house, Buck Dean's bungalow, a Sears House and a quiet urban garden in Old West Durham. We'll then continue into the Watts-Hillandale neighborhood and walk past Oval Park and the old Watts Hospital. We'll go down a hidden alley and see where a songwriter for Norah Jones, Lou Rawls and Jefferson Airplane was born.
We'll head over to Walltown and hear about George Wall and Duke's original plans to build here. Then we'll see Richard Nixon's house in Trinity Heights and talk about the homes of Duke's famous faculty and coaches on Buchanan — including Cap Card, the father of Duke basketball and Wallace Wade, whose bowl games paid for Cameron Indoor Stadium. You'll hear about Trinity Park and where Mr. Costner was filmed in his boxers in Bull Durham. Then we'll cross East Campus, over to Ninth Street, past Erwin Cotton Mills and back to where we started.
We'll also talk about the ridge, between the Neuse and Cape Fear basins, that forms the backbone of our town. We might even get into current events in the Bull City and talk about all this development around Ninth St and downtown.
Local street historian John Schelp will narrate along the way. No need to register. Parking is available on streets near Ninth & Green. (Bike racks are also nearby.)
Hike takes about 2.5 hours (but folks can peel off anytime).
Optional post-tour gathering at Dain's Place at 754 Ninth Street — for a cold drink and further conversation.
Co-sponsored by Museum of Durham History, Sierra Club, and the Old West Durham Neighborhood Association. Rain or shine.