Eid al-Fitr Program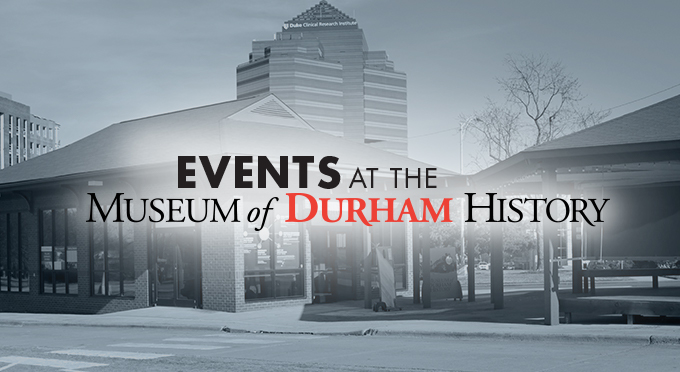 Join us at the Museum of Durham History on Saturday, June 16 at 4PM for a program during the celebration of Eid al-Fitr which marks the end of the fast of Ramadan. This program will include a panel discussion about the Muslim and African American Muslim experience, particularly in Durham, and the impact of the Ar-Razzaq community. Moderator and panelists include:
Rashida James-Saadiya (Moderator) is a visual artist, writer, and cultural educator, invested in transforming social perceptions through creative literature. Her work explores migration, identity and the transmission of spirituality through poetry and song amongst Muslim women in West Africa and the American South. In addition, she is the Creative Director of Crossing Limits, a multi-faith non-profit organization utilizing poetry as an instrument to combat social injustice.
Rhonda Murray Muhammad,PhD (Panelist) During her 36 year tenure in education, Rhonda K. Muhammad has worked in several venues. Her initial teaching experience immediately out of college was the University of Islam during the early – mid 1970s in Raleigh.
Her teaching and administrative roles also include public schools, private and charter schools, community college and college level. Her teaching experiences have run the gambit from early childhood, elementary, middle, high school and adults seeking to enhance their skills and teaching abilities. She is the daughter of Ar-Razzaq founders Kenneth and Margaret Murray brings community and Ar-Razzaq expertise to the group.
Imam Abdul hafeez Waheed (Panelist) is the Interim Muslim Chaplain/Imam for The Center for Muslim Life/Muslim Student Association. Imam Waheed has served on the Religious Life Staff at Duke University for the past 18 years. For 36 years, Imam Waheed has been an active member of the Muslim American Community in Association with the renowned leader, Imam W. Deen Mohammed. As an associate of Imam Mohammed, he worked tirelessly to arrange college and university tours and lectures to provide an opportunity for Imam Mohammed to share the clear logic and understanding of the religion of Al-Islam.
Youssef Carter (Panelist) is a Visiting Scholar in the Department of Anthropology at the University of North Carolina-Chapel Hill and serves as a Research Fellow with the International Institute of Islamic Thought. Youssef has conducted historical and ethnographic research in the southern United States and in Senegal, in order to track the transatlantic mobilities and spiritual networking of African and African-American Sufi Muslims.
Imam Greg Rashad (Panelist) is the current leader of the Ar-Razzaq Islamic Center.