Visit
- Current Exhibits
*Explore our online and previous exhibits HERE.
More Than Just a Game: The NCCU vs. NC A&T Football Rivalry
The annual fall matchup on the gridiron between North Carolina Central University in Durham and North Carolina A&T State University in Greensboro is one of the biggest rivalries in Historically Black College and University sports. The Museum of Durham History's latest exhibit More Than Just A Game: The NCCU vs. NC A&T Football Rivalry explores the passionate history between these two institutions and the impact their rivalry. Stop by the Museum to check out the exhibit as well as the digital exhibit below for even more stories!
Faces of Durham 
Dates: Ongoing
In this outdoor, social-distance friendly exhibit, Faces of Durham features a selection of familiar and lesser-known faces from the Bull City's past and present. The exhibit highlights a broad range of contributions including industry and commerce, medicine, and human relations while mapping Durham's development from a railway stop to a booming tobacco town, and to today's revitalized hub of arts and innovation.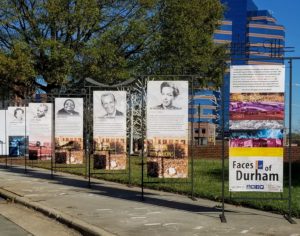 Durham Beginnings | 1865-1885 
Dates: Ongoing
An exhibit featuring five dramatic but little-known personal stories evoking the spirit of Durham's formative years. Learn the "coming to Durham" stories of Eliza Bennet Duke, Richard Fitzgerald, Abner Jordan, John Green, and Margaret Faucette.
Kids Area featuring Durham A-Z
Dates: Ongoing
"Durham A-Z" is returning to MoDH as a kid-focused series! Our latest installment "L is for Lemur" explores the history and mission of the Duke Lemur Center. The series will be featured in the Museum's redesigned Kids Area. New Durham themed toys and costumes are avilable as well as a green screen photo booth with historic images of Durham. Kids of all ages and the young at heart are welcome!
Due to the Museum's temporary closure through the COVID-19 pandemic, this exhibit is available to view online below.

Explore Durham Through Time 
Dates: Ongoing
Visitors can use a touchscreen to explore key moments in Durham's past. A post-it note wall allows viewers to tell us what moments from Durham's past are most important to them. They may see their feedback incorporated later with a photo and caption.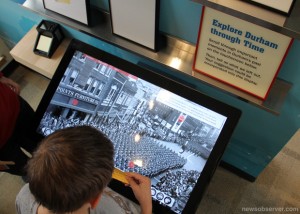 Look Beyond the Windows
Dates: Ongoing
Take in the museum's almost-360-degree view of downtown and consider the changes over time. To begin, we'll focus on the Hill Building, Arts Council (formerly City Hall and Central High School), Liggett and Myers buildings, and NC Mutual tower.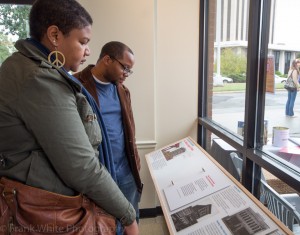 Story Room 
Dates: Ongoing
Visitors can step into the Story Room to record a personal memory about Durham's past in. They can also explore memories others have shared or browse through old, local yearbooks. Stories recorded in the Story Room will be archived on the Museum's SoundCloud or YouTube channel.