Visit
- Current Exhibits
*Explore our online and previous exhibits HERE.
From Tobacco Market to Innovation Hub: Durham's Central Park Neighborhood
The new exhibit focuses on the emerging Central Park Neighborhood, and walks the visitor through the history of the area, from rural farmland to innovation district. Once a center of the city's tobacco industry and still home to original Durham Bulls ballpark, the Central Park neighborhood has evolved into a thriving mix of retail, residences, and entertainment. The exhibit also examines the implications of these changes through the eyes of those who have lived and worked there.

Votes for Suffrage: 100 Years of Women in Durham Politics
2020 marks the centennial of the ratification of the 19th Amendment, giving women in the United States the right to vote. This exhibit explores the legacy of the amendment and how women's political participation has helped shape Durham. Though the suffrage movement sought equality for women and the 19th Amendment was meant to enforce it, race and class continued to be barriers to enfranchisement for many of Durham's female citizens throughout the last century. The exhibit will examine those challenges and highlight the stories of the women who fought to positively change Durham. From key 'firsts' in office like Durham's first female judge, to influencing social and environmental policy, and to confronting generations of racial inequalities while supporting a revitalized community.
Faces of Durham 
Dates: Ongoing
In this outdoor, social-distance friendly exhibit, Faces of Durham features a selection of familiar and lesser-known faces from the Bull City's past and present. The exhibit highlights a broad range of contributions including industry and commerce, medicine, and human relations while mapping Durham's development from a railway stop to a booming tobacco town, and to today's revitalized hub of arts and innovation.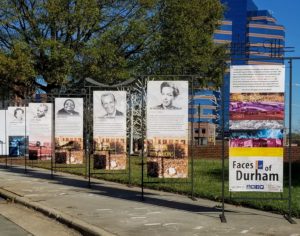 A Creative Protest: MLK Comes to Durham
Dates: January 17, 2020- April 5, 2020
Dr. King made several visits to Durham between 1956 and 1964 and gave six speeches, including his "Creative Protest" address at the White Rock Baptist Church in 1960. A Creative Protest puts these speeches in relation to the Civil Rights Movement at the local and national level. This exhibit features stories from local residents about Durham during the Civil Rights Era, their relationships with Dr. King, and reactions to his assassination.
Due to the Museum's temporary closure through the COVID-19 pandemic, this exhibit is available to view online below.
Durham Beginnings | 1865-1885 
Dates: Ongoing
An exhibit featuring five dramatic but little-known personal stories evoking the spirit of Durham's formative years. Learn the "coming to Durham" stories of Eliza Bennet Duke, Richard Fitzgerald, Abner Jordan, John Green, and Margaret Faucette.
Kids Area featuring Durham A-Z
Dates: Ongoing
"Durham A-Z" is returning to MoDH as a kid-focused series! Our latest installment "L is for Lemur" explores the history and mission of the Duke Lemur Center. The series will be featured in the Museum's redesigned Kids Area. New Durham themed toys and costumes are avilable as well as a green screen photo booth with historic images of Durham. Kids of all ages and the young at heart are welcome!
Due to the Museum's temporary closure through the COVID-19 pandemic, this exhibit is available to view online below.

Explore Durham Through Time 
Dates: Ongoing
Visitors can use a touchscreen to explore key moments in Durham's past. A post-it note wall allows viewers to tell us what moments from Durham's past are most important to them. They may see their feedback incorporated later with a photo and caption.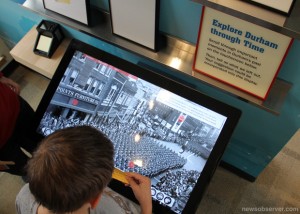 Look Beyond the Windows
Dates: Ongoing
Take in the museum's almost-360-degree view of downtown and consider the changes over time. To begin, we'll focus on the Hill Building, Arts Council (formerly City Hall and Central High School), Liggett and Myers buildings, and NC Mutual tower.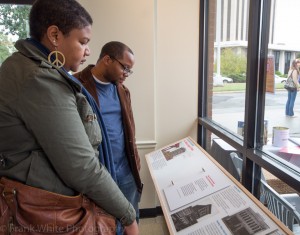 Story Room 
Dates: Ongoing
Visitors can step into the Story Room to record a personal memory about Durham's past in. They can also explore memories others have shared or browse through old, local yearbooks. Stories recorded in the Story Room will be archived on the Museum's SoundCloud or YouTube channel.