Bob Ashley shares his Durham story
Posted on January 23, 2020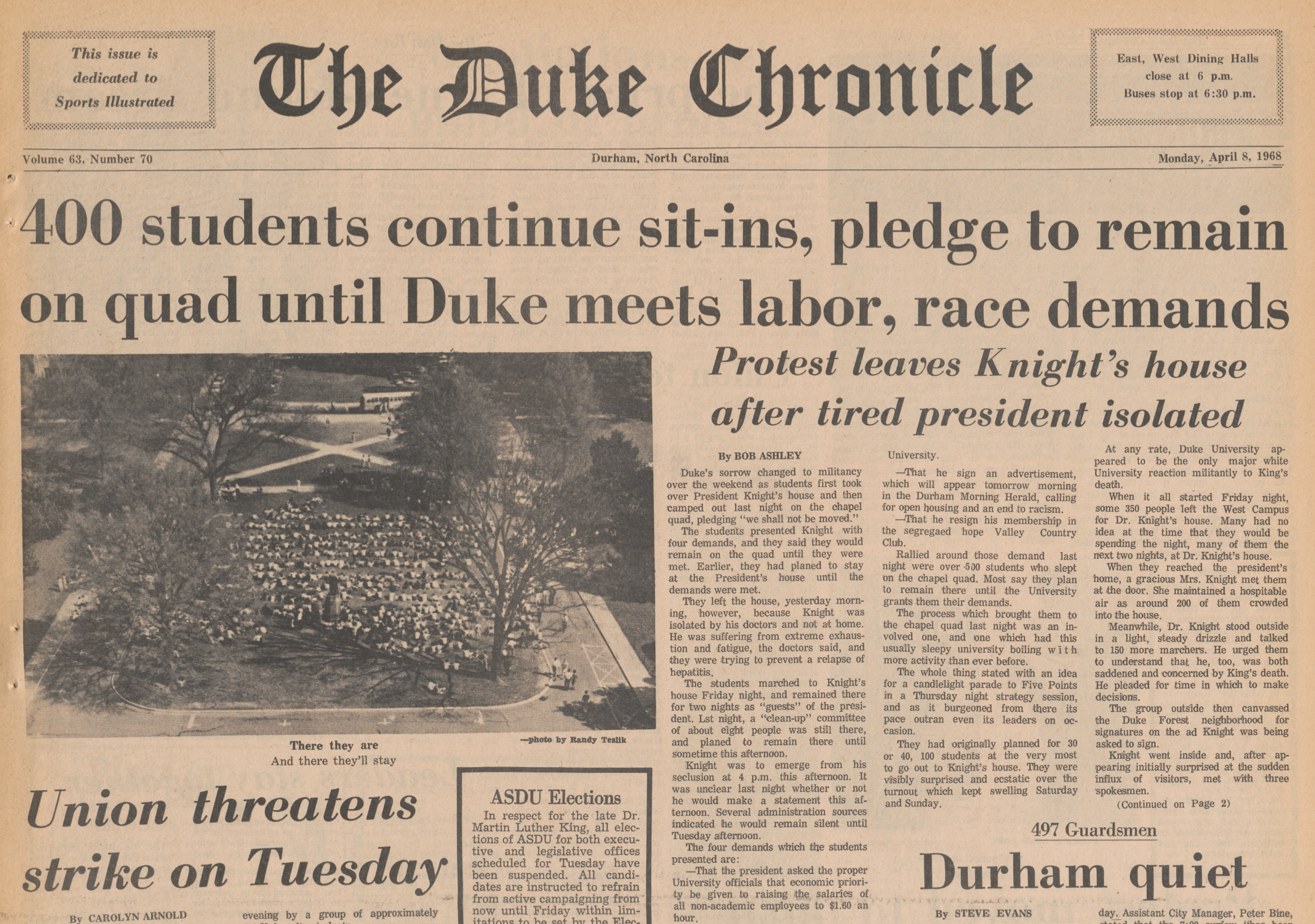 As part of the development of the Museum's newest exhibit A Creative Protest: MLK Comes to Durham, our team worked with community members to gather their memories about Dr. King's visits to Durham as well as his impact on the local Civil Rights Movement. Museum of Durham History board member and retired editor of the Herald-Sun Bob Ashley sat down for an interview about his memories as a student at Duke University in 1968. Check out his thoughts on the importance of our oral history program and a clip from his interview.
When asked if I'd do an oral history interview for the MLK in Durham exhibit, it was the second time in recent years I had occasion to seriously reflect on that turbulent period. The first was two years ago, as the 50th anniversary of King's assassination, and the Silent Vigil that followed it on Duke University's campus.

I was glad to be able, with the invaluable help of our Story Squad's Tina Bessias,  to offer some personal recollections of the aftermath here of King's tragic death. But I am also keenly aware that human memory is both selective and flawed — challengers to historians, archivists, exhibit curators and, as I was then and since, journalists.

I hope I was able to capture some sense of the in-the-moment emotions, impulses, goals and objectives of the hours and days in early April 1968. Participants among my friends and classmates have noted the transformative experience it was for most of us — and the changes in life's arcs it started for many.  And I hope I have been able in a small way to contribute to the Museum of Durham History's mission to share the stories of our past that have helped shape our present. 

-Bob Ashley
---
Did you know that the Museum of Durham History collects stories instead of artifacts? We believe that our audiences are able to make deeper connections to history through hearing and reading personal narratives of historical and contemporary figures. The Museum even has its own Story Room where we collect those narratives, that is equipped to record both oral and video based stories. Our dedicated volunteers involved with the Story Squad help us engage with our community members and can conduct professional interviews to add to our archive.
We share our community members stories in a few different ways:
SoundCloud: The Museum archives full oral histories and makes them publicly accessible.
YouTube: Some oral histories we have collected have been transformed into mini-documentaries about a certain Durham-related topic. Videos from the Museum's traveling Story Kiosk are also uploaded following events.
Exhibits: Many of the stories the Museum collects are also incorporated into our exhibits in either text or audio/visual form.
Everyone has a story and can become part of history. Stop by the Museum and share yours today!