Women in Politics Guest Blog: In Memory of Judge Carolyn Lucille Denton Johnson
Posted on October 12, 2020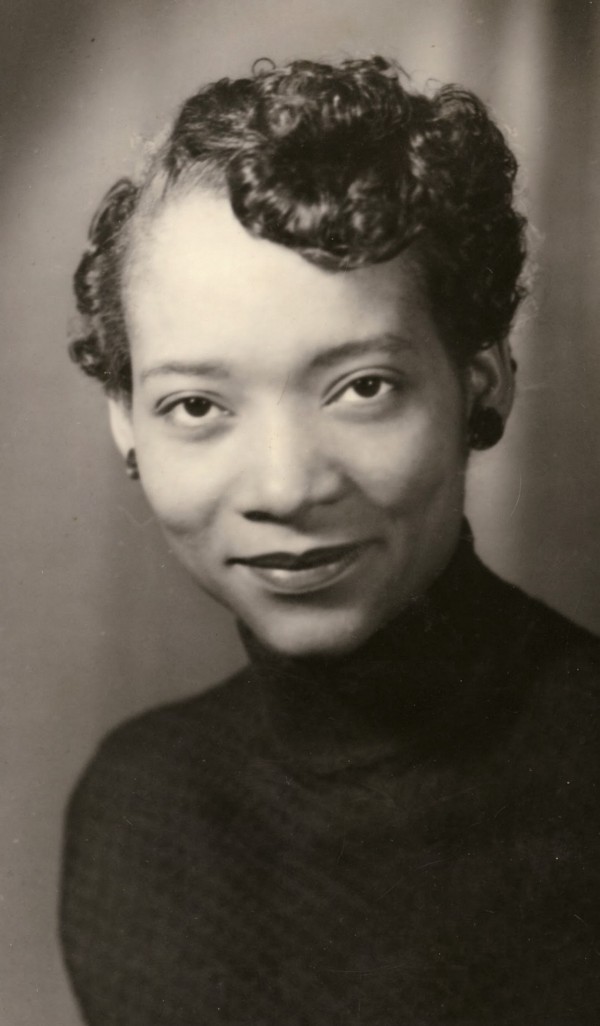 This guest blog, originally published in 2016, was contributed by Dr. Charles Johnson, Director of Public History and Assistant Professor of History, North Carolina Central University.
Judge Carolyn Lucille Denton Johnson was born January 16, 1931 in Little Rock, Arkansas. She was the only child of Earl Denton and Lucille Warren Denton. Her mother was her first love and the greatest influence on her life. Her father Earl passed away when she was only five years old, but the Denton family in Little Rock, which included Earl's siblings Gertrude, Tom, Herbert, Bernice, and Pauline was tightly knit and served as a strong support system for Carolyn and her mother. Carolyn was raised in the Denton tradition that all Dentons were either already great or meant for greatness. Education was a major influence in the Denton household, and young Carolyn excelled as a student at Gibbs Elementary School and later at Dunbar High School where she served as Student Government President and was inducted into the National Honor Society. In 1948, she graduated from Dunbar and entered Oberlin College in Ohio.
After a short stay at Oberlin, Carolyn transferred to Howard University in Washington, DC where she majored in Economics and Business Administration. While at Howard, Carolyn was an honor student and a November 1951 initiate into Alpha Chapter of Alpha Kappa Alpha Sorority, Incorporated.
In 1953, Carolyn graduated from Howard University and went to work in the Social Security Administration for Molly Orshansky, an economist who became famous for establishing the poverty line, and Ida C. Merriam, who was the Director of Research. In 1955, she married Charles Johnson whom she had met while they were both students at Howard University. To that union, two children were born: Carla Denise and Charles Denton ("Chaz"). In 1964, the family relocated to Durham, North Carolina, which became home for her. She was a faithful member of St. Joseph's AME Church.
In Durham, Carolyn's genuine personality and keen intellect won her dear and lasting friends, many of whom became her extended family. Carolyn was not outgoing or prone to idle banter, but she loved good company and was drawn closest to intelligent people who reminded her of her own family - the Dentons. She was a member of several professional and social groups including being a Platinum member of The Links, Incorporated, a former member of Girl Friends, the Congenials (Bridge Club), College View Duplicate Bridge Club, and the Lunch Group Pinochle Club.
After her divorce from Charles Johnson, MD, Carolyn attended NCCU School of Law and graduated in 1973. She then went to work as an instructor at NCCU School of Law before entering private practice as a criminal defense attorney in the mid 1970s. In 1980, she left private practice to join the State Utilities Commission as an attorney, becoming the first African American female attorney on their staff. While working for the State Utilities Commission she was appointed to the Nuclear Regulatory Commission, another first for an African American female in North Carolina. She made appearances before the United States District Court, Interstate Commerce Commission, and the Federal Communications Commission.
Carolyn always had a strong commitment to the community and an abiding concern for the vulnerable members of society, especially women and children. These concerns and her desire to serve informed her decision to enter politics. Her political career began in 1983, when she became the first African-American woman elected to City Council in Durham, North Carolina. Her campaign slogan was "A New Voice for Progress." During her tenure on the City Council she served as Chair of the Community Services Committee, Chair of the Fair Housing Committee, member of Minority and Women Owned Enterprise and Affirmative Action Committee, member of the Durham Civic Center Committee, and member of the City/County Committee.
In 1986, she decided not to run for re-election for City Council and instead chose to run for District Court Judge. She won the election by a landslide and became the second African American female elected Judge in Durham, North Carolina. Her campaign slogan, "Firm and Fair," aptly described her tenure on the bench. She remained on the bench until she retired from professional life in 1997.
Carolyn held professional membership in the National Bar Association, the American Bar Association, the North Carolina Bar Association, North Carolina State Bar, and National Black Caucus of Local Elected Officials.
Carolyn was an active member of numerous civic organizations. She was Chair of Durham Communities In Schools (CIS), Chair of Task Force on School Violence, a member of the Council for Women of Durham County, League of Women Voters, Durham County Democratic Women, Durham County Democratic Party, Durham County Senatorial Executive Committee, Triangle United Way, Durham Committee on the Affairs of Black People, and the National Association for the Advancement of Colored People. She was a board member of the Agency for Public Telecommunications, YMCA Black Achievers, Infant Mortality-Morbidity, Durham Day Care Center, the North Carolina Symphony, the North Carolina School of Science and Math, and a member of the Governor's Task Force on Child Fatalities.
In 2007, Carolyn relocated to Maryland to be close to her children and grandchildren. She returned home to Durham in August 2015, and after a brief period of declining health departed this life peacefully in the early morning hours of August 7, 2016 at Duke Hospital.
Surviving next of kin include her two children: Carla Denise Johnson of Haymarket, VA and Charles Denton Johnson, Ph.D. ("Chaz") of Durham, NC; daughter-in-law, LaShonda Davis Johnson (Charles); two grandchildren, Christina Danielle Landrum (William Landrum and Carla Johnson) and Xavier Charles Johnson (Charles and LaShonda Johnson); first cousins Jacquelyn Alton of Houston, TX, Sandra Denton of Bexley, Ohio, Thomasina Denton Hopkins of New York City, NY, and Stanley Denton of Pittsburgh, PA; god-children, Bryan Curry, MD, of Washington, DC and Jamie Williams of New York City, NY; along with many lifelong and loving friends.