We've told you about the RISE of baseball cards, now a little background on their origin…
Posted on June 16, 2016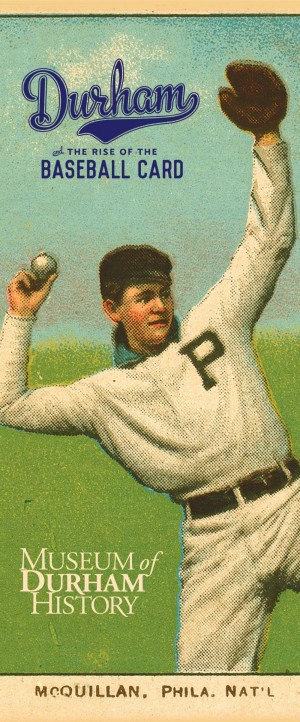 Excerpted from exhibit Durham and the Rise of the Baseball Card, on display at the MoDH & Durham Bulls Athletic Park through Sept. 5, 2016.
Baseball cards as we know them today began their life as advertising tools.
After the Civil War, baseball increased in popularity in towns and cities across the United States. Sporting goods companies used the backs of photographic prints of well-known teams to advertise their business. These were the first rudimentary baseball cards.
The evolution of the baseball card is the result of several simultaneous developments:
Advancements in printing and advertising techniques gave rise to trade cards. Trade cards were thin-stock cards that featured colorful advertisements of products and landscapes. Trade cards were distributed by businesses that sold tobacco products and were collected by their customers.
"Cardomania" was an international Victorian craze of collecting small portraits – called cartes de visite – pasted into scrapbooks. Americans collected the trade cards and pasted them into albums. The "Cardomania" phenomenon made its way to the United States around the time that trade cards were becoming popular.
Tobacco companies already used large premiums, signs and magazine advertising to sell their products and were seeking new methods. [4]
Small card stiffeners inserted in cigarette packs became the ideal method to take advantage of the card-collecting public. Insert cards, as they were known, first comprised photos pasted onto cardboard. The company's name was printed on the front and later the back of cards. Soon, color lithographs replaced these early insert cards and featured royalty, animals & nature, famous places, "beauties," military heroes and especially athletes.[10]
During this time period, the National League marked its first full decade.
The growing popularity of baseball led many manufacturers to include ballplayers with the athletes on insert cards. Some included only baseball players. The baseball card was born.