Tell us what we left out: 1971 Pan Africa – USA Track Meet
Posted on May 19, 2019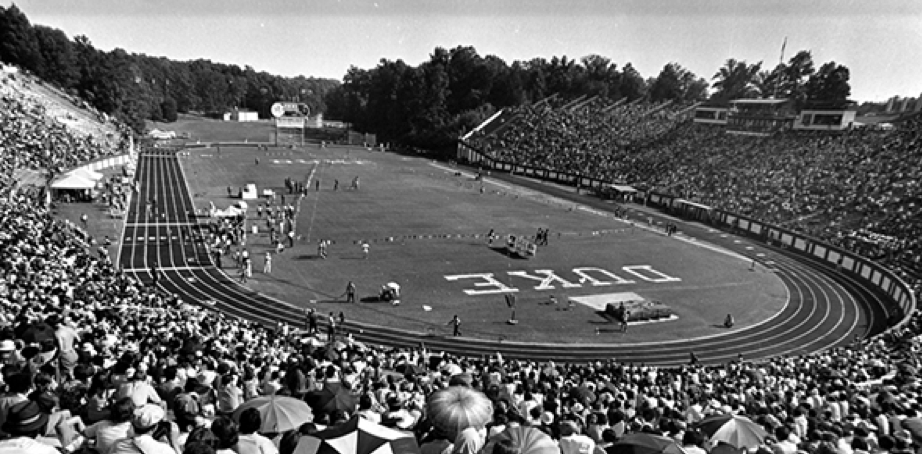 The Museum of Durham History is always seeking input from the community on what they want to see in the museum. The exhibit area Tell Us What We Left Out invites visitors to use post-it notes to ask questions or suggest topics of Durham history they would like to see in the museum. It allows visitors to tell us what moments from Durham's past are most important to them; they may see their feedback incorporated later with a photo and caption. We will be featuring some of these suggestions here on the museum's blog.
Durham played host to a historic Pan Africa-USA International Track Meet at Duke University on July 16-17, 1971; pitting some of America's best track and field athletes against competitors from fourteen African nations. It was the largest track event in the Western Hemisphere that year and the first international track meet held in North Carolina and the Southeast.
An estimated 52,000 people packed Wallace Wade Stadium on two sweltering days that summer. The meet was organized by LeRoy Walker, at the time director of physical education and track coach at North Carolina Central University (later head coach of the 1976 U.S. Olympic track-and-field team and in 1992 president of the U.S. Olympic Committee). Walker partnered with friend Al Buehler, long time track coach at Duke (and later coach/manager of three U.S. Olympic track-and-field teams).
"I managed the logistics, while LeRoy brought the best athletes to compete," said Buehler. "People from all over the country came to watch . . . They wanted to be a part of history."
Thanks to Walker and Buehler, Durham became the international track-and-field focus of the nation, with Duke University also hosting the world's top athletes in meets involving the United States-Soviet Union in 1974, the United States-Pan Africa-West Germany in 1975, and again the United States-Pan Africa in 1994.
Want to learn more coaches Walker and Buehler and the unique track and field history in Durham? Be sure to stop by for the opening of our next community curated exhibit which explores the achievements and friendship of Dr. Leroy T. Walker and Al Buehler on June 14th from 6-8PM!
Image courtesy of Duke University Archives.