Stokes Hall Opera House: Something we missed?
Posted on May 5, 2016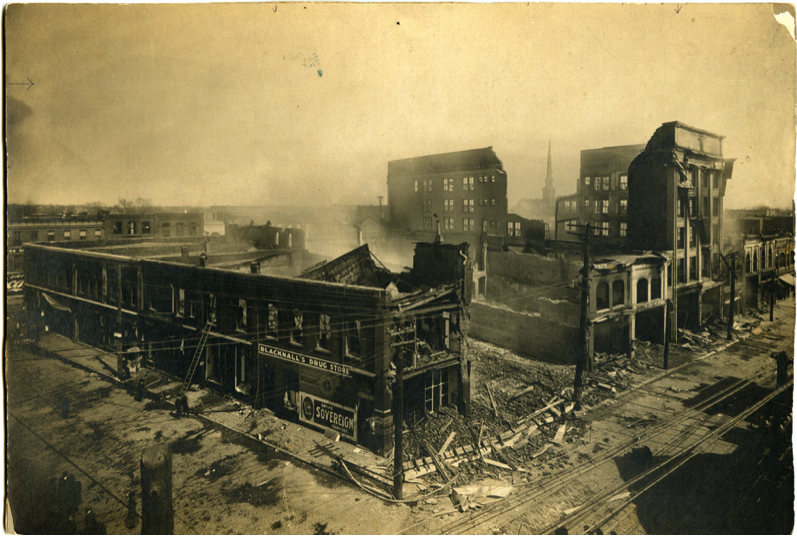 Photo courtesy of Durham County Library. View from Corcoran and Main after the fire of 1914, only a few storefronts survived. 
TELL US WHAT WE LEFT OUT
The Museum of Durham History encourages civic participation in museum exhibits. The exhibit area Tell Us What We Left Out invites visitors to use post-it notes to ask questions or suggest topics of Durham history they would like to see in the museum. Staff and volunteers follow up on suggestions by curating small exhibits. Here are some recent additions:
STOKES HALL DURHAM OPERA HOUSE
Stokes Hall, also known as the Durham Opera House, was located next to Blacknall's Drug Store on the northeast corner of Main and Corcoran streets. The opera house occupied the upper floor of Stokes Hall; the rest of the building served a variety of civic functions. Stokes Hall was the de facto county courthouse from 1881 to 1889, and it served as an early meeting place for the Durham city council.
In keeping with the name, the Durham Opera House was also the city's arts and entertainment hub. It was the home of both the Durham Choral Society and the Durham Orchestra, which was acknowledged in the early twentieth century as the best orchestra in the state. The opera house also hosted early film showings and touring theatrical productions.
Stokes Hall became less important as a meeting place and performance center after 1903, when the larger, 1,500-seat Municipal Building/Academy of Music opened on Parrish Street. Both Stokes Hall and Blacknall's Drug Store burned down in the Brodie Duke Building fire of 1914. The Geer Building was built in their place in 1915.
Originally published in the Herald-Sun