Some Holiday Recipes, from Our Home to Yours
Posted on November 17, 2022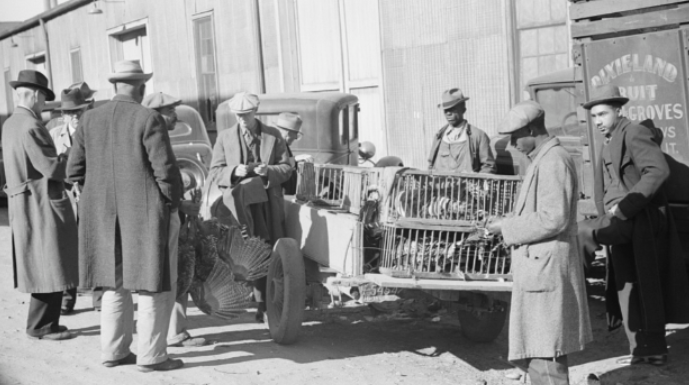 Farmer selling Thanksgiving turkeys outside warehouse where tobacco auction sales are being held. Durham, North Carolina, 1939.
(Wolcott, M. P., photographer. Retrieved from the Library of Congress) 
---
To celebrate the Thanksgiving holiday, we asked our own longtime board member Mitch Tuchman to share some of his favorite Thanksgiving stories and recipes.  Mitch is a self-proclaimed pie and homemade ice cream connoisseur, so we knew he would come through with a recipe worthy of praise from even the most discerning holiday guests.
"I usually roast a skin-on, bone-in turkey thigh and serve it with Susan Stamberg's famous cranberry relish.  This Fall I have been taking the sixteen-week culinary basics course at Durham Tech to brush up on my turkey skills, and on Thanksgiving I will be sous chef for one of my classmates and his family of ten.  I don't know yet what's on the menu, but I have learned how to "break down" a whole bird, which ought to be helpful!" Mitch said of his holiday plans this year.
Naturally, because we can't keep any secrets at the MoDH (it's a small space), everyone heard the conversation and wanted to share their own favorite recipes.  So, in the spirit of family and nostalgia, we have pulled together a list of the greatest MoDH recipes for your holiday dining pleasure.
---
Artichoke Spread
Ingredients:
1 (14 oz.) can artichoke hearts (not marinated)
1 cup mayonnaise (use more or less as desired)
¾ cup parmesan cheese
Ground pepper to taste
Serves 6-8 guests
Directions:
Preheat the oven to 350 degrees.

Puree drained artichokes in a blender.

Mix artichoke puree with mayonnaise and parmesan cheese.

Transfer mixture to baking dish and bake for 10-15 minutes.

Serve with crackers, vegetables, or freshly baked bread.
Serving suggestion: Hollow out a round loaf of pumpernickel bread and fill it with the spread.  Cut the center portion of the loaf into cubes and place around the bread bowl when serving.
---
Savory Potato Casserole
Ingredients:
Mashed potatoes:
2 lbs medium sized potatoes
8 oz unsalted butter (at room temperature)
1 cup whole milk (warmed)
Salt and pepper to taste
8 oz. sour cream
1 cup shredded parmesan cheese
4 oz. green pimento olives, sliced
Serves 6-8 guests
Directions:
Preheat the oven to 350 degrees.

Peel potatoes and cut into quarters. Place the potatoes in a pot with enough water to cover them and ¼ tsp. of salt. Bring to a boil, then reduce heat and simmer uncovered until potatoes are tender.

Drain the potatoes and transfer them to a bowl.  Add the butter and milk, and mash until at a desired consistency. Mix in the sour cream and season with salt and pepper.

Transfer potato mixture to a baking dish and top with parmesan cheese and green olives.

Bake in the oven for approximately 30 minutes or until lightly browned on top. 
---
Holiday Rum Balls
Ingredients:
2 ½ cups (1lb pkg.) vanilla wafers
2 tbsp. cocoa powder
½ cup rum
3 tbsp. bourbon or brandy
3 tbsp. light corn syrup, molasses, or honey
1 tsp. pure vanilla extract
1 cup powdered sugar
Makes approximately 20 balls
Directions:
Roll wafers until mostly large crumbs.

Mix in cocoa powder.

Combine mixture with remaining wet ingredients.

Form mixture into balls and roll in powdered sugar.
---
Wishing you and your families a very happy and healthy Thanksgiving from all of us at the Museum of Durham History!
Black Wall Street on West Main Street, Durham, circa 1940s. Taken from OpenDurham.org