Sharing jazz memories for upcoming exhibit
Posted on November 16, 2016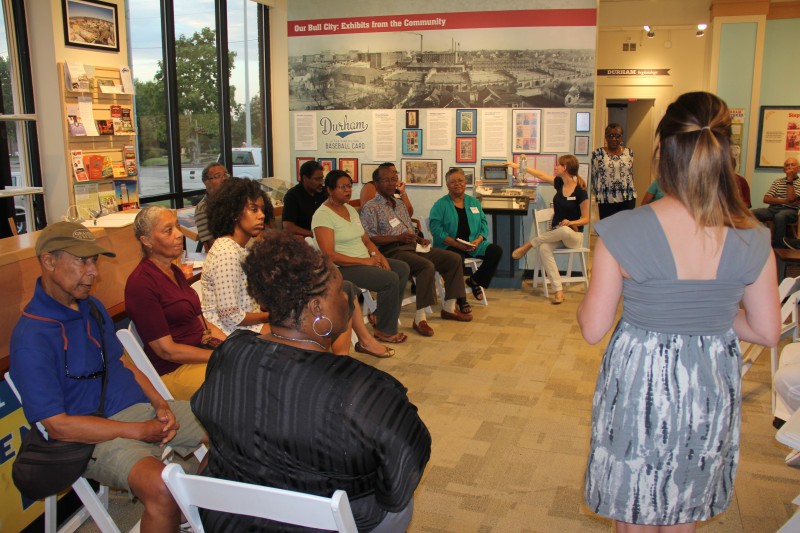 On August 29th, 2016 the Museum of Durham History hosted an evening Reminiscence Session in anticipation for the upcoming exhibit, Durham A-Z: J is for Jazz. Nearly thirty local jazz musicians, professionals, and fans reflected on the history and impact of the musical genre in Durham. Participants shared personal stories of the influential people, places, and experiences that shaped the musical tradition of jazz. The evening was full of memories, discussion, and predictions about the future of jazz in Durham. Exhibit curators Sonya Laney and Sharon Barry, along with Executive Director Katie Spencer, will continue to use the information gathered during the Reminiscence Session to guide exhibit research and design.
We need your help! If you have photographs, newspaper articles, program bills, or materials related to jazz in Durham please contact Katie Spencer (kspencer@modh.org). The Museum of Durham History is not a collecting institution, but would be interested in viewing and using such materials for exhibit research.
The Museum of Durham History and the exhibit curators would like to sincerely thank the Reminiscence Session attendees for participating, sharing their experiences, and providing invaluable information and assistance in researching content for the exhibit.