Sept. 16 opening! Finding Each Other in History: Stories from LGBTQ+ Durham
Posted on September 6, 2016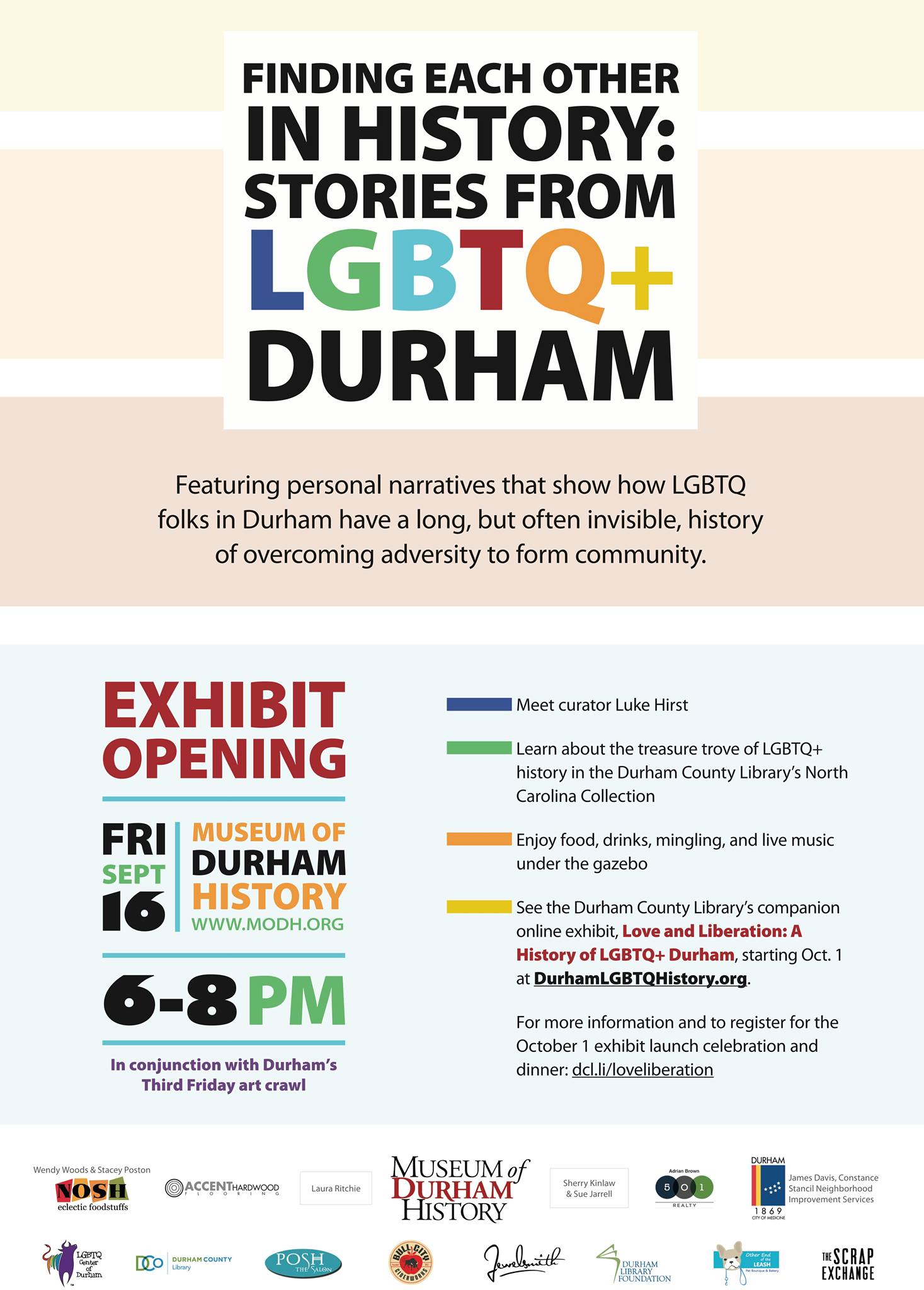 The MoDH celebrates the unveiling of a new exhibit on Friday, September 16, 6pm to 8pm, at the Hub, 500 West Main Street downtown. Finding Each Other in History: Stories from LGBTQ+ Durham features personal narratives that illustrate how LGBTQ people in Durham have a long, but often invisible, history of overcoming adversity to form a community. It blends oral history and displayed artifacts; seven objects accompany oral history segments shared with museum visitors via individual mp3 players.
This latest citizen-curated project is the brainchild of curator Luke Hirst, who, along with the North Carolina Collection at the Durham County Library, has worked for six years to establish a collection of local LGBTQ+ history. "Durham is full of so many powerful stories of LGBTQ+ pioneers, more than we could possibly put into one exhibit. Yet LGBTQ+ folks frequently feel misrepresented by culture, politics, and history. I'm grateful that the Museum of Durham History allows opportunities to tell our stories in our own words and start to make our community's history more visible." Visitors will also have the opportunity to share their own experiences in our Story Room, an oral history recording booth available during open hours or by appointment.
MoDH Executive Director Katie Spencer explains how Finding Each Other in History: Stories from LGBTQ+ Durham embodies the mission of the museum: "The Our Bull City exhibit area has become a place where neighbors get to know one another. We're proud to host this exhibit on the dynamic history of LGBTQ+ Durham." Our Bull City is a program where community members propose and create exhibitions on topics of their choosing.
The opening reception will include food provided by NOSH, beverages by Bull City Ciderworks (for ages 21 and over w/valid ID), and the live music of Makin' Ends Meet, while guests mingle under the gazebo. This event is FREE and open to the public, and ties into the downtown Durham Third Friday gallery crawl.
This exhibit features a companion website, hosted by the Durham County Library. Love and Liberation: A History of LGBTQ+ Durham, goes live on the web Oct. 1 at DurhamLGBTQHistory.org.
Finding Each Other in History: Stories from LGBTQ+ Durham will be on display at the museum through January 15 2017. It will be on display at the LGBTQ Center of Durham January 17, 2017 through February 28, 2017.