Our Upcoming Exhibit, From The Lens of its Curator
Posted on October 26, 2022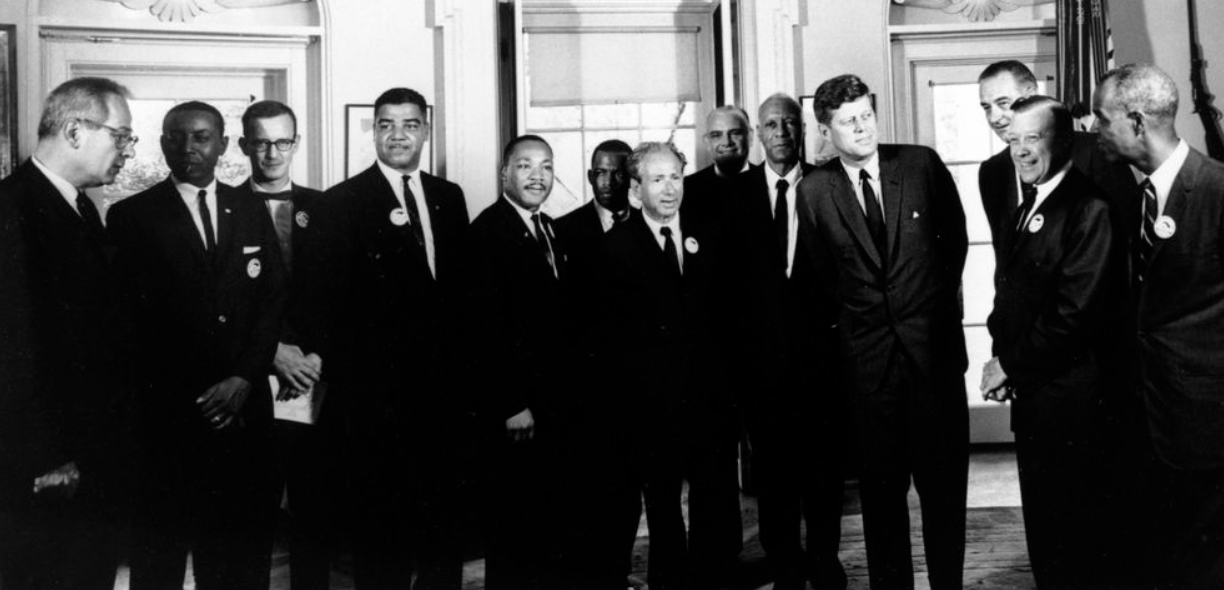 Pictured Above: Leaders of the March on Washington for Jobs and Freedom at the White House with President Kennedy, 1963
McKissick Sr. second from left
Photo from Abbie Rowe. White House Photographs. John F. Kennedy Presidential Library and Museum, Boston
---
With the opening of The Life and Legacy of Floyd B. McKissick Sr. right around the corner, we are almost as excited as when we first opened our doors on October 12, 2013.  Well, maybe not quite as excited as that, but definitely on the edge of our seats eagerly anticipating its unveiling! 
We are always passionate about sharing our new exhibits and programs with you and hearing your feedback, and this one is especially meaningful for us in a few different ways.  This will be our first time presenting an exhibit in partnership with two other organizations, and offering it at three locations throughout the community.  It is also unique in that we received special access to the McKissick family archives to tell the story in a very personal, authentic way.  And it will be the first exhibit curated by our Director of Education Programs and Exhibits, Michelle Needham.
To get the inside scoop on the imagination and heart that went into creating the exhibit, we spent some time with Michelle to learn more about how she came up with the concept and turned it into an incredible community program.
---
MoDH: How did you develop the unique format of this exhibit?
MN: McKissick Sr. lived so much life that it would probably take three lifetimes to accomplish what he did in one. His life was incredibly multi-faceted. The only way to tell his story would be to commit an entire year to the different aspects of his life and legacy or highlight aspects of these at multiple locations. We chose the latter.  
MoDH: What would you like the takeaway to be for visitors after experiencing the exhibit?
MN: After experiencing this Museum exhibition, I hope that people realize that a national leader called Durham home. McKissick Sr. was as important and significant as Martin Luther King, Jr. and Malcolm X were in the 60s. His impact was just as far-reaching as theirs. My intention for this exhibit is to reintroduce him to his community. Kids in Durham should know who he is. They should be learning about him in school along with other leaders. Sometimes society tries to tuck controversial people to the side, and they don't get the recognition they sometimes should. It's a shame that his legacy has been lost. 
MoDH: What do you find most inspiring about the life and legacy of Floyd McKissick Sr.?
MN: The most inspiring thing about Floyd B. McKissick Sr. is that everything that he said in the past is relevant today. There's a timelessness to the things that he has written and said. Also, his gumption. There is a letter that he wrote to his parents when he was enlisting in the Army. He mentioned his belief in himself. I don't think his confidence came from a sense of being better than anybody else. I think it was because he felt capable. He had the will and the desire to accomplish things, and the audacity to dream and to go for it, regardless of what anybody else thought. That's inspiring. 
MoDH: What meaning and impact will the exhibit have for the Durham community?
MN: I hope that Durham can remember or recognize that, as a community, we have a history of shaping American culture. Not just during the Civil Rights Movement, but even back when Duke University was Trinity College and began promoting cultural arts in Durham.  
MoDH: Do you have a story about your personal connection to the exhibit or any of its themes?
MN: My personal connection to the exhibit is tied to something that Evelyn McKissick said in her oral history. She said, "I'm just different." She made that comment a lot. She had a very different upbringing from most people in Durham. And the more I learned about Floyd B. McKissick Sr., the more I realized he's just a little bit different, too. 
I am Black, but I am not African American. I am a West Indian naturalized American. I was an immigrant child and student in one country and am an immigrant parent in another. I often feel "just different" too. I had to learn to be myself regardless of what anyone else thought- in fact, I'm still learning. Floyd B. McKissick Sr. lived his life in a way that people didn't always appreciate, respect, or understand. But he didn't let it get in his way. I appreciate that about him. Being a little different doesn't mean that you have to be less than your authentic self. It means that there are certain things you are uniquely qualified to do. 
---
Please join us for our special opening event at the Museum of Durham History on November 18th to meet Michelle and learn more about the exhibit.  For more details and to RSVP, please visit the event and exhibit pages on our website.