Tell Us What We Left Out: Nobel Laureates of Duke U.
Posted on January 24, 2018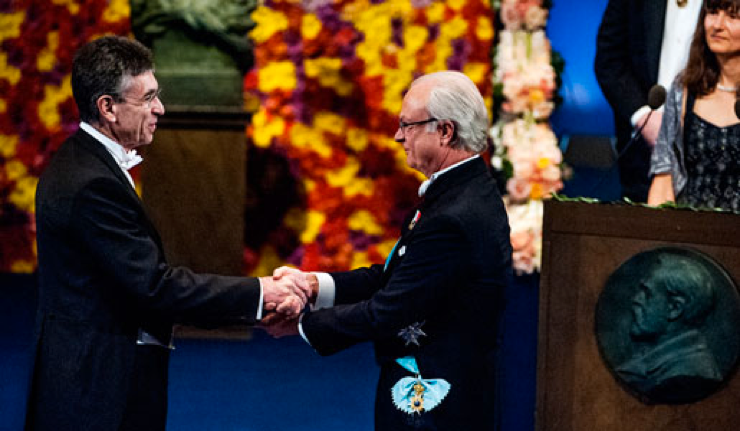 The Museum of Durham History is always seeking input from the community on what they want to see in the museum. The exhibit area Tell Us What We Left Out invites visitors to use post-it notes to ask questions or suggest topics of Durham history they would like to see in the museum. It allows visitors to tell us what moments from Durham's past are most important to them; they may see their feedback incorporated later with a photo and caption. We will be featuring some of these suggestions here on the museum's blog.
"Nobel Laureates of Duke University" is a response written by Emma Watts, one of the Museum's Weekend Managers and a student at UNC Chapel Hill.  
Two Nobel Laureates serve on the faculty at Duke University. Robert Lefkowitz has been a member of the faculty since 1973 as a professor of medicine and a professor of biochemistry and chemistry. He won the Nobel Prize in chemistry in 2012, sharing it with Brian Kobilka, who did postdoctoral work with Lefkowitz at Duke. Paul L. Modrich, a 2015 Nobel Laureate, is a professor of biochemistry and has been at Duke since 1976. Modrich won the prize in chemistry along with University of North Carolina at Chapel Hill faculty member Aziz Sancar and Tomas Lindahl of the Francis Crick Institute.
In addition, Duke counts seven other Nobel Laureates among its alumni and former faculty and staff. The first, Charles Townes, who graduated from Duke with a master's in physics in 1936, won the prize for his work in physics in 1964. A second Duke alumnus, Robert Coleman Richardson, was awarded his Ph.D. from the university in 1966 and won the prize in physics in 1996.
Gertrude B. Elion and George H. Hitchings jointly won the Nobel Prize for physiology or medicine in 1988. Both served as adjunct professors of pharmacology and of experimental medicine. Another adjunct professor, Martin Rodbell, won the same prize in 1994.
Hans Dehmelt, who did postdoctoral work at Duke from 1952 until 1955, won the Nobel Prize in physics in 1989.
Peter Agre, Duke's vice chancellor for science and technology from 2005 to 2007, won in chemistry in 2003.
(Featured image courtesy of nobelprize.org — Robert Lefkowitz, on left, accepting the Nobel Prize in chemistry, 2012).