Meet Pioneer Leanora Minai
Posted on July 14, 2016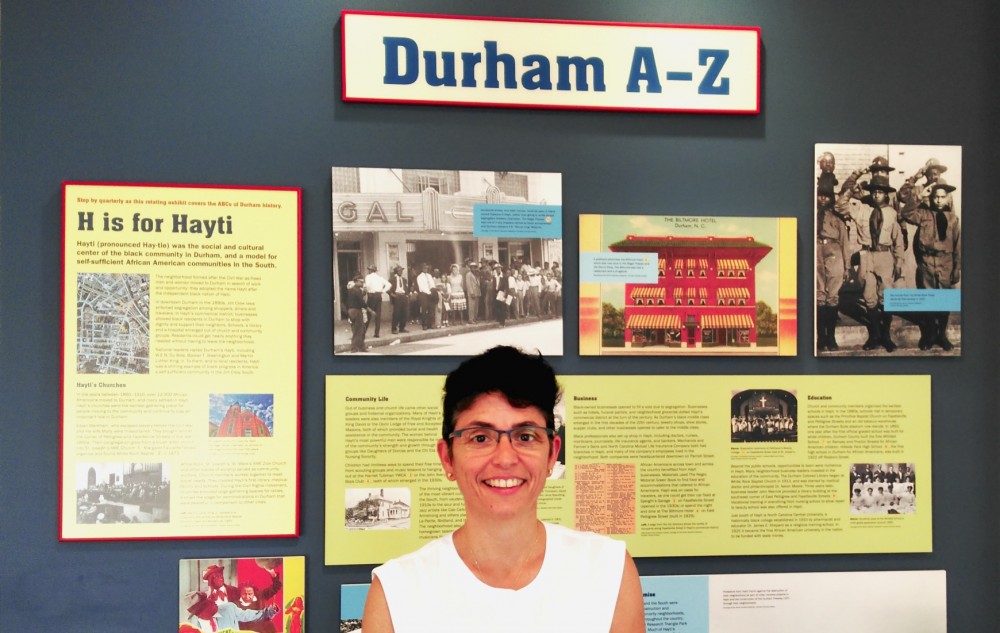 We are rolling out a new regular feature called Pioneer Spotlight. Donors who make multi-year pledges and foundations and donor-advised funds that make multi-year grants are being permanently recognized as Pioneers sustaining our early development. We would like for you to hear from some of our Pioneers who want share why they decided to be such an important part of the Museum of Durham History.
Nurture relationships with elected officials and build awareness of our public value in order to increase city and county support for FY 17/18.
urham History. Pioneer  Leanora Minai is a member of our board of directors and Director of Communications for the Office of Communication Services at Duke University. She kicks off the series by answering a few of our questions below:
What do you love about the Museum of Durham History?
LM: I love Durham A-Z. It's a changing exhibit that focuses on an aspect of Durham's history using a letter in the alphabet. The current exhibit, Hayti, focuses on the history of the neighborhood. I love the concept of A-Z because you are able to get a valuable window into a time period, and you most likely will learn something you didn't know.
Why is it important to contribute to its future?
LM: I believe it is important to contribute to the Museum of Durham History's future to continue preserving and telling Durham's story for generations to come.
What's your favorite historical fact about Durham?
LM: When people ask me what's my favorite historical fact about Durham, I find that I can't name just one thing. There's so much about Durham's history that I love, but I am particularly drawn to downtown Durham's old buildings, from the tobacco factories and warehouses to the banks and department stores. These buildings offer a sense of place and culture and bring me back in time. Sadly, some important buildings were demolished for urban development or torn down due to other circumstances such as fire, and they are no longer part of our landscape.
More about Pioneer Giving
Donors who make multi-year pledges or donor-advised-funds that make multi-year grants starting in FY 15/16 will become part of a group called Pioneer donors that is permanently recognized. The following giving circles have been established within the Pioneer group. Stay tuned as we roll out information on this special group. Contact Katie Spencer, kspencer@modh.org 919-246-9993 to learn more.
Bull City— $50,000+ over three years
Durham Renowned the World Around— $30,000 — $49,999 over three years
City of Innovation— $15,000 — $29,999 over three years
Durham's Station—$7,500 — $14,999 over three years
A Roaring Old Place—$5,000 — $7,499 over three years