Louis Austin and the Carolina Times Opening Event
Posted on December 10, 2018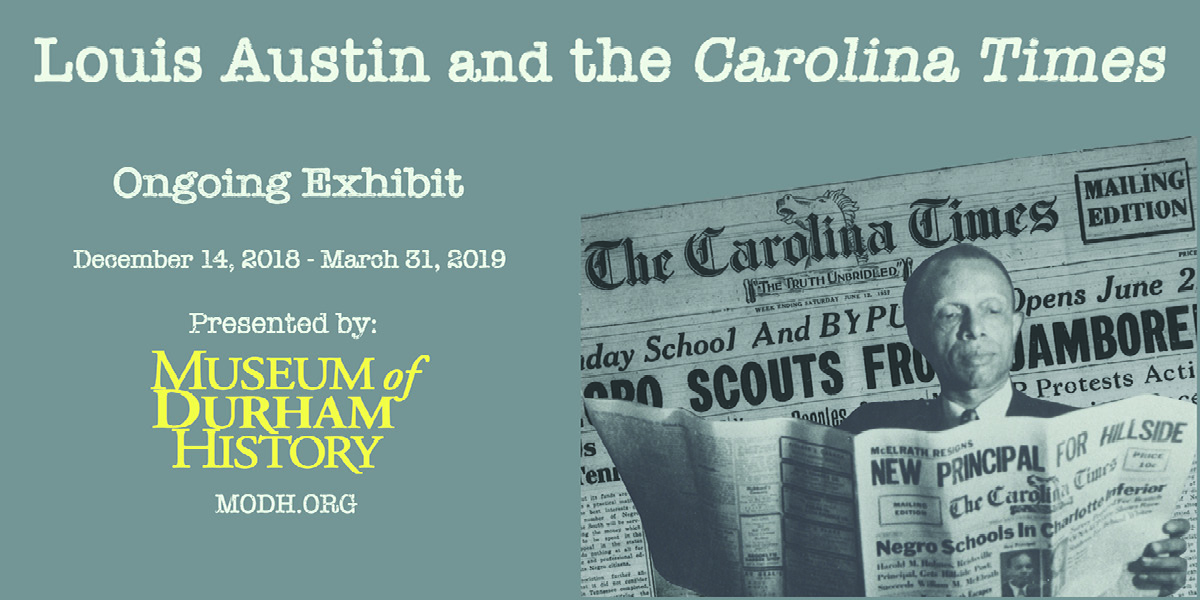 Please join us on Friday December 14th from 6-8PM at the Museum of Durham History, 500 W. Main St., for the opening reception of our newest exhibit Louis Austin and the Carolina Times. This exhibit explores the life of newspaper publisher Louis Austin and how he used the Carolina Times as a catalyst in the African American effort for freedom– fighting for racial justice and black empowerment. 
This event is FREE and open to the public, featuring complimentary refreshments. NCCU history professor and author of "Louis Austin and the Carolina Times: A Life in the Long Black Freedom Struggle," Dr. Jerry Gershenhorn will provide remarks.
Louis Austin and the Carolina Times, which uses the life of Louis Austin as a lens through which to view the African American struggle for freedom in Durham, reveals the important role played by the press. While this exhibit is centered on the life of Louis Austin, it also narrates the story of other movement activists in Durham, including attorney Conrad Pearson, who fought for over three decades to integrate higher education and public schools in North Carolina. It also tells the story of Private Booker T. Spicely, who was shot and killed by a white bus driver for transgressing the color line on a Durham bus in 1944. The exhibit shines a light on sit-in for desegregation at an ice cream parlor, and the integration of Durham High School.
The exhibit will be on display at the Museum of Durham History starting December 14th and will run through March 31, 2019.