Lincoln Cafe & Annamaria's Pizza House
Posted on May 26, 2022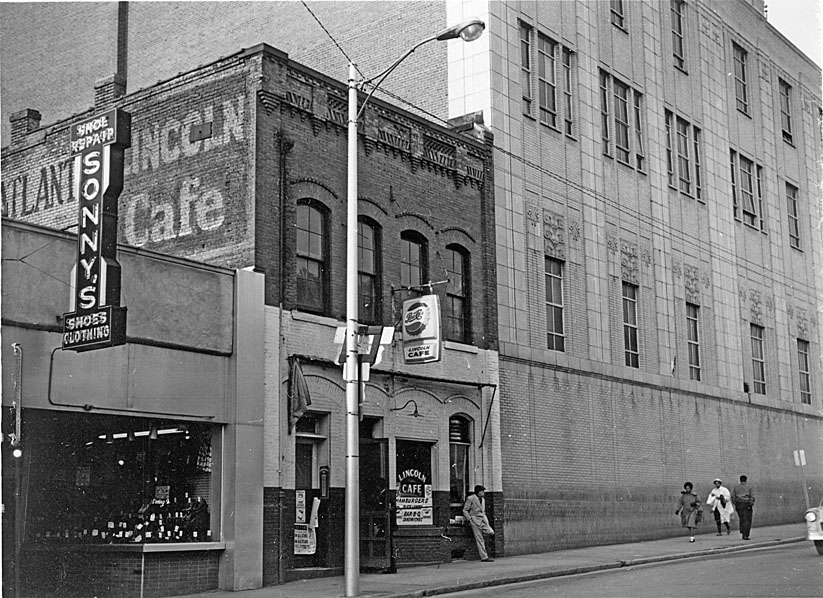 A 1927 article in the Durham Morning Herald reported that 75 of the 80 Greeks living in Durham at the time were in the restaurant business. Emmanuel Mike Galifianakis arrived in Durham in 1919 after immigrating to the U.S. from Greece and immediately opened Mike's Weenie Stand, serving his wildly popular hot dogs.
The business became so successful that in 1920, Galifianakis purchased the former Page's Cafe location and reopened it as the Lincoln Cafe (above, credit: Durham. Co. Library). He was a very public advocate for integration and removed all partitions in the restaurant long before the Civil Rights Act was passed in 1964. The Lincoln Cafe was a favorite breakfast spot of factory workers and served classic Southern fare while also specializing in traditional Greek dishes and helping to introduce Mediterranean culture and cuisine to Durham.
It was reported that Fats Domino and Nat King Cole dined at the Café when they were in town and it became a destination for visitors to the city. Upon Galifianakis's death in 1958, IOUs from patrons who were unable to pay for food during the great depression were found. He was also the father of Congressman Nick Galifianakis and grandfather of actor Zach Galifianakis.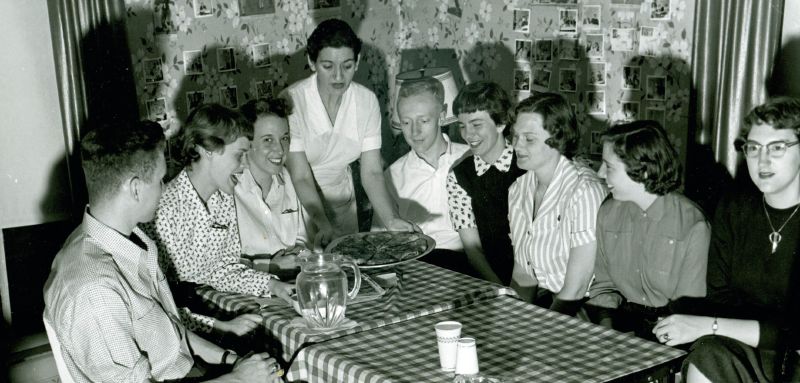 Annamaria's Pizza House (above, credit: Duke Yearlook) became another iconic restaurant of the mid-20th century and helped to popularize pizza in Durham. After U.S. troops who occupied Italy during World War II returned home in the 1940s, they brought with them a newly developed taste for the classic dish, and the story of Italian cuisine in Durham unfolded from there.
New Jersey native Annamaria Malanga moved to Durham in 1949 with her husband, Bartholamew "Bat," to seek treatment for their daughter Aggie's kidney disease with Duke doctor Walter Kempner's Rice Diet. Pizza arrived in Durham when Duke University (and later Washington Redskins) quarterback Sonny Jurgensen asked Annamaria to make him a pizza and students began requesting it more and more, making it an instant favorite at the University.
Annamaria and Bat briefly served patrons out of their living room before opening Annamaria's Pizza House in 1958 on 6th Street (now Clarendon Street) in the Trinity Park neighborhood. While pizza remained their staple, the Malangas added other traditional Italian dishes to the menu, such as spaghetti and meatballs and veal parmigiana.
This paved the way for many other successful Mediterranean restaurants, including Parizade, which was founded 30 years ago by Georgio Bakatsias and instantly became a local staple and destination for foodies throughout the Triangle. As testament to the restaurant industry in Durham, the ingredients are locally sourced and the menu is inspired by classic Mediterranean styles and flavors while also being influenced by the evolution of the city's culinary culture. The ambiance and hospitality reflect the warm and welcoming charm that have made Durham known as the "tastiest town in the South" and the plates are works of art themselves. In the words of Mr. Bakatsias, "when creating a theater for the palette, it's important to invite the eyes too."