Jan. 28- Equal Rights Amendment Documentary Screening and Q&A
Posted on January 16, 2021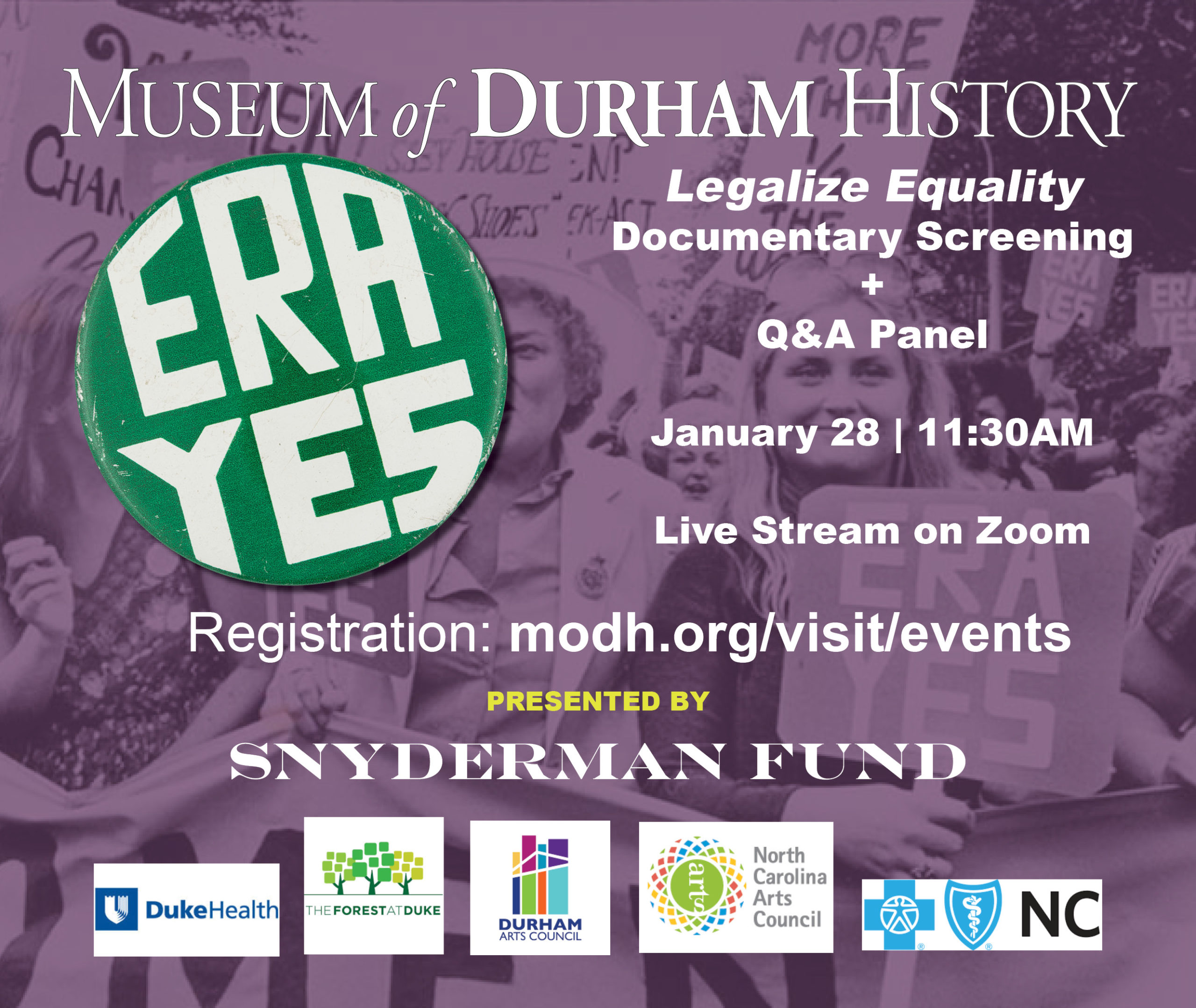 The Equal Rights Amendment to the U.S. Constitution has been seeking ratification by 38 states, the required three-fourths majority, since 1972. The amendment's current status and imminent fate are the focus of an online event hosted by the Museum of Durham History on Thursday, January 28th.
The program will begin at 11:30 AM with a virtual screening of the 30-minute-long Legalize Equality documentary, which highlights the history of the struggle for gender equality. At Noon, a panel of local experts moderated by Jenny Levine, Humanities and Adult Programming Coordinator of the Durham County Public Library, will discuss the ERA's history, ongoing legal cases, and ways to get involved. The group will field questions from the online audience via Zoom's chat function. Panel participants include: Kamala Lopez, the documentary's filmmaker; Attorney Arlaine Rockey; Barbara Lau, Director of Pauli Murray Center for History and Social Justice; Mandy Carter, LGBTQ+ activist; Jimmie Pratt and Lori Bunton, ERA-NC Co-Presidents.
Registration is required for this live-streamed event. Learn more and register here.
We are also pleased to participate in the 2021 Womxn's Virtual March in Raleigh on Saturday, January 23, 2021.
The Jan. 28 program, a partnership effort of the museum and ERA-NC Alliance, is part of the museum's current exhibit, Votes for Suffrage: 100 Years of Women in Durham Politics. The exhibit and associated programming are funded by the Snyderman Fund, the Durham Arts Council, the North Carolina Arts Council, the Forest at Duke, Duke Health, and Blue Cross Blue Shield of North Carolina.