Hot Cider and Cookies for the Holidays
Posted on November 24, 2015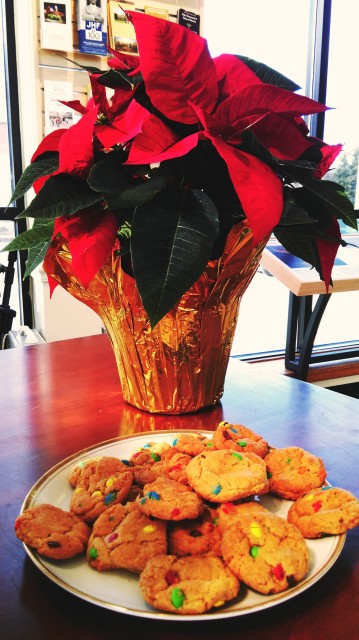 Face it. The holidays are wonderful, but things can get hectic. Slow down with FREE hot cider and homemade cookies at the Museum of Durham History. We'll have them available every day this December (oh, what the heck, let's start with Small Business Saturday!) through New Year's Eve. Some cookies use vintage recipes; all are baked with love by volunteers.
Historic cookies will feature the Duke Toll House recipe, a longtime favorite introduced at Duke in 1946 by former Food Services Director Ted Minah, who had served as a Navy commissary officer during WWII and got the recipe from the Toll House Restaurant in Massachusetts.
Cookie in hand, you can wander the current exhibits including Durham A-Z: H is for Hayti, the Historic Russell School and Durham Beginnings | 1865-1885. And save the holiday month's Third Friday, December 18, when carolers will perform Under the Gazebo (all are encouraged to join in). What better way to usher in the season?
We are open from 10am to 5pm Tuesday – Saturday and from 1pm to 5pm on Sunday. There is never an admission charge at the History Hub, home of the Museum of Durham History.