Guest blog post: Blake Hill-Saya
Posted on February 12, 2021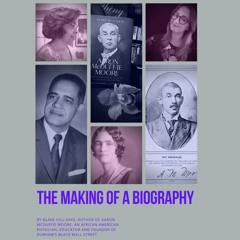 Join us on Feb. 16 at 12PM for a discussion about the life of Aaron McDuffie Moore, founder of Durham's Black Wall Street. The author, Blake Hill-Saya and C. Eileen Watts Welch, President of Durham Colored Library who commissioned the biography. Hill-Saya & Welch are descendants of Moore. They will talk about the book and insights on the life and leadership of Aaron McDuffie Moore a man whose community dedication went beyond mere profit and was a visionary ahead of his time with a strong commitment to improving people's lives in every aspect – from health and education to business and the arts.
The Making of a Biography By Blake Hill-Saya
When I was growing up my grandfather, Dr. Charles DeWitt Watts, used to mark important milestones with a slide show entitled "The Making of a,,.": Birthday Girl/Boy, Graduate, Bride/Groom- you get the idea. In his honor and with fond memories of those gatherings I will attempt to give you a verbal version of "The Making of a Biography".
This Biography was a dream that began with my great grandmother, Lyda Moore Merrick, Aaron McDuffie Moore's oldest daughter. I quote her directly in the biography as she remarks wistfully in a taped interview with Meredythe Holmes in the 1980's, "somebody should write a book about the way it was, and about Papa." That wish also became my Grandfather Dr. Charles D. Watt's, who, as the first Black board certified surgeon to serve in North Carolina, recognized Dr. Moore as a Founding Father of Black Medicine. He also spent the early part of his career walking directly in Dr. Moore's footsteps. Watts became chief of Surgery at Durham's Lincoln Hospital from the 1950s – 1970's, the hospital founded by Dr. Aaron Mcduffie Moore in 1901. Lincoln was (fifty years later) one of only a few hospitals nationally (before the civil rights act) where a Black surgeon could operate. Watts lobbied the State medical Board to certify Black interns and Residents just as Dr. Moore had to prove himself through early State Board Certification in order to become Durham NC.'s first Black Physician. Dr. Watts fought to preserve the footprint and legacy of Lincoln Hospital when it was scheduled to be closed, and founded -in its place the Lincoln Community Health Clinic – a modern community clinic ; one that is serving on the front lines of the Covid-19 pandemic today, just as the original Lincoln Hospital served during the "Blue Plague" Flu epidemic of 1918. Dr. Charles Watts also took on the role originated by Dr. Aaron McDuffie Moore: Vice President and Medical Director of the North Carolina Mutual Life Insurance Company, the cornerstone of Durham's Black Wall Street, of which Dr. Moore was a founder.
Dr. Charles Watt's oldest daughter C. Eileen Watts Welch has known of and felt propelled by her Father's dream of a Moore Biography for decades. My mother, Debbie C. W. Hill, was the literature professor and original writer in residence of our family, and had planned to help get the project to fruition. Cancer took her from us in 1993. The dream lay dormant awhile, until Eileen found a bag of papers and artifacts collected over the years by her father, Dr. Watts, with the intention of writing the book himself. He, in fact, was asked to contribute to several notable publications as an expert on the history of Lincoln Hospital and on Dr. Moore's legacy. The dream of a Moore biography took on more urgency after his passing, and in the twilight years of his beloved wife Constance Merrick Watts, Dr. Moore's granddaughter.
In 2013, after retiring from her 20 year career with Duke University, C. Eileen Watts Welch assumed the Presidency of another of Dr. Moore's legacy organizations, The Durham Colored Library, Inc.. Founded by Moore in 1913, DCL now serves not as a lending library, but as a Black educational and historical narrative focused non-profit. Eileen, the DCL Board and her husband James Welch were able to identify pivotal funding and secure a Grant to foster the development of an Aaron McDuffie Moore Biography manuscript, as well as the process of identifying the
right publishing home for it. When I knew this book might become a reality, I felt moved to step into my mother's shoes and ask to be considered as a candidate for author. As a first time author I knew it was a long shot, and that numerous other candidates would be considered. I kept the dream alive, nonetheless. I submitted essays and my concept as well as the genres I felt would inform my process. The Board diligently searched for the right voice and ability.
On October 19, 2013 at about 1:55 pm, I was about to gather my veil and train and take my Dad's arm to walk toward my husband-to-be on a ranch in beautiful Paso Robles California. Eileen met me as I exited the Bride's room, squeezed my hand and whispered that I was going to be an author.
Seven years of inventing and reinventing the process of writing this Biography were to follow. Eileen has been my wrangler, partner, co-researcher and producer all along the way. Her talent for relationship building and door opening made the DCL initiative that was this Biography the success it is today.
The words, the structure and the scholarship are my contribution. The storytelling and the weaving of this lost world of Durham's Black Wall Street into the larger picture of Reconstruction through the turn of the 20th Century was my personal journey of discovery, transformation and always my labor of love. This walk with my great great grandfather was one I have always wanted to take. I never knew how profoundly I needed it until he and I had spent seven years in each other's minds and hearts. I want the reader to feel and know Aaron McDuffie Moore's journey and also be able to put their own feet down in his reality and take a look around. I want Moore to be a three dimensional living person in the reader's imagination and not a distant or cardboard cut-out figure from an unfamiliar corner in history. The realities of his world are in full effect in our modern world, and his dreams for his community are far from fulfilled, even though his legacy is still felt. When he said, "The biggest thing that we can do…is to empty our lives and character into our children, thereby making them better and wiser citizens than we are, or had the opportunity to be," he meant me. He meant you too.
I often wonder what he would make of us all and the times we find ourselves in. I Imagine, like many of us, he would be deeply saddened by our lack of systemic and social progress, but also, not surprised. As he said in his address, informing anyone who would listen that education and Institutional equality were essential in order to secure the positive direction of civilization, he admonished "…let us be patient, but not contented. Let us be up and doing." For this bi-racial author living in the middle of a deadly pandemic in Los Angeles, and through a truly iconoclastic political and racial moment, my great great grandfather's resilience and ability to be "up and doing" no matter the odds has served as a north star of sanity and practical grace.
C. Eileen Watts Welch and I hope that 'The Making of' this Biography of Dr. Aaron McDuffie Moore has not only honorably fulfilled the dreams of our beloved family members, but has also created a living space of historical interface where their dreams can continue to be of service.