Exploring Durham History with Street Historian John Schelp
Posted on November 19, 2020
Street Historian and History Advisory Committee member John Schelp was recently featured on an episode of UNC-TV's North Carolina Weekend! Check it out:
By John Schelp, History Advisory Committee, Museum of Durham History
Take a look in your closet. Just about all of us have them: blue jeans. They're everywhere. But did you know that the first cotton mill in the south to produce denim was right here in the Bull City? The old brick factory is still standing, amid the hustle and buzz of Ninth Street.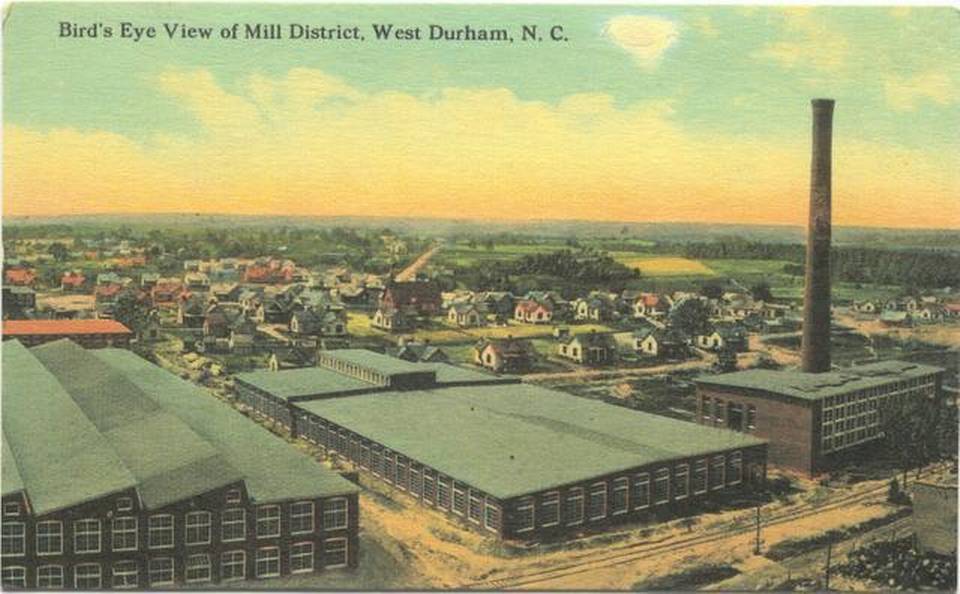 1892 was an important year for Durham. It marked the twin arrivals of struggling Trinity College (kept afloat by Durham citizens like Julian Carr and Washington Duke) and Erwin Cotton Mills (started by the Duke family to diversify its investments in tobacco).
The mills were the driving force that made Old West Durham what it is today. Erwin Mills had a picker building, dye house, boiler room, engine house, 11,000 spindles and 360 looms producing fine muslin, chambrays, camlets, and denim. By 1905, more people worked in cotton mills in Durham than in tobacco factories.
Rows of mill houses were built for the workers. Eventually, five thousand people worked on Ninth Street. Most lived in the mill village that stretched from what is now Duke Gardens to E.K. Powe Elementary (named after the first manager of the mills).
The steady loud hum of the mills could be heard throughout the village. On Sundays, the noise stopped and the air was unnaturally still. The mills pumped hot soapy water into South Ellerbe Creek. Back then it was called the dye ditch. The color of the creek water changed depending on the color of the fabric that day. Long-time neighbors tell me the whole neighborhood smelled like a laundromat.
For years, Erwin Mills fought off the city's efforts to annex West Durham. William Erwin even started building a hydroelectric dam near his hunting cabin on New Hope Creek to fend off annexation efforts. West Durham was finally annexed in 1925, along with East Durham, which meant many of the duplicate street names had to be changed. 8th and C streets, where songwriter John Loudermilk told me he was "born on a kitchen table," are now Iredell and Knox.
West Durham did get running water, though, and that explains why there are bungalows, built in 1920, with 1925 toilets.
What I often hear from old-timers is the sense of community and the sense of family that prevailed in the village. Folks took care of each other. The mills had band concerts in Erwin Park (now under the Durham Freeway). Saturday nights, men would take their dates to see the company baseball team beat their cross-town rivals from East Durham. The field was located at Main and Broad. Home plate was about where you pay for your muffins at Mad Hatter's today.
The rivalry between cotton mills in Durham was intense. Giovanni Marzocchi's grand-daughter told me that, after his work as a stonecutter on Duke Chapel, Marzocchi was hired by Erwin Mills to help their baseball team beat Julian Carr's mill team.
Many of the Italian stonecutters who helped build West Campus lived in West Durham. Louis Berini told me that some lived on Hillsborough Road, others on 6th Street (Clarendon) and others in small shacks on the old rail line (near what is now Duke's emergency room) alongside a young law student named Richard Nixon.
The textile industry influenced another chapter of local history. The pattern cards used to control looms were the precursors for punch cards used in IBM computers.
After a career building cotton mills, Romeo Guest assembled much of the land for a new kind of university-business partnership and came up with the name "Research Triangle Park," where IBM was an early tenant.
So the next time you slip on a pair of blue jeans or drive out to Research Triangle Park, think about denim and Durham.
Originally published in The News & Observer 10/24/2014