Durham Rotary exhibit opening Friday, Jan. 15
Posted on January 7, 2016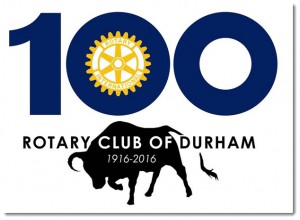 On Friday, January 15, the Museum of Durham History will host an event celebrating its latest Our Bull City exhibition, Durham Rotary Club Centennial: Serving Durham and the World Since 1915. The no-cost, public party will be held at the Durham History Hub, 500 West Main St., from 5:30pm until 7:30pm. 
The exhibit explores the history of the Durham Rotary Club, and program of citywide volunteerism to commemorate its 2015 centennial, reflecting Rotary International's commitment to community volunteer service.
Over the course of 2015, the club helped to broaden volunteer support for literacy, arts, youth, scholarships historic preservation, urban renewal, the elderly, the hungry and international causes, through the club and by individual initiatives.
Guests will have the opportunity to learn about the Durham Rotary and Rotary Foundation's projects around the world from President Lois Deloatch and Centennial Co-Chairs Don Stanger and Brady Surles. Live music will also be featured as part of Third Friday Durham festivities.
Durham Rotary Club Centennial: Serving Durham and the World Since 1915 will be on display at the History Hub through March 31, 2016. The exhibition will be in the Our Bull City area, which is curated by community members. Anyone interested in creating an exhibit should email info@modh.org with the subject line Our Bull City.
Our Bull City is an exhibit space dedicated to collaborations between the museum and citizen curators.