Durham and the Rise of the Baseball Card April 7-Sept. 5
Posted on April 7, 2016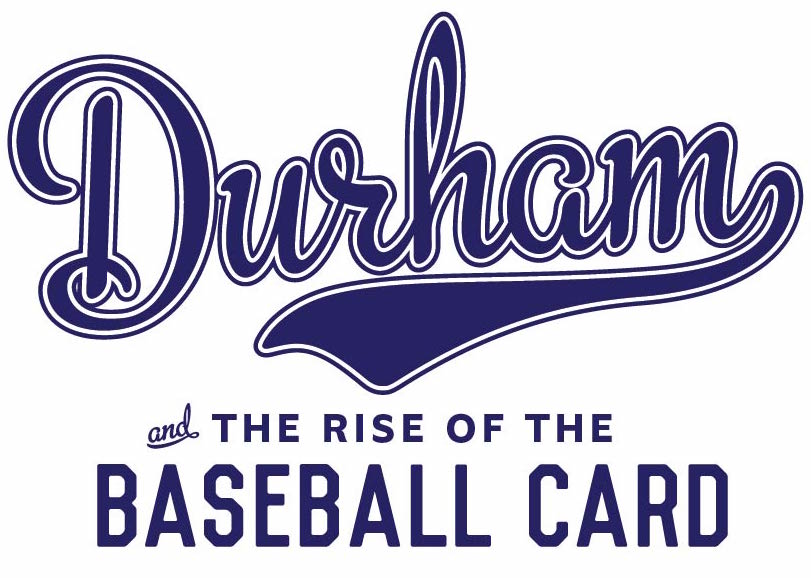 Did you or cavengeromeone you know save baseball cards? If so, check out the collection. One of those cards might be worth more than $2 million dollars. (You heard right. Six zeroes.) And did you know that card has roots right here in Durham? In fact, the whole baseball card phenomenon started right down the street from the Museum of Durham History. And this spring and summer we're celebrating those small cards in a big way.
On April 7, in conjunction with the Durham Bulls, the Museum will unveil Durham and the Rise of the Baseball Card. This exhibit is a double-header, with one component at the History Hub and another completely different exhibit at Durham Bulls Athletic Park. Throughout the 2016 season, game-goers will find a colorful baseball card display along with nachos and beer at the main concourse.
But wait, there's more! Kids can start a ScavengerHunt at the ballpark that will take them around town and conclude at the Hub, where we'll award prizes once the final clue is solved. No hurry. The hunt will go on all summer.
We're kicking off the Baseball Card hoopla with a Third Friday exhibit opening on April 15th at the Hub. Think old time live music by Tea Cup Gin and beverage tents. Of course, no baseball event would be complete without hot dogs, courtesy of Joe's Diner Food Truck.
You'll also be able to listen as the exhibit curator takes questions and spins yarns about baseball lore. We'll even have an appearance and snort of approval from Wool E. Bull himself.
We'll celebrate baseball cards all the way into fall, culminating with a pre-Bulls game Family Day in August, full of activities for the kids, food, drinks and games for all ages, and encore appearance of Wool E. Bull.
Bookmark this blog and check back later. We'll post updates regularly with more details of the next event, the scavenger hunt, and other ways to participate in Durham and the Rise of the Baseball Card.
Special Thanks
The Museum of Durham History would like to thank our sponsors for helping to bring this exhibit to life: Capitol Broadcasting Company, Baseball America, the Durham Bulls, reCharge Pilates & Barre, and the Snyderman Fund. We would like to extend a special word of thanks to Duke Energy Foundation and Durham Merchants Association Charitable Foundation for supporting the Our Bull City program, which resulted in this exhibit. Our Bull City gives community members a public venue for highlighting historic people, places, events or issues of their own choosing.  Special thanks to Adam Berenbak for proposing the topic and for donating countless hours to making this exhibit a reality. We are also grateful to the Latino Community Credit Union for exhibit translation and Matthew Andrews for lending his historical expertise.