News from "More Than Just A Game" Collaborators
Posted on March 10, 2022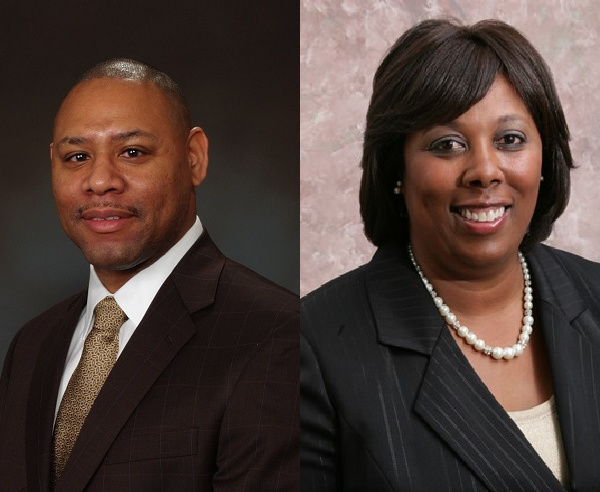 More Than Just A Game, the exhibit led by NCCU's Dr. Charles Johnson, has only been as successful as it is thanks to the countless hours of time given by very generous people. We are happy to see the richly-deserved attention the NCCU-NC A&T football rivalry has received from these efforts. These individuals include Dr. Arwin Smallwood and NCCU Athletic Director Dr. Ingrid Wicker McCree.
---
Dr. Arwin Smallwood of NC A&T was recently honored with the Governor James E. Holshouser Jr. Award for Excellence in Public Service, one of the top two annual faculty awards bestowed by the UNC School System. 
Through his work on More Than Just A Game, the Museum applauds this recognition for someone so deserving of this award! Taken from the article on NC A&T's website: "Proclaiming his profound love for the state of North Carolina and passion for telling its story, Smallwood thanked his late parents, wife and family for encouraging his scholarship." You can read the full article here. 
Since the creation of the Holshouser Award in 2014, Dr. Smallwood is its 8th recipient and the first from NC A&T to receive it. 
---
In the fall of 2021, Dr. Ingrid Wicker McCree announced that she would be stepping down as the NCCU Athletic Director. After 28 years with the university, 14 of those as the Director, Dr. McCree will finish her distinguished tenure at the end of the 2022 spring semester. 
Back in January, we were lucky enough to speak with Dr. McCree during our Virtual Lunch-and-Learn with the Durham Sports Commission, where she discussed the commitment and drive it requires to be a student-athlete at a Historically Black College/University. You can watch the recording of this event here. The virtual discussion was part of our exhibit programming for More Than Just A Game.
Last week she was given special recognition at her final home basketball game.

Sports Illustrated also released an article paying tribute to Dr. McCree. McCree told SI, "I won't be here, but [it makes me happy] just knowing that I served as a part of that future, for our student-athletes."