Coach Mac is Back!
Posted on January 15, 2015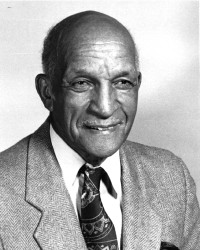 Durham History Hub Exhibit on Legendary Coach Re-Opens February 3
Museum spotlights NCCU architect of modern basketball
The story of a life dedicated to basketball returns to the Museum of Durham History this winter. The exhibition "Coach Mac: Innovator and Integrator" re-opens February 3 at the Durham History Hub. It explores the life and legacy of John B. McLendon, the father of fast break basketball and organizer of the "Secret Game."
Following a successful run at the museum last fall, the exhibit is returning as part of Durham's Black History Month celebrations and as an acknowledgement of the contributions McLendon made to both basketball and equal rights in Durham and beyond.
"Coach McLendon revolutionized the game of basketball right here in Durham. Not only did he invent the fast break and full court press, he was responsible for organizing the Secret Game with Duke University." said Katie Spencer, the Museum's executive director. "In a time when it was illegal for black and white teams to play each other, Coach Mac proved that his team could compete with any program, regardless of skin color."
John McLendon came to Durham in 1937, and in 1940 took over as head coach of North Carolina College, now North Carolina Central University. He introduced his unique brand of basketball, which included the full court zone defense and four corners delay offense. Later in his career, McLendon became the first African American head coach in a major professional league, with the American Basketball League's Cleveland Pipers.
The museum partnered with citizen curators Tamar Carroll, Umar Muhammad, and Dr. Chanda Powell, along with the North Carolina Central University James E. Shepard Memorial Library Archives, Records and History Center.
"Coach Mac: Innovator and Integrator" will be on display at the History Hub, 500 W. Main St. from February 3 through March 31, 2015. The exhibition will be in the Our Bull City area, which is curated by community members. Anyone interested in creating an exhibit should email info@modh.org with the subject line Our Bull City.
This exhibit is made possible with support of the American Tobacco Campus and Shelly Green.
The Museum of Durham History is a 21st-century museum that uses stories about people, places and things to foster curiosity, encourage further inquiry, and promote an understanding of diverse perspectives about the Durham community and its history. The Museum's home, the History Hub, is located at 500 W. Main St. and is open Tuesday-Saturday, 10am – 5pm. There is no admission charge. For more information, see www.modh.org.